GLASS PAINT
When it comes to glass paint, there are many options available to the decorative painter and the hobbyist.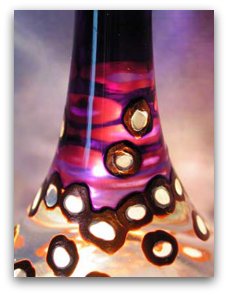 It's a bit overwhelming knowing where to start if you've never used them before. Some go on very transparent and others very opaque. So what you choose will be affected by the look you're after. I vote for trying them all to see which work best for you.

Don't miss this...

Have you seen our latest Glass Painting Pattern?
Why not create beautiful hand painted gifts this year?

But hey, I'm here for advice, so further down is a list of paints I have personally used and have had success with. See if anything there sparks your imagination!! Also, there's an FAQ section near the end of this page.

If you already know about the various paints and just want to know where to start, then simply have a peek at our page about glass painting.
For decorative painting purposes, the paints we cover here fall into five basic categories:
Acrylic enamel paint or enamel paint that's usable on glass as well as other shiny or slick surfaces.
Acrylic glass paints.
Acrylic paints that become paints for use on glass when a special medium is added.
Solvent based paint.
Special markers.
---
---
---
HERE'S THE LINE UP OF GLASS PAINT THAT I USE

These are summaries so follow the links for in-depth product information. It's a long list!

---
ENAMEL PAINTS
Enamel paint can be used on glass and any other glossy or non-glossy surface. I find this a most versatile option for an opaque finish. When I want solid coverage I love enamels!
PermEnamel by Delta was discontinued in 2011. I was saddened to hear that because it was an impressive and durable opaque paint.   I know many of my visitors have been looking for the product, so I got in touch with Plaid Enterprises who informed me of the discontinuation.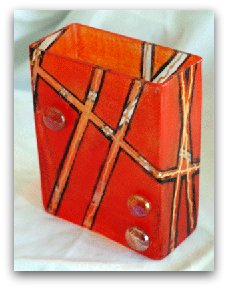 FolkArt Enamel Paint by Plaid Enterprises is an easy one-part system with a great color selection too! Just clean the surface with rubbing alcohol and start painting! Curing by air-drying in 21 days or can be heat set. I've included a quick and easy project for you to experiment with.
Americana Gloss Enamels is an easy one-part system with a great color selection too! Just clean the surface with rubbing alcohol and start painting! Curing by air-drying in 21 days or can be heat set.  Check out this gorgeous project for painting Christmas-themed wine glasses and a ceramic serving platter! 
On this same project page you'll also find a glass painting project in time for Valentine's Day.  It features the use of Americana Multi-Surface Acrylics.  More about those paints later.
Liquitex Glossies Enamel Colors are being discontinued as of 2016.  If your art supply store still has some in stock, you're in luck because this is another trusted brand name. Liquitex offers a vibrant and very glossy line of enamel paint. It air-dries in 24 hours or can be heat set. You can learn more here.
---
ACRYLIC PAINTS FOR GLASS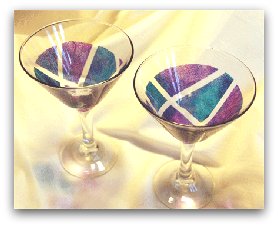 These are specially formulated to adhere to glass, plastic and glazed ceramics. They are transparent and offer many creative design opportunities, including faux stained glass windows.
These paints can either be air-dried or heat-set depending on the manufacturer's direction.
DecoArt Glass-Tiques is a really fun one! Not only is it transparent, it has a unique dimensional quality. You can create very unusual designs with this product!
DecoArt Glass Stains and other Glass Paints provide beautiful jewel tones! They're easy to use. Interestingly, the stains can be intermixed with Americana Acrylic paints, although I haven't tried that yet!
Pebeo Vitrea 160 is a permanent glass paint that requires heat-setting for a very durable finish. These are bright, transparent colors for glass and crystal. You can learn much more here.
---
GLASS PAINT MARKERS
Yes, there are paint markers for painting on glass! And they're really durable and even dishwasher safe!
---
GLASS AND TILE MEDIUMS
Folk Art Glass & Tile Medium by Plaid Enterprises is used to help the paint adhere to the glass surface.
When you apply it, the glass takes on a frosted look, sort of like the glass has been sandblasted. The resulting "tooth" allows regular acrylic paints to adhere.
Jo Sonja Glass & Tile Painting Medium is a two-part system featuring a glass primer, Part A.
Then the medium (Part B) is added to the Jo Sonja Acrylic Gouaches so that the paint can bond to the surface permanently. Does not require heat setting.
---
SOLVENT-BASED PAINTS
Pebeo Vitrail comes in both transparent and opaque formulas. The colors are rich and wonderful. You will need mineral spirits for clean up. This glass paint can be lightly hand washed and is for decorative purposes only.
---
---
HERE ARE SOME OF THE MOST FREQUENTLY ASKED QUESTIONS

Do I need a special paintbrush to paint on glass? Great question! You really don't need a special brush. Of course the type of hairs in the brush will influence how the paint goes on.
I like to use brushes with synthetic hairs or a blend of natural and synthetic. They're soft and pliable and return to their original shape very nicely. You can use flat brushes, rounds and liners. You can even use sponges for dabbing the paint on!
If you're not familiar with the various paintbrush types, have a peek at our brush section.
Is there a glass paint product that is safe for use with food or fluids? I get asked that all the time! I have looked high and low for such glass paints but I have yet to find any. Do not confuse NON-TOXIC with a product being food safe. It's not the same at all. Please, please read the labels of any product you use on glasses or plates and bowls very carefully.
If or when I find such a product I will let you know. I will be deliriously happy when that day comes… so if you know of such a food safe paint, please contact me. I will give you a big virtual hug!
Meanwhile, you can be safe and happily painting by simply masking off the top ¾-inches from the lip of a glass or mug. You can paint the underside of a glass plate or bowl. Or you can paint a plain white or other color plate; use it as a charger by simply adding a clear plate on top!
If you're painting on decorative items like vases then this is not an issue at all.
Do I have to bake the glass after I paint it? Depends on the manufacturer. Some products air-cure over time. Some are baked (or heat-set) in a home oven. While some provide an option for both. Be sure to read the manufacturer's label. Or follow the specific list of products above where I describe everything in full.
Where can I find free glass painting patterns? Great question and yes I have provided a free glass painting pattern for you to experiment with.
We're busy working on some free project ideas. If you'd like us to feature a particular surface, like wine glasses or plates, drop us a line. You may contact us here with your ideas or if you just have some questions. We love getting mail!
Let's go back to the glass painting page.
Let's go from the glass paint page to our Home Page.
Glass Painting E-Books
---
CBP0001 - Martini Safari

---
CBP0016 Pinecones and Boughs

---
CBP0003 - Stained Glass Summer Daisy

---
CBP0010 - Holly And Berries Plate

---
CBP0017 Polka Dot Snowman and Friends 

---
CBP0023 Weeping Willow Frosted Vase

---
---
You Can Paint These Trees and More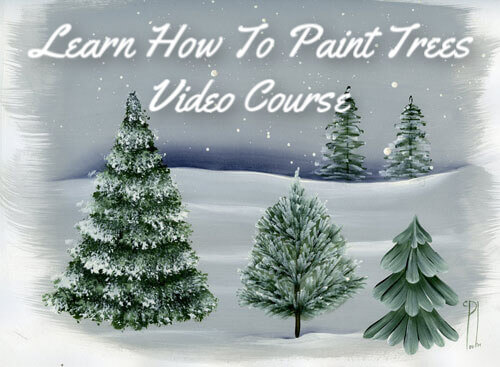 Click to Learn More
---
Introductory Price
Save 55%  plus
a Money Back Guarantee
---
---