Learn To Create Wonderful Tole Brush Strokes With The Basics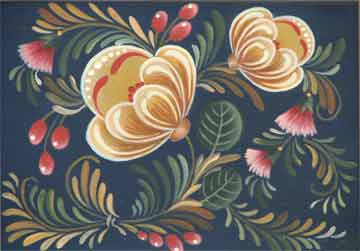 Learning different tole brush strokes means learning great brush control! If you're a beginner, this is the place to start. If you're a painter who feels the brush is controlling you, read on and we'll give you lots of practical tips on how you can improve!

Nobody wakes up one morning knowing how to paint. It takes time to learn and you have to practice. As adults we tend to be very hard on ourselves. We expect to master those brush strokes right way. But the truth is we all need to practice, and practice lots. If you do, you'll see that it definitely pays off!

Both flat brushes and round brushes are used for painting brush strokes. A comma stroke can be done with a round, a liner, a flat or even a filbert!

Depending on the size and type of brush you use, the possibilities are endless! That's why it's so important to master strokework. Once you've got a good handle on the fundamentals, you'll be much more creative.

---
---



Here are some related brush strokes along with detailed photos.
Brush Stroke Basics
Comma Brush Stroke
S-Stroke

---



Strokework is graceful...
---
---
These brush strokes have formed the basis of incredible painting techniques, perfected over centuries, in many countries worldwide. Tole brush strokes are similar everywhere around the world. Yet, how they are used together and the choice of colors used will easily differentiate one region from another.

These styles are recognizable at a glance…you may have seen Bauernmalerei stroke work or Rosemaling featuring Telemark, Hallingdal, Valdres and Rogaland to name just a few! (No, I don't know how to pronounce most of these!)

All of these designs are founded on stroke work using comma strokes, S-strokes and liner work. Depending on the use of colors, some of the decorative designs can convincingly simulate carved wood, as in Gudbrandsdal. The background colors will also be particular to a region. A dark background with light-colored strokes is typical of the Vest Agder style.

I have a deep appreciation and love of strokework. However, when I haven't done it for a while, I find I have to put in some practice time. If my brushes are not in tiptop shape, my strokes will suffer for it. If the brush is loaded absolutely correctly, it shows in the end result.

Strokes can be used to embellish a design or become the entire focal point of a project. Stroke work can also be incorporated into simple base coating habits when using shape-following strokes.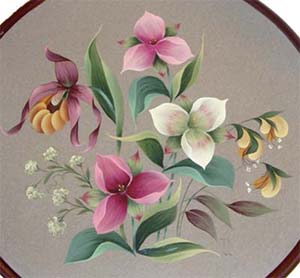 When we think of beautiful contemporary strokework, Canadian artist Maureen McNaughton is one of the very best. Here is a close up photo of a tray I did under the watchful eye of this masterful and amazing teacher. I just love this piece!

And of course, when we think of One Stroke© painting, Donna Dewberry immediately comes to mind.

Everyone has a unique tole brush stroke style. Even when you try to duplicate someone else's comma strokes or C strokes, yours will have their own flair. It's like I tell my students, "Just as your handwriting is yours and yours alone, so it is with painting and with brush strokes."
---
---
I hope you'll give this art form a try. Mastering tole brush strokes will also strengthen your other painting skills and build your confidence. There are some beautiful books out there to get you started. And of course, some very basic advice is available if you follow these three links.
Brush Stroke Basics
Comma Brush Stroke
S-Stroke

Return from Tole Brush Strokes to our Decorative Painting Home Page.
---
---
You Can Paint These Trees and More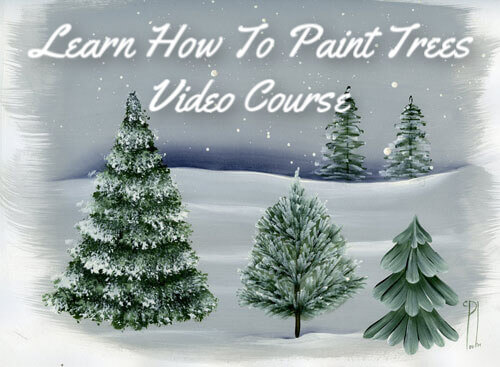 Click to Learn More
---
Introductory Price
Save 55%  plus
a Money Back Guarantee
---
---