ARTIST PAINT BRUSHES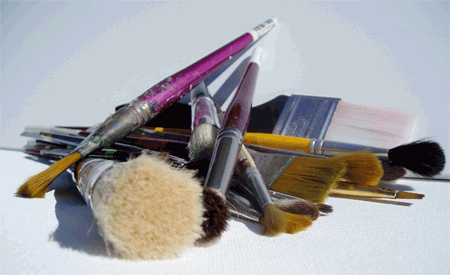 Knowing about artist paint brushes can save an artist money, precious time and a lot of frustration. While you need a variety in different types and sizes, some are better suited for a particular technique than others.
---
FOR ACRYLICS
If you're a painter who prefers to use bottled acrylic paints, we recommend artist paint brushes with SYNTHETIC HAIR. They're durable, absorbent, have excellent spring and maintain their chisel edge with minimal care. They perform well on just about any surface you can imagine. They're manufactured in a wide variety of sizes and they're affordable.
Another good choice for you is the mixed hair types of paint brushes, also known as SYNTHETIC BLENDS. This brush contains natural as well as synthetic hairs, which means more absorbency (natural) and more durability (synthetic). The synthetic blend is ideally suited for most media and comes in an affordable price range.

---
FOR GLASS PAINTING
Painting on glass can be done using SOFT SYNTHETIC HAIR. .
---
---
FOR OILS
A painter using oils would have better results using NATURAL HAIR. Natural hair brushes are softer and much more absorbent than synthetic blends or pure synthetics. The hairs usually come from sable, squirrel or camel to name just a few critters. These paint brushes can range from affordable to very expensive.
---
SPECIAL EFFECTS
Also derived from animal hair, brushes with natural bristles are stiffer and are usually used for special effect techniques. Their strength and durability means they can be used in heavy media over rough surfaces. The hairs could be from ox, horse or hog bristle. These also range from affordable to expensive.
---
CERAMICS, ETC.
If you're into ceramics, fabric painting, or you craft on rough surfaces, brushes with synthetic bristles are right for you. They're extremely durable and in some cases can be used for some interesting special effects. Usually these paint brushes are in an affordable price range
---
CRAFTS
Craft brushes can be tempting to buy because of the lower price tag. These are really geared for kids and the occasional hobbyist. Any painter, even one who is just starting out should avoid these completely. Cheap! Cheap! Cheap....they do not belong in your paint room or workshop. But do leave them in the kid's craft room.
---
FOAM PAINT BRUSHES
Foam paint brushes are great for covering large areas when you're basecoating. Though not intended for detailed work they do come in handy for big strokes. Not very durable but inexpensive and disposable.
---
---
---
PARTS OF A PAINT BRUSH
You know what a paint brush looks like. It's a simple tool made up of a handle, a ferrule and some hairs. The handle can be made of wood, plastic, bamboo, etc. The ferrule is the metal part that holds the hairs in place. The hairs can be synthetic or natural.
When you see the words Flat or Round, it just means that the brush has either a flat (crimped) ferrule or a round one.
SIZE NUMBER
Ever wonder why some paint brushes are referred to as 1/8", 1/4", 1/2", etc., while others are assigned a number?
The first measurement refers to the width of a brush in standard measurement while the latter refers to the metric width in millimeters.
So that means a 1/2" flat brush is roughly equivalent to a 12mm or a #12 flat.

---
CARING FOR YOUR BRUSHES
---
Brushes are an investment as a part of your art making. We've provided a section on cleaning paint brushes to help you protect that investment. We hope you'll find this information useful. 

---
Commonly Used Artist Paint Brushes
There are so many artist paint brushes out there on the market.
To simplify things for you we've compiled a growing list of all manner of paint brushes.
Here's where you can get more information on artist paint brushes.

If you have any questions, ideas or tips you'd like to share on the topic of brushes you may contact us anytime!


Return from Artist Paint Brushes to our Decorative Painting Home Page.
---
---
You Can Paint These Trees and More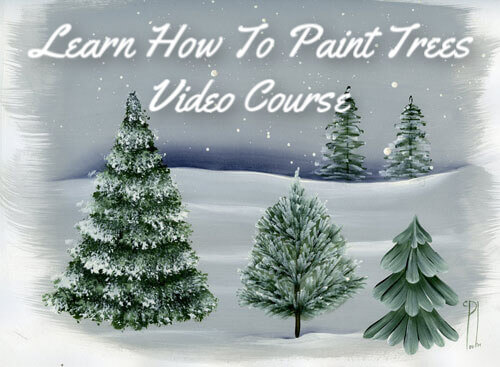 Click to Learn More
---
Introductory Price
Save 55%  plus
a Money Back Guarantee
---
---