Chalky Paint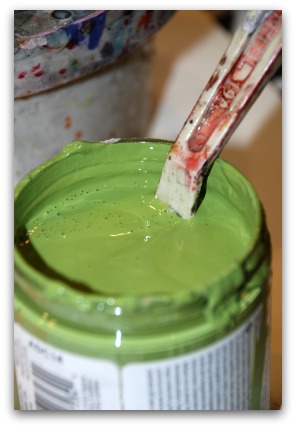 There are many brands of chalk or chalky paint on the market.  So far I've had some fun using Americana® DECOR™ Chalky Finish paint.
The paints are very thick and need to be stirred before using them.  There isn't much work involved in getting the surface of your project ready.  No priming or sanding needed for most objects.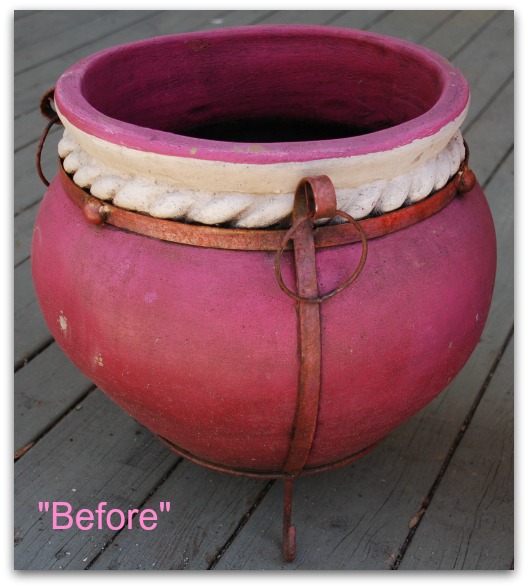 Featured here is my selected project.  A lovely flower pot given to me many years ago.  Originally a vibrant red, it has faded to an undesirable dark pink.  I don't "do" pink.  Not that there's anything wrong with it but I'm kind of earthy and tom boyish.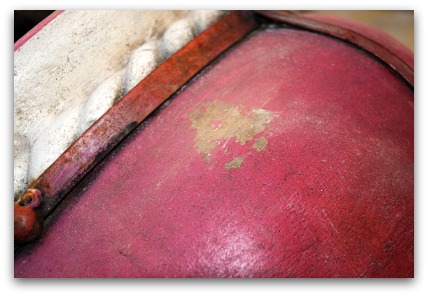 Even though I didn't need to, I did go ahead and sand the flower pot.  There was loose flaking paint.  I also washed the dirt off it with warm soapy water and then rinsed it.  The interior I left untouched.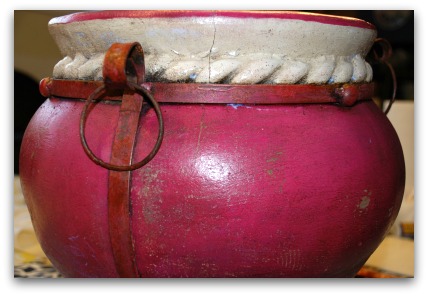 As I washed the pot I noticed that the red pigment was coming off.  So I elected to use a Multi Surface Sealer to prevent the original paint from leaching through.  The Chalky Paint label says: "Natural tannins or existing stain finishes may bleed through any paint: test on hidden area to ensure stain blocker not required."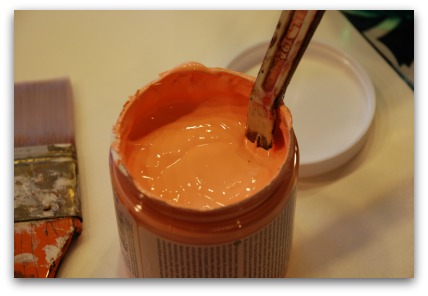 I thought I would make the pot a little brighter with a color called "Smitten".  The name alone captivated me.  However, as the paint dried it took on a very baby-ish peachy/pink color.

Not at all what I expected.  Yikes!!  This would not do!
I had a pile of colors to choose from but for some reason I couldn't find the one color I KNEW would be the one.  Maybe I imagined I had the color or maybe in my messy studio it just disappeared.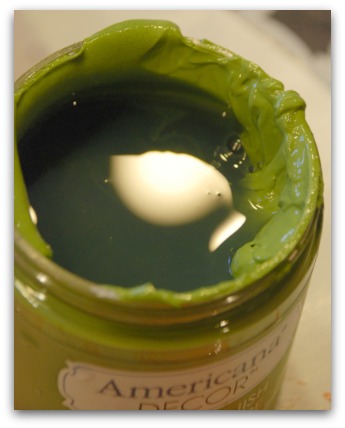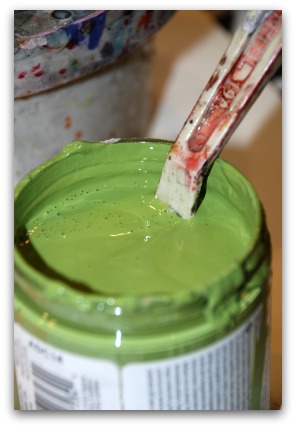 When I first opened the jar of "New Life" the pigments had separated.  I was really concerned.  But I did a lot of stirring to get the paint completely smooth and incorporated and all was well.
I love greens, I really do.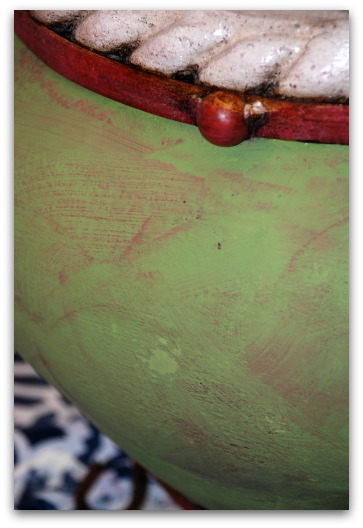 I did a first coat and I began to listen to the Little Voice in my head. 
LV:  "You know, that's not going to look right."
ME: "Shut up.  Since when do you give up so easily."
LV: "You know I'm right.  You're wasting time."
ME: "It's only the first coat."
LV: "Whatever!"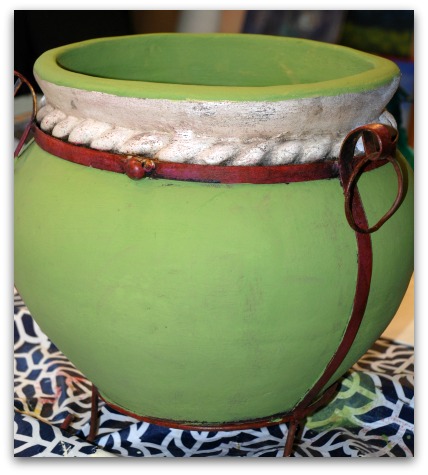 OMG!  The Little Voice was right!  The pot looks like something out of a Dr. Seuss book!!!!
So I tore the studio apart until I found what I was looking for.  At long last!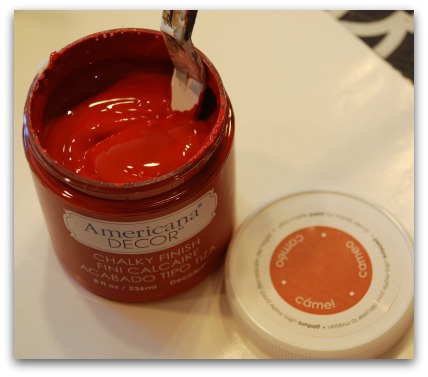 This is "Cameo".  A beautiful warm brick red.  Now that's more like it.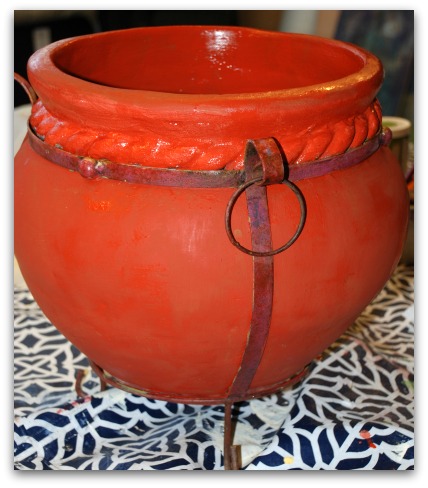 This is it after the first coat.  I was feeling a whole lot better.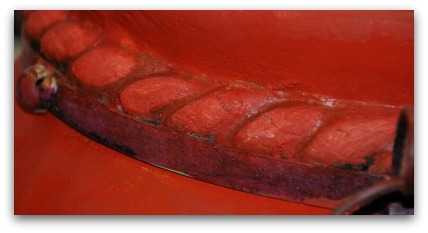 After the second coat had dried, I dry-brushed some Dark Chocolate into the grooves of the braid details.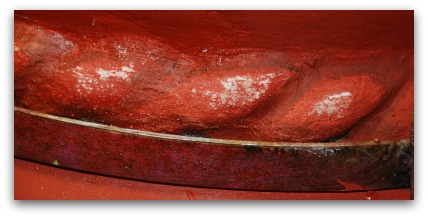 Then I sanded off the tops of the braid details, revealing the original white paint.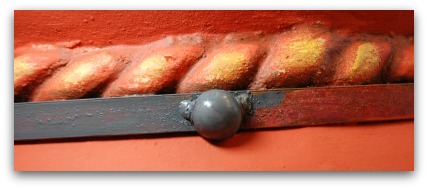 Then I applied a wash of Primary Yellow to tone down the sanded areas.
I painted the metal bands with "Relic", a beautiful dark grey.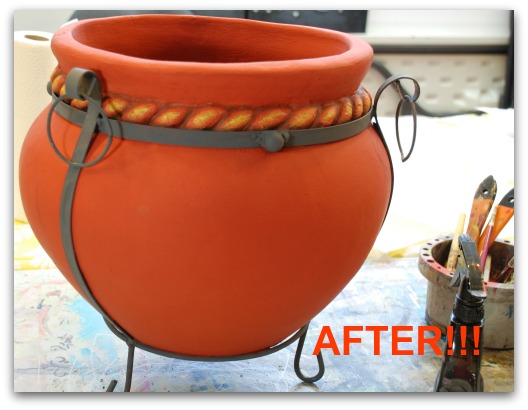 So here it is.  A complete make over using chalky paint!!!  And it suits my environment and home decor much better now.
Because this is an object that will be used outdoors, I'll be using Americana Decor® Varnish in a matte finish because I love this look.
But before I do.... do you think I need to add anything else to it?  Leave me a comment below!

---
For your shopping convenience here are the products I use for doing chalky painting on a variety of surfaces.

These are links to Amazon.  When you buy products from my site I do earn a teensy weensy commission which does not affect you at all.  The commissions allow me to keep this web site alive.  Please do not feel obligated to purchase anything.  Support your local stores.

---
---
You Can Paint These Trees and More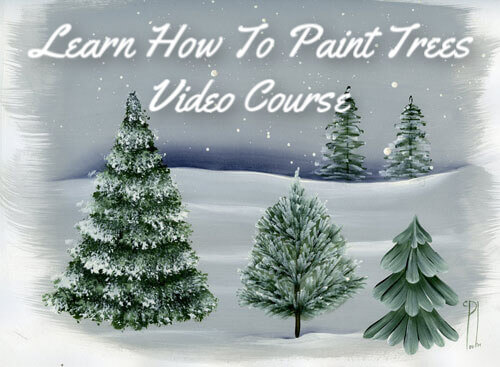 Click to Learn More
---
Introductory Price
Save 55%  plus
a Money Back Guarantee
---
---