DECORATIVE PAINTING TRENDS
What's hot, what's not.
There are many things that impact on decorative painting trends. In recent years, new products have burst onto the scene.... so many choices!! It's all great stuff! This gives tole and decorative painters unlimited opportunity for creativity!

Plus it's also good to watch what's happening in home decor and fashion. These two have become so closely linked that it's now common to find fashion designers creating home decor lines and vice versa.
And what influences design for the home? Well ...things like pop culture, movies, the environment, economics, world events and ethnic influences from the Orient, Central America and India.
Here are some of the more popular decorative painting trends:

· Whether it's walls, furniture or home accents, paint will always be a popular and inexpensive way to change our surroundings. 
· Working on a variety of surfaces is not only possible, it's strongly encouraged by the decorative painting industry. For example you can enjoy gourd painting , or why not explore decorative painting on glass? Painting on paper and fabric painting have all become popular. For each specialty surface, you can find a product line created for it!
· Strong graphics and geometry still plays a key role in the design world. Circles, swirls and stripes are in.
· As you probably know, retro with a modern twist continues to have a huge impact.
· Flowers are always popular. Large, stylized flowers are all the rage.
· Sky, grass, and the ocean ... big influences!
· Bamboo, rattan, reeds plus other organic materials and shapes continue to prevail.
· Home accessories that are handmade or look handmade are a great trend this year ... what could be better for us?
· Again, Americana, primitive and folk art will always be near and dear to many of us.
· We know owls are big right now. And penguin lovers have always been out there, but have you noticed it sneaking a little more into our painting and advertising? Could that have anything to do with movies like March of the Penguins and Madagascar?
· There's a growing need for people to relax and establish individuality through play ... for us, that's paint and whatever else we can find in our stash of other creative stuff! This often leads to texture, texture, texture... and moving parts .... hmmmm. Whether visual or tactile, texture can be found everywhere. Adding tags, fibers, fabrics, knobs, charms .... just about anything goes! Even our painting has become interactive.
· You'll also find lots of interesting stuff to add to paint. Want to pearlize it ... no problem; texturize it ... done! Thickening and thinning ... mere child's play.
· And speaking of kids, they're pretty savvy these days ... when it comes to general trends and color. You'll see lots of projects for kids to do. After all, they're the decorative painters of the future.
· Holidays and other seasonal themes are always popular. A constant in decorative painting trends is Thanksgiving, Halloween and Christmas. We could paint for Christmas all year round.
---
As there's lots to discuss about decorative painting trends, we will be updating this information from time to time.
In the meantime, if you have questions or you'd like to share some tips and ideas, we'd love to hear from you. Feel free to contact us here.
Return from Decorative Painting Trends to our Decorative Painting Home Page.
---
---
You Can Paint These Trees and More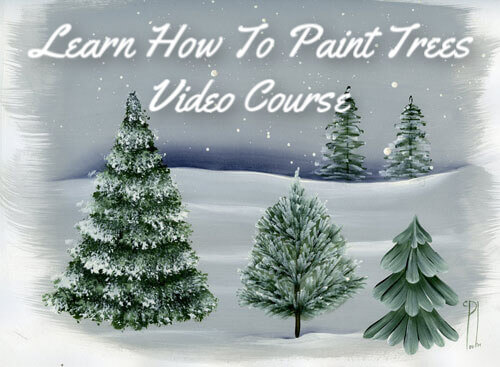 Click to Learn More
---
Introductory Price
Save 55%  plus
a Money Back Guarantee
---
---