Antique Milk Cans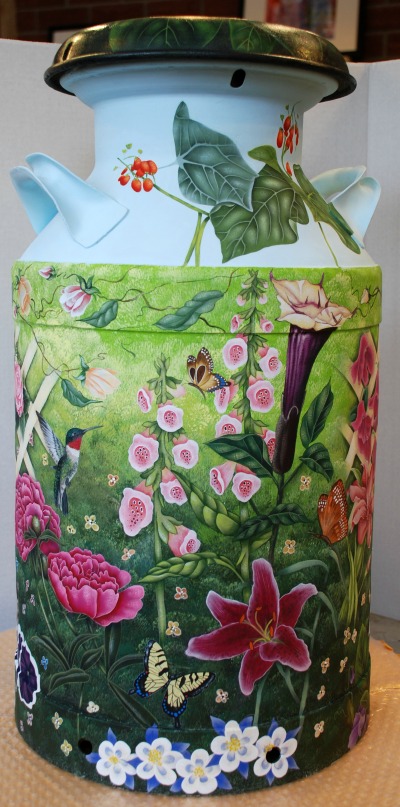 It's getting hard to find antique milk cans these days.  And when you do they're usually in pretty rough shape, banged up and rusty.  Cans like this are heavy and large, so the project was quite an undertaking. 
I was asked to paint a milk can featuring favorite flowers from my client's garden.  There were many photos of the flowers to choose from and I set about laying out a plan.
Most of the flowers were painted from the photos and others were inspired by the following decorative painters and designers.
- Carolyn L. Phillips
- Karen Hubbard
- Gladys Neilsen
- Susan Pisoni
- Donna Bryant Waterson
This particular milk can was delivered to me in nearly pristine condition.  No rust and it was cleaned right down to the original metal.  And it still had its original lid, which is very rare to find. With the can in this condition my job was a lot easier!
---
Preparations
---
Like all metal, it had to be primed with a rust inhibiting primer.  I applied two coats of Tremclad® Waterbased Metal Primer all over the milk can using a small sponge.  I pounced the primer on to create a little "tooth".  I used a hairdryer to dry between each coat.
---
Drawing
---
I did line drawings of flowers from the photos and enlarged some to actual size where I felt they should be prominent.  Others were sized to fit and to create visual movement. The addition of butterflies and birds added more interest to the scene.

The drawings were then transferred onto a long sheet of tracing paper that fit around the circumference of the milk can. 
---
Painting Antique Milk Cans...

---
The entire can was basecoated with a soft, pale blue.  The main part of the milk can was stippled on using a 1/2-inch Deerfoot brush starting with dark mixes of greens and using lighter shades of green going upward.
Once dried, I used the tracing to get the flowers in place and transferred them using graphite paper.  From there I painted one flower at a time.
Everyone wanted to know how many hours it took me to paint the whole thing.  It took about 10 times longer than I had estimated!!! 
And in the middle of painting this project I managed to have an accident in the kitchen.  I stabbed my left hand very deeply with a very sharp butcher knife.  I couldn't use my hand for a couple of weeks.  Although I'm right-handed, it's amazing how much we depend on our non-dominant hand.
The following are images of the completed milk can and the lid, featuring my client's favorite flower, datura inoxia.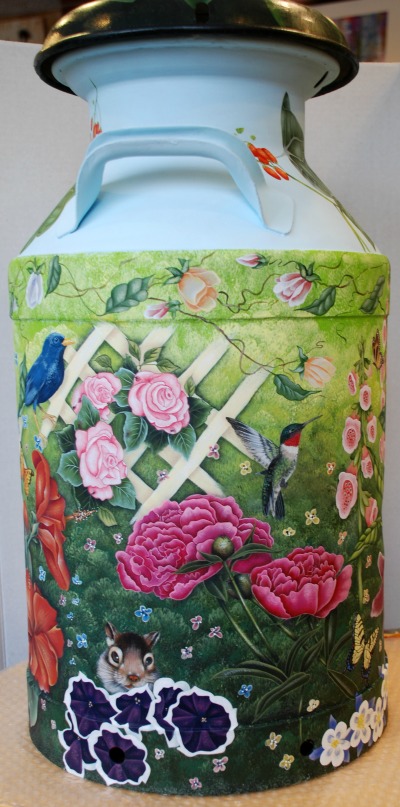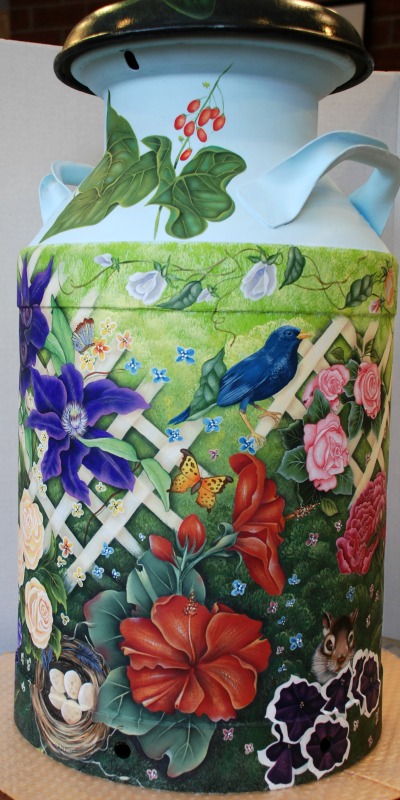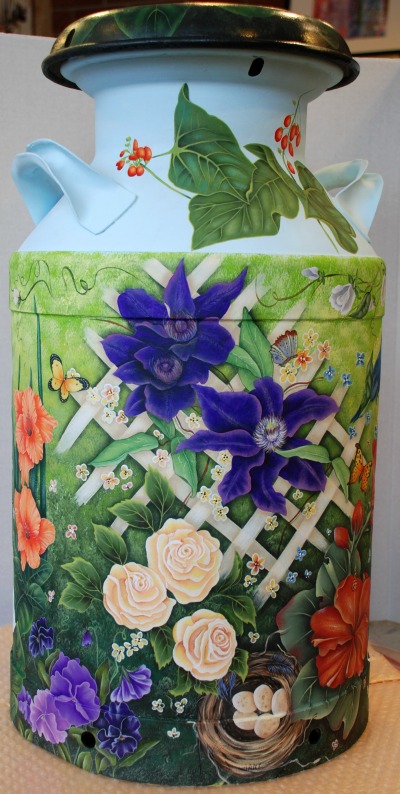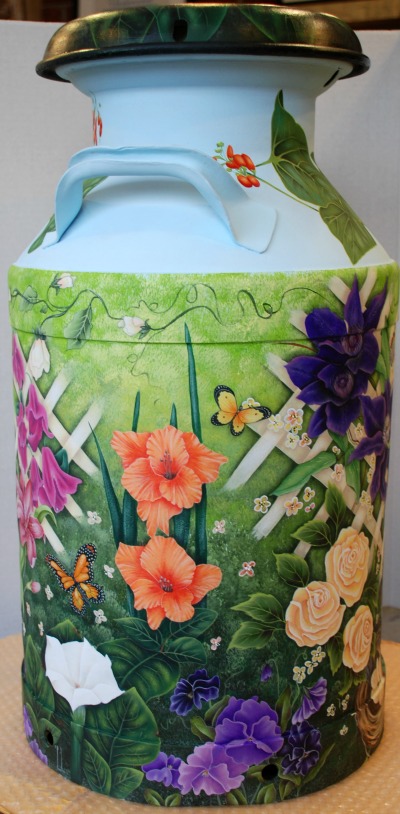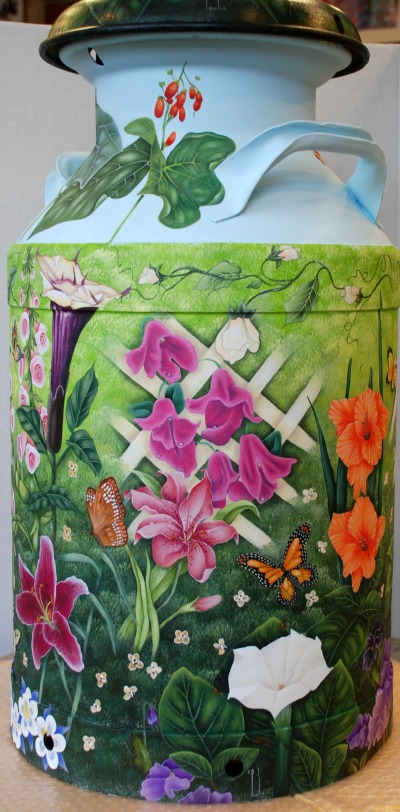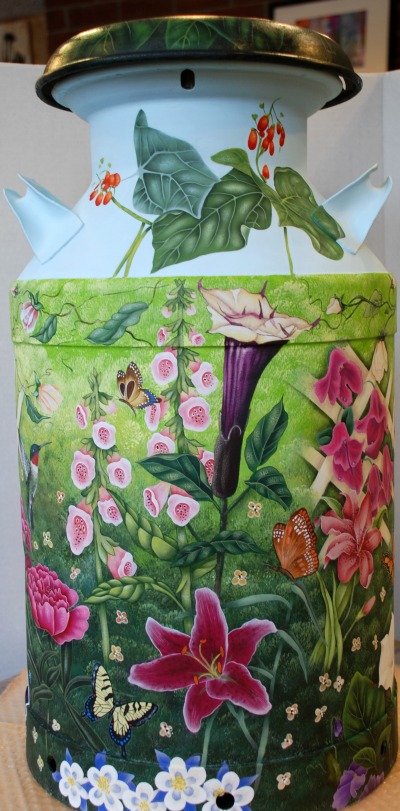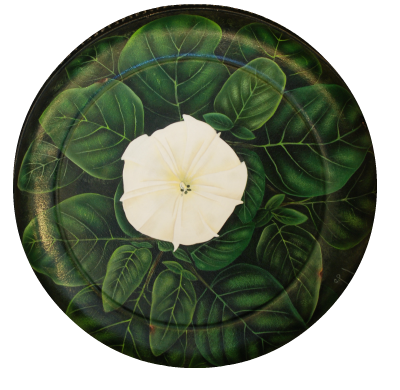 If you'd like to see other projects I've done on antique milk cans just click here.
I appreciate all comments and feedback!
Let's go from this antique milk cans page back to the HOME page.

---
You Can Paint These Trees and More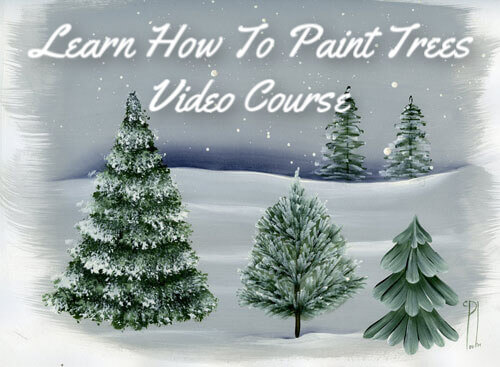 Click to Learn More
---
Introductory Price
Save 55%  plus
a Money Back Guarantee
---
---