WOOD FINISHES
Great Tricks for Prepping
Interesting pieces with pre-existing wood finishes offer the decorative painter many great options. And of course there are tons of surfaces to choose from made of raw wood. Regardless of the initial surface you're dealing with, preparation is key. Most of us would rather skip this step and just paint. But it really does make a difference.

When an unfinished wood surface is being prepared, the most common treatments are wood staining and painted wood.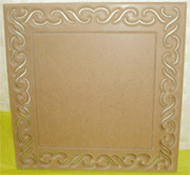 If you're dealing with MDF wood, like the sample on the left, click on this link as there are important things to keep in mind.
And likewise, you can easily follow our suggested tips when you're all set for painting MDF. The same MDF plaque below was decorated by Jodi with a Rosemary West design. Such a unique treatment!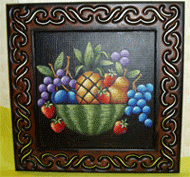 Today you can get unfinished surfaces from many places. So it's helpful to consider the final function and look you want for your masterpiece. If you'd like a fine wood finish as your end result, a cheaper, poorly constructed piece won't stand the test of time. However, a decorative item that's a little crooked and distressed may be just what you're looking for.


For most projects, we recommend a good wood supplier, wood worker or a local decorative painting studio.
---
---
Having said that... there's nothing as exciting as discovering an old beat up chair in need of some TLC. Who cares what the finish is like! Let's face it, we're willing to pay for quality, but we sure love saving money when we can! A little elbow grease saves big Ka-Ching!!


Which brings us to thrift stores, garage sales, auctions and yes, garbage days... we have absolutely no shame! Most often these treasures will already have a layer or two of paint and varnish . No problem-o! We can deal with any wood challenge that's thrown at us.


No matter what function, style or existing surface you're working with, see how to best tackle these various finishes by using the links in the paragraphs above.
In the meantime, if you have questions or some suggestions, we'd love to hear from you! You may contact us here.
And if you need more information on decorative painting, just return from Wood Finishes to our Decorative Painting Home Page.
---
---
You Can Paint These Trees and More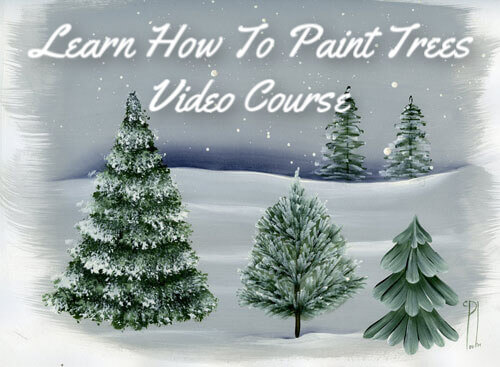 Click to Learn More
---
Introductory Price
Save 55%  plus
a Money Back Guarantee
---
---