What Makes MDF Wood So Unique?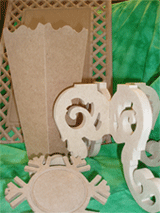 MDF wood is a very versatile product that makes a great surface for decorative painting.

The initials MDF stand for medium density fiberboard. As such, MDF is actually a composite material. It's made up of wood fibers that would normally be wasted. These fibers are then bound together with resin, pressure and heat. Talk about recycling!

MDF board is so strong that it resists warping. It's extremely dense, smooth and flat. Plus, there are no knots or directional wood grain to deal with! Its makeup is completely uniform, which of course makes it easy to machine cut and there are no torn edges to worry about.

It can be put together with nails, screws, dowels and/or glue without some of the problems associated with regular wood and it comes in various thicknesses.
---
Endless Painting Opportunities with MDF!
---
All of this means that MDF can be made into an endless variety of paint-able surfaces... in all shapes and sizes. Extra details can be machine engraved or lasered into MDF. 

On the negative end of things, if MDF is exposed to moisture or water it will swell dramatically. But, once the MDF has been properly sealed and varnished it will behave very much like wood.  Here's information for sealing and painting MDF.

---
---

Because MDF is so dense and heavy, if you purchase painting surfaces online for delivery, your shipping cost will be higher than if you purchased the same item in pine. So keep that in mind.
One of my pet peeves with MDF is how the cut edges become very "furry" after I seal them. And sanding those edges smooth is not so bad on a straight cut, but getting into the nooks and crannies of fancy laser cut scrolls is an exercise in frustration. Maybe I'm being too fussy.

Patented Fibrex® is ideal for use when a thinner material is needed or when very intricate laser cutwork is desired. It's also lighter than MDF wood making it wonderful for Christmas ornaments. And the cut edges don't get furry when exposed to sealers and paint.
Looking for great information about painting on MDF? You can find it on our Painting MDF Page.
---
Let's leave MDF Wood and go to Wood Finishes.
Return to our Decorative Painting Home Page.
---
---
You Can Paint These Trees and More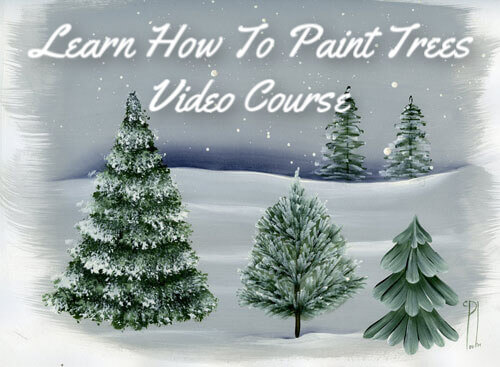 Click to Learn More
---
Introductory Price
Save 55%  plus
a Money Back Guarantee
---
---