DECORATIVE PAINTING
What Is It?
Decorative painting is an art form that doesn't require any previous knowledge or the ability to draw.
All you need is the desire to learn. You really don't need a fine art degree to learn to paint.

Because a pattern is usually provided and techniques are taught in a very systematic way, it's easy for anyone to learn.
Like any other skill worth perfecting, this type of painting comes down to learning the very basics, practicing and then practicing some more.
The more you paint, the better you become.
Generally speaking, most painting today is done with acrylics, available in a huge assortment of pre-mixed colors. So you don't need to know anything about color theory.
As a matter of fact, for most painting projects you're told which colors to use and how to use them … what could be better?
This method of painting can be done on lots of different surfaces. Go ahead and paint anything from a jewelry box to a huge wall canvas.
There are no limits. You can even do projects that will be used outdoors! Like painting gourds to make birdhouses!
---
---
While it's hard to know the exact origins, decorative painting can be traced back several centuries to Europe. Many European countries developed their own regional styles.
Some people became grand masters and were extremely skilled in their craft. Their services were only available to the very rich.
It wasn't long before untrained common folk, in an attempt to imitate, began decorating their own walls, furniture and functional items, in a charming, more simplistic way.
Eventually, colonists came to North America bringing their cherished painted items with them.
Just like in Europe, in no time at all, this style of painting spread by way of itinerant painters and peddlers.
Ever wonder where the term TOLE PAINTING comes from?
No doubt you've heard the phrase FOLK ART PAINTING.
---
---
These are all related art forms and crafts.
Since we began painting many years ago, the creativity of decorative painters worldwide has blossomed and transformed itself.
Traditional techniques have combined with new ones to produce effects that are limited only by our imaginations. And we tend to have very vivid imaginations!
Every year, more products, mediums and color choices become available to make our play time even more fun.
We also consider simple or intricate
STENCILS to be a form of decorative art. Follow the link to get some really great advice from this very comprehensive website. (Opens in a new tab in your browser.)
Whether you're a newbie or a well-seasoned old pro, we know that you always want to know more.
So go ahead and browse through these pages and check out all the great info we gathered for you. And just so you know, we'd love to receive your painting questions, tips and ideas.


Return from Decorative Painting to our Home Page.
---
---
You Can Paint These Trees and More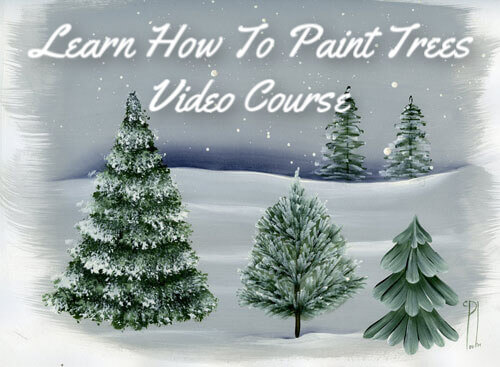 Click to Learn More
---
Introductory Price
Save 55%  plus
a Money Back Guarantee
---
---