Wearable Art

I love creating wearable art.  You know, hand painted silk scarves, painted shoes, brooches and pins, hand felted garments... I love all that stuff.
For my first tutorial I'll be showing you my process for making pins from recycled canvas.
Yes indeed, I save my painted disasters and turn them into mini works of wearable art.
I simply remove all the staples from the wooden support frame.  I keep the frame so I can stretch my own canvases later to save money.  Then I make a pile from my discarded attempts.  Yes, I said pile.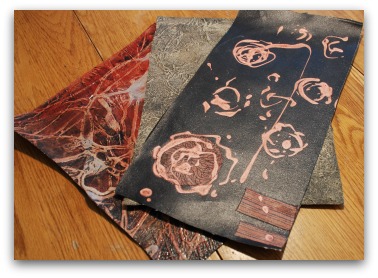 Here I've selected three very textured canvases.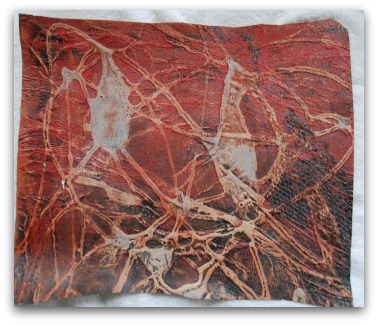 From this canvas I'm going to cut 2 of the same shape.  Two circles and an even number of rectangles, maybe two squares.

On the back of the canvas I draw the shapes using a ruler.  For circles I use a large bottle cap or a small drinking glass.  Don't make the pins too large.  Rectangles are about 2" x 3", square 2" x 2" and circle 2-1/4" in diameter.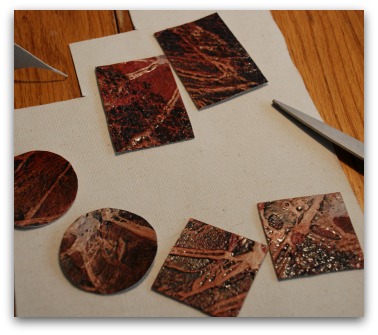 Cut with sharp scissors.  If the canvas has a lot of texture it will be difficult to cut with less than very sharp scissors.
Don't throw out the scraps yet.  You may need them to embellish your pins.

My favorite adhesive is Golden Heavy Gel for doing work that needs to not come apart.  The bond is very strong yet flexible. 
Another great adhesive is E-6000.  That would work here as well.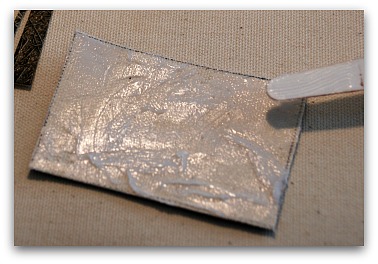 Using the back of a palette knife or a wooden craft stick, smear some gel on the back of one of your shapes, making sure to spread it out to the very edges.  While wet, lay the matching shape on top, matching the edges as much as possible. 
If it's not a perfect match don't fret.  Once dry we just trim with the scissors.  If your shapes are not perfectly straight that just adds to the charm.
If gel oozes out when you squish them together, wipe the excess with a damp paper towel.

Place your pins between two sheets of wax paper and cover with a heavy object.  Let set up for about an hour.  When dry, trim where needed.  If you don't like the ragged edges, sand them down with 220-grit sandpaper or use a nail file.
Paint the edges a dark color.  My pins are dark reds and deep mauves, so I used Soft Black.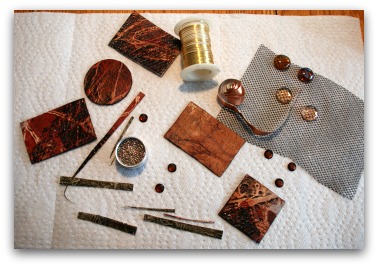 Gather up some stuff you have kicking around.  Here I have small mesh bags in black and one in white that once held pearl onions.  I have fine gold metal wire on a spool.  There are large glass beads.  There's a roll of self-adhesive copper foil tape, love that stuff!  There are faux copper rhinestones and seed beads and some of the scraps I didn't throw out.
If I use the scraps, I paint the edges as well.  I don't want to see a white edge.

For this pin I first applied the self adhesive copper foil tape.  I used a small metal embossing tool to press it down and leave texture marks.
Using some of my scraps, I added two organic looking strips onto the foil with the gel medium.
I used a #16 Flat to float a wide shade of Soft Black on both sides of the copper foil.
On the left side of the tape I applied a some gel and laid down a piece of the white mesh.  At first the gel remains foggy but it will dry clear in a few hours.
And finally I added a glass bead with the gel medium.  Note that the gel is still foggy.  This too will dry clear.
Next pin....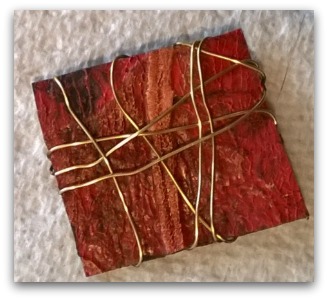 Here I cut out a small 3/4-inch square and wrapped it with the gold wire.  I wanted to add an embellishment to one of my rectangles.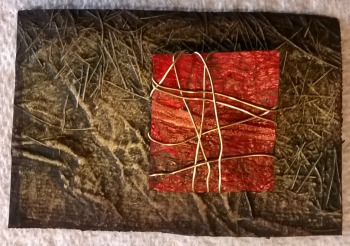 I added the square with a generous amount of gel medium on the back.  Pressed it down and removed the excess gel with a damp cloth and left it to dry.
However I did have a similar pin I started a while back and I felt it needed more.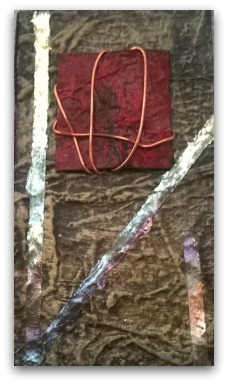 So I added Black variegated gold leaf using Designa 1/8" tack tape.  It comes in many widths and it's SO easy to use!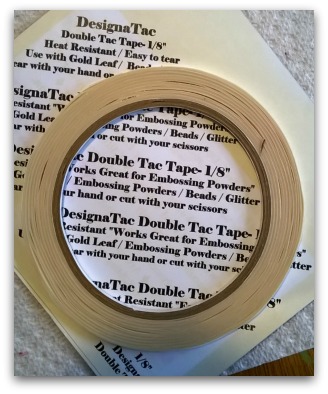 Designa Tac Tape
The picture doesn't do this justice.  The gold leaf is swirling in black and blues.  So beautiful!

Sometimes I don't need to embellish at all because I like the way it looks the way it is.  As is the case with this little beauty!  So then all I do is add the pin back with the gel medium.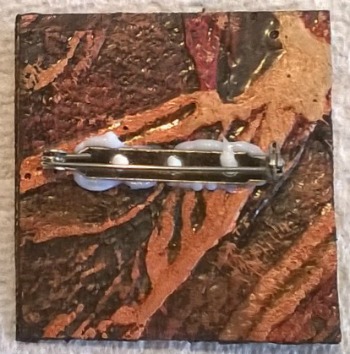 Apply a generous amount of the gel onto the pin back finding.  Press down firmly.  The excess will keep the pin back finding in place securely and it will dry clear.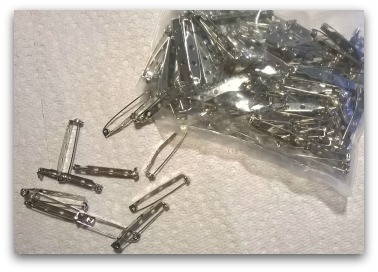 You can get pin back findings in most craft stores and online.

I hope you enjoyed this short tutorial and that you'll try it yourself.  People love receiving them as gifts and they're also hot sellers at art and craft shows.
By the way, the pin at the top of the page was embellished with a square of aqua metal foil, some blue variegated gold leaf and a brass brad (I snipped off the back fasteners).  People LOVE that one.

---
For your convenience, if you need any of these products feel free to check out the links below.  No obligations to buy anything,of course.  Most items are available from your local craft or art stores.   If you do use these links to Amazon I do earn a teensy commission but it doesn't cost you anything.  My little commissions over time add up and it allows me to feed my cats!  :o) 

---
---
Let's go from this wearable art page back to the Home page.

---
You Can Paint These Trees and More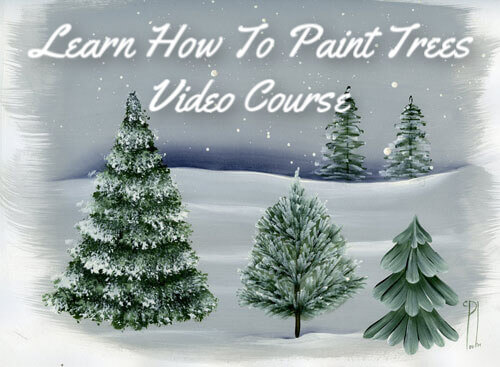 Click to Learn More
---
Introductory Price
Save 55%  plus
a Money Back Guarantee
---
---