GLASS PAINTING
There's a huge growing trend and it's the art of glass painting. It appeals to fine artists just as much as it does to crafters and decorative painters.
But you're probably wondering if you really can turn a wine glass into a work of art. And absolutely, you have no idea even where to start.
Hang around a little and we'll guide you along the way. There's a ton of information for you right here.
Don't miss this...

Have you seen our latest Glass Painting Pattern?
Why not create beautiful hand painted gifts this year?

As we mentioned, painting on glassware is very popular and the demand for project ideas and techniques is growing. In response, the manufacturers in the art industry have risen to the challenge. They've come up with new lines of specially formulated paints mediums and other products.
Following this trend, craft magazines are featuring more and more interesting designs for glass surfaces. And indeed you will find free designs here as well to get you started.
Why not try our latest wine glass painting tutorial?  Check it out right now!
From wine glass painting ideas to tips for painting stained glass, we cover all the bases by explaining in detail how to paint glass. If you want to start right now, here's a great pattern for hand painted wine glasses.

We even give you a small introduction to reverse glass painting.
WHAT DO I NEED TO KNOW?
Painting on glass presents a few challenges.
First, unless the glass surface is frosted, the surface is very slick and virtually has no "tooth" for the paint to grab onto.
Second, glass is fragile. We've had our share of disasters while a project was nearing completion, but from these accidents we can share our tips to help prevent this sort of thing from happening to you.
And third, most of the desired surfaces for glass painting tend to be round in shape…wine glasses, vases, mugs and jars to name a few. This means that one hand is doing the work while the other supports the object. A balancing act to be sure!
---
---
DO I NEED TO BE AN EXPERIENCED PAINTER?

The free projects featured on this site are meant for beginners.
You can start with simple designs and decide to move on to very elaborate ones as your confidence grows. Best of all, you can do your artwork on just about any glass surface!
WHERE DO I START?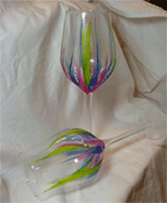 First you need practice pieces.
Go through your own cupboards or scan garage sales and look for possible candidates. Just don't start with a really special wine flute your favorite aunt gave you as a gift…not while you're learning anyway!
Next, shop in art supply stores or online for glass paints. Choose one brand or manufacturer whose product description matches the look you're going for. Do you want a transparent effect or do you want an opaque (can't see through) effect?
Also, you'll need a way to apply the paint. This will depend on the project instructions.
Basically you will need a variety of synthetic brushes in different sizes which are meant to be used with acrylics. This link should help you select the right brush type.

Then you have to wash your glass pieces and prime them as instructed by the various manufacturers.
So reading the labels before starting your project is very important.

Are you going to be painting on the underside of a plate? If so then you'll need to learn about reverse glass painting. The way the paint is applied is very different than if you're painting on the front of the object.
---
---
CAN I MIX AND MATCH DIFFERENT GLASS PAINTS?
It's strongly recommended that you don't mix the paints and mediums from different manufacturers.
Each company has a special formula and it differs chemically from the others. This means you could end up with an unstable finish or one that doesn't stand the test of time. What a shame that would be!
Now, go clear a spot on the kitchen table and have fun with your new hobby!
Glass Painting E-Books
---
CBP0001 - Martini Safari

---
CBP0016 Pinecones and Boughs

---
CBP0003 - Stained Glass Summer Daisy

---
CBP0010 - Holly And Berries Plate

---
CBP0017 Polka Dot Snowman and Friends 

---
CBP0023 Weeping Willow Frosted Vase

---
Show and Tell
If you have photos of glass projects you've done, we'd love to have you share them here for all to see. People are just fascinated by painted glass! So now's your opportunity to show your stuff!
What Other Visitors Have Shared With Us
Click below to see contributions from other visitors to this page...

---
Let's go from the glass painting page back to the Home Page.
---
---
You Can Paint These Trees and More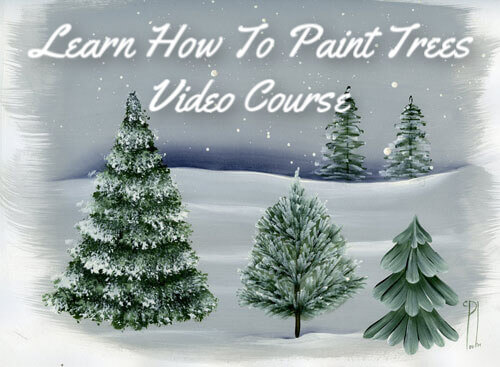 Click to Learn More
---
Introductory Price
Save 55%  plus
a Money Back Guarantee
---
---