Remove Paint from Clothing

What are the best ways to remove paint from clothing?  I get asked that question all the time.  So why not dedicate a whole page to the subject?  After all I am FOR EVER getting acrylic paint on my clothes,
Even if I wear an apron!  The paint misses the apron and lands right on me.  Unbelievable!!  Or worse, I'll drag my sleeve through a paint puddle and then proceed to drag the wet sleeve all over my painting surface and not realize it until I've got a big mess to clean up.
It's often near impossible to get dried-on paint off your clothes.  But since you have nothing to lose at this point here are some things that have worked for me.
First line of defense is to remove it while it's still wet.  Cold water and soap will take care of it.  Whew!
But if the acrylic paint has already dried you could spray it with 99% Isopropyl alcohol (rubbing alcohol).  It has to be 99%.  Nothing else will work as well.  While saturated in the alcohol, use a bone folder or the edge of a credit card to scrape the paint off.  Blot with a clean soft cloth.  Repeat.  Sometimes you can get it all out.  Sometimes a little will remain.  Especially greens and reds will be more stubborn.

By far and above all else my best results come from using 1000+ Stain Remover.  No, I don't work for the company!  This is one of those products that actually does what it says it will do.  It really is as gentle as soap but it's a great solvent.  And it won't hurt your skin.

You put it on and let it sit a bit.  Then rub the spot with a wet cloth and blot off.  Then you add more water and continue rubbing then blot with a clean cloth and then rinse thoroughly.  If you need to, repeat. Then I just throw the garment in the wash with my other clothes.

This stuff not only gets out paint but it'll take care of blood, pet stains and a bazillion other things.

Of course if the garment is a favorite blouse or jacket and you're scared to ruin it, just take it to the dry cleaners.  They have all sorts of chemicals to get stains out!  :o)
Oh, one more thing... if the garment has already been in the dryer it's game over.  The heat will set the paint and it will be impossible to get the acrylic paint out.  Bummer!

If you know of other ways to remove paint from clothing, leave me comment below.

---
You Can Paint These Trees and More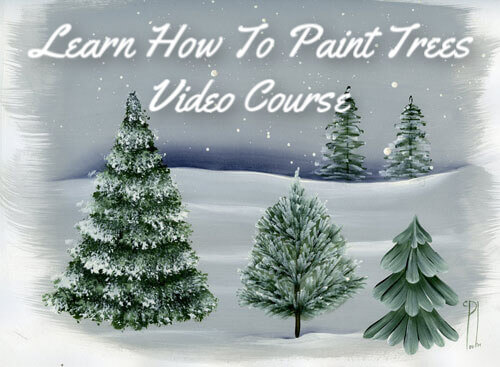 Click to Learn More
---
Introductory Price
Save 55%  plus
a Money Back Guarantee
---
---