FABRIC PAINTING TECHNIQUES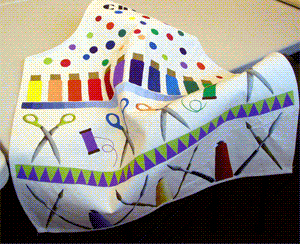 In this fabric painting techniques page, we're covering the very basics of preparing the fabric surface for proper paint absorption and permanent adhesion. It's a general overview for typical fabric painting requirements.
We'll address the more exotic fabrics, like silk, velvet, faux leather and real leather, separately.
FABRIC RECOMMENDATIONS and HANDLING
WHAT IS THE BEST FABRIC TO PAINT ON? For desired results, fabric painting is best done on tightly woven cotton, cotton/polyester blends and denim. Synthetics are an option depending on how delicate they are. If this is your first time trying this process, just stick to cotton.
DO I HAVE TO PRE-WASH THE FABRIC BEFORE I START? Yes, you have to wash the fabric as your very first step. This is not negotiable. As far as fabric painting techniques go, this is key advice.
---
---
If the T-Shirt or piece of fabric is new, it likely has sizing in it. This will inhibit proper paint absorption. Sizing is used for stiffening fabric and to keep it from wrinkling during transportation. It can be made from starch or some clay mixture, that's all I really know about it. But I do know for a fact that is has to be washed out not just rinsed out.
If your project idea is to paint on an old denim shirt or jeans (so cool!) or a T-shirt you've worn a few times, washing it will remove any fabric softener you may have used and of course it will dissolve dirt and body oils.
DON'T USE FABRIC SOFTENER IN THE WASH
DON'T USE FABRIC SOFTENER SHEETS IN THE DRYER
DON'T USE RE-FILLABLE FABRIC SOFTENER BARS IN THE DRYER
Interestingly enough, that fragrant stuff that makes your clothes soft and pliable can wreak havoc on your painting efforts. So, don't use it. It will prevent the paint from being properly absorbed. Just another of our fabric painting techniques and tips that will save you heartache.
THERE ARE WRINKLES, IS IT OK TO LEAVE THEM THERE? Nope! Get the iron out and get rid of the wrinkles. Use the right heat setting for your particular fabric. Oh, and if you're used to starching your laundry, put the starch away. Just like sizing, starch will prevent the paint from doing its job.
DO I NEED SPECIALTY BRUSHES? It used to be that I'd recommend fabric brushes exclusively. But with all of the different paints and mediums available these days it's no longer the only option. It's important to read each manufacturer's specific requirements.
And of course, any projects we create here for you will list specific brushes and types of paints.
HOW DO I PREPARE MY WORK SURFACE? Obviously you'll need to clear off and clean a table large enough to accommodate the project and your supplies.
Protect your surface with a vinyl tablecloth purchased from a discount store or a plastic drop sheet and tape it down to keep it from sliding around while you work.
HOW DO I KEEP THE PAINT FROM SEEPING THROUGH TO THE BACK OF MY T-SHIRT? Any time you're working on a project that has a front and back like a T-shirt, shirt or cushion slipcover, you'll need something that will create a barrier.
Simply sandwich an appropriate sized piece of corrugated cardboard in between the layers. The corrugated layer can also be pinned to if you need to secure the fabric in place.
You could also use a Styrofoam meat tray or waxed sheets of paper in the same manner.
DO I NEED TO STRETCH THE FABRIC? Good question! No, the fabric is painted on in its natural state. It's one of the reasons for using paints or mediums made specifically for fabric. These won't shrink or alter the weave and weft of the garment.
WHAT KIND OF SUPPLIES DO I NEED? Besides brushes, corrugated cardboard and wax paper, you may need a few more supplies.
To hold the fabric in place while you're painting, use quilting pins or "T" pins or Bulldog clamps.
You may need chalk pencils in white for drawing on dark fabrics and grey or black for lighter colored fabrics.
You'll need a water container, paper towel and perhaps a spray bottle. Obviously you'll need fabric paint and/or fabric painting medium and perhaps fabric markers and fabric crayons.
Styrofoam plates come in handy if you want to mix colors or mix additives.
---
---
THE DESIGN
You can find interesting designs either online or by using some of the designs we've created for you. And there are books that provide line drawings and patterns for fabric painting too. Another great place for really simple line drawings are kids' coloring books.
Or you can check out this fun and easy fabric painting tutorial I've created just for you!
Whichever you decide to use, you need a way of getting the drawing onto your fabric.
One of the fabric painting techniques I use for transferring an image is to photocopy the image using a laser toner copier or printer. Then simply place the photocopy image face down onto your project and iron the back of the paper until the image transfers.
Another method is to rub chalk over the back of the design, then place it chalk-side down onto the fabric. Applying firm pressure, use a pencil to trace the design. The chalk will adhere to the fabric and will eventually just wash out or rub off in most cases.
More Fabric Painting Techniques
Painting the Design
Fabric painting techniques are not really different from painting on other surfaces.
Some fabric paints or mediums will require that you scrub the paint into the fabric, others not so much. There is definitely a longer drying cycle with these paints so you'll have a bit more time for doing color blending.
I hope you find these fabric painting techniques and tips useful in your painting projects.
Here is a summary of topics for a more in-depth look at fabric painting and related products.
FABRIC PAINTING MEDIUM
FABRIC PAINTING DESIGN
SPRAY PAINT FOR FABRIC
FABRIC PAINT PEN
FABRIC PAINT CRAYONS
FABRIC PAINT MARKERS
BATIK
TIE-DYE
REMOVING PAINT FROM FABRIC (Oooops!)
If you need more information on fabric painting techniques, please contact us right here.
Return from Fabric Painting Techniques to our Decorative Painting Home Page.
---
---
You Can Paint These Trees and More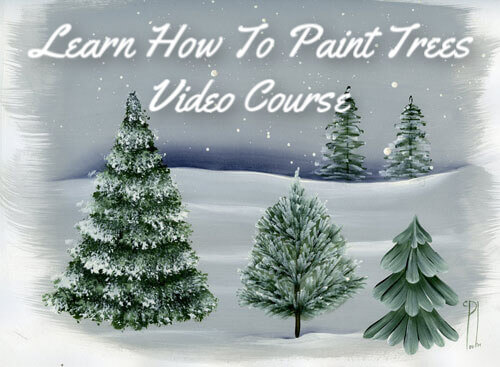 Click to Learn More
---
Introductory Price
Save 55%  plus
a Money Back Guarantee
---
---