PREPARING CLAY POTS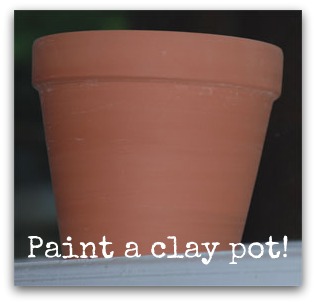 Preparing clay pots for decorative painting projects is really simple. Plus they're so versatile, inexpensive, and easy to find and come in all shapes and sizes.
They're great for Christmas projects or other seasonal themes, because you can fill them with goodies once your painting is done.
When you paint on them, keep in mind that they're porous. The preparations recommended here will only render the surface water resistant.
If you do want to put a plant in the pot, you could always keep the plant in its original plastic pot and just slip it into the clay one.
First thing you do is sand the surface to smooth and even it out. Sometimes the clay can have some rough spots. Wipe off the dust with a damp cloth or tack cloth.
With a foam brush, apply a coat of all-purpose acrylic sealer to the inside and the outside surfaces. If there is a drain hole at the bottom, make sure you also apply sealer to the cut edge of the hole.
Let that dry thoroughly and then apply your background color or just let the terracotta be the background color. Then paint your chosen design! It's that easy!
The best way to protect your beautiful new clay flower pots is to apply a varnish to the outside and the inside of the pots with a gloss varnish. If you're going to be using them outdoors, use an Exterior Varnish with UV protection for added longevity. You can either spray or brush on the varnish.
Here's a quick and fun project for painting and glamming up a simple, plain pot.  Check it out here.

---
---
I also like to go a little further by adding a coat of paste wax. I just take cheesecloth and pick up the wax. I apply it to the outside of the pot. Then I buff it to a gorgeous sheen. The wax seems to add extra protection…and it just looks amazing.
And that's all there is to preparing clay flower pots for decorative painting!
The image below is a design I created for painting on clay pots and tin buckets too. Awww, so pretty....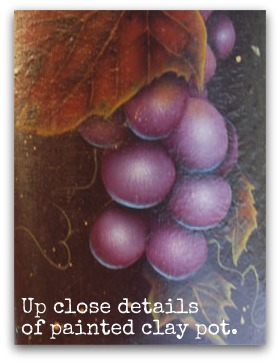 ---
Something the kids can do on clay pots!

---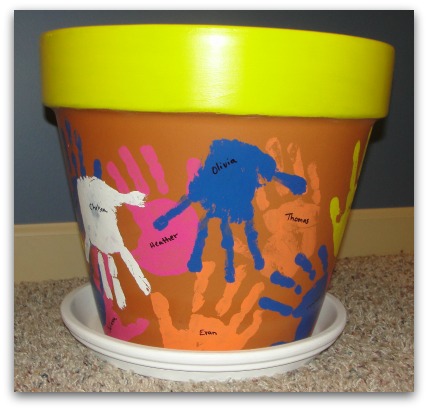 Here's a fun idea.  Rose from the USA wrote in that she was getting ready to prepare two pots for end-of-the-year gifts for her daughter's kindergarten class teachers. 
Rose organized to have each child put their hand prints on the pot with their names on each print.   After the paint dried, she preserved the clay pots with a spray on polymer varnish.
Each pot was filled with that teacher's favorite items like fruit scented candles, gardening gloves, small shovel, gladiolus bulbs, chocolate, popcorn, beach towel of their favorite football team, pointer & eraser for the white board, and a gift certificate to their favorite nail/spa place.
I'd like to thank Rose and the talented kindergarten class for sharing their wonderful and thoughtful gift idea!


Drop me a line right here if you have any more questions about preparing clay pots.
---
---
You Can Paint These Trees and More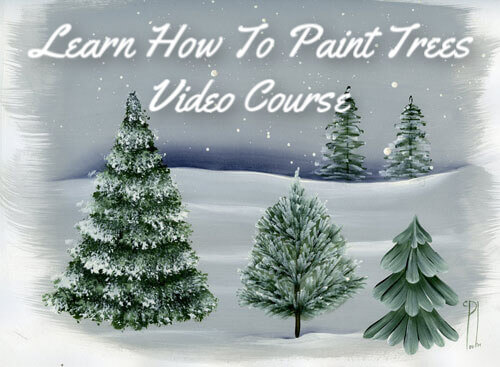 Click to Learn More
---
Introductory Price
Save 55%  plus
a Money Back Guarantee
---
---