Creative Mixed Media

Let's do some creative mixed media!  When I paint this way it's all about dancing in the moment and feeling my way around with textures and colors.  It's tuning inward.  It's meditation.  And best of all it's fun.

Join me now for what began on a very cold winter day. The wood stove was keeping the upstairs very cozy and warm but my studio downstairs was an ice box!  I had to bring some art stuff up into the kitchen.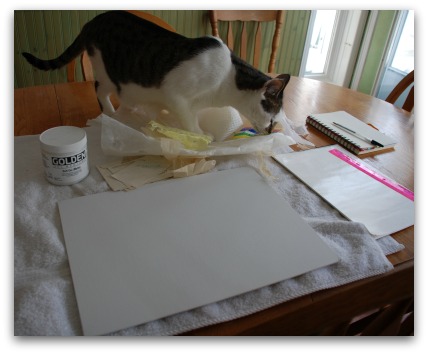 Of course all of this activity raised suspicions.  All art making materials were inspected for quality assurance purposes.  Thank you Mr. Smudge.  Your cat hairs will now be embedded in yet another painting!  Nice.  This is definitely going to be creative mixed media!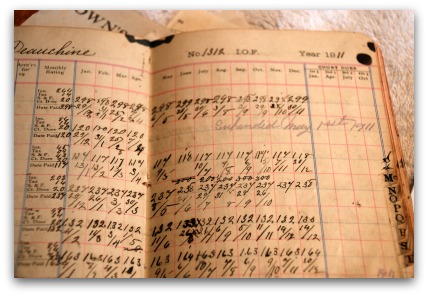 I love old paper.  When I find old documents I MUST have them.  Here is an old ledger from the Independent Order of Foresters dated, get this... 1911!  Look at that penmanship. 
People gasp when I tell them I use only originals in my work, not copies.  For me it just feels like I'm infusing my painting with history and old souls.  Kooky, I know.  But it works for me.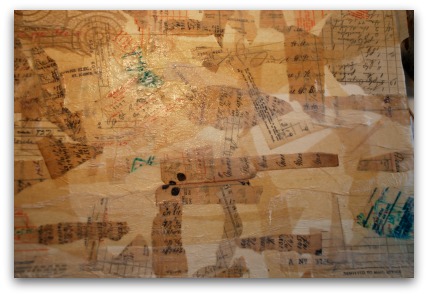 Here I've covered a canvas board with torn bits of vintage documents and tissue papers.
I simply adhered them with Golden Soft Gel Medium (Matte).  Papers overlap in places and run every which way.
I found a small sheet of self adhesive foil stars on the floor that the cat mangled up.  Anyway, I decided to add a few stars here and there.  Look closely and you can just make them out.

I use a blow dryer to dry the papers.  They are dry on top but not quite dry all the way down to the canvas. 
Patient people would wait for things to dry overnight.  I don't have that kind of patience.  I'm in the zone now!
But I know that the papers are delicate so I have to move forward with some caution.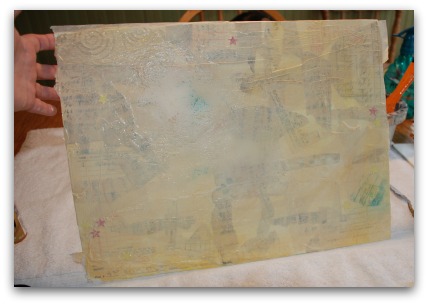 In my next step of creative mixed media painting, I added washes of Marigold all over.  Then a thinned wash of Buttermilk.  Notice how those vintage papers have faded way back?  Well, they may re-appear later or not.  I don't know where this is going yet.
I have to fess up.  I looked at this and said to myself, "Well, that looks like hell."  But I do that at this stage every time I work in layers.  But it's important to keep marching on.
So I did.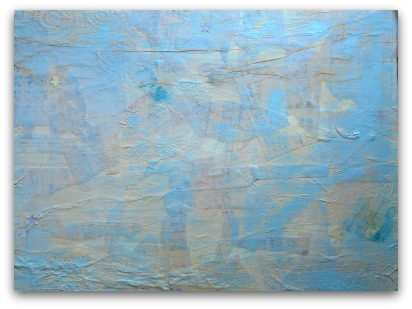 I slip slapped some Spa Blue all over...or was it Sea Glass?  No matter.  Now those papers are really disappearing!
I needed to isolate this layer of paint.  So when it dried, I covered it with a glaze medium.  As I add more paint, this isolation layer will allow me to dig back down or wipe my way back to the previous colors I've laid down.

Time to let things dry by the wood stove.
If you read my e-mails and weekly newsletter, you know I think doodling is an awesome thing to do.  Besides providing a means for relaxation, other good stuff happens.  Sometimes you come up with something you can use later in a painting.  It helps with the creative mixed media project when you have doodles on hand.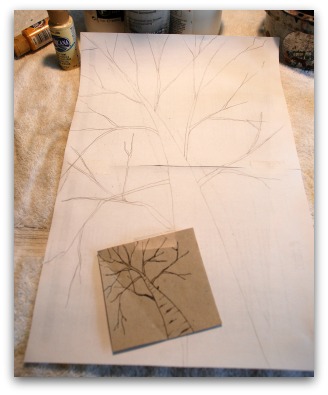 That small newsprint square is a doodle I did months ago while listening to a podcast.  I used it to create the larger drawing behind it.
Now I have a plan for my painting.  Up until then I did not.  Wild huh?  That's how I do my thing.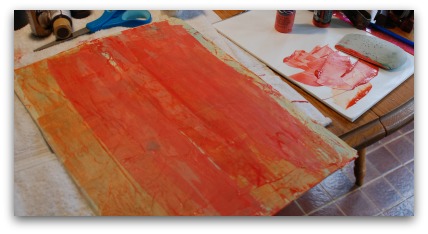 I got the painting back and waited for it to cool off.  That wood stove gives off a lot of heat!!!
Then I scraped on some Cadmium Orange and Cadmium Red using my Catalyst W-06 tool.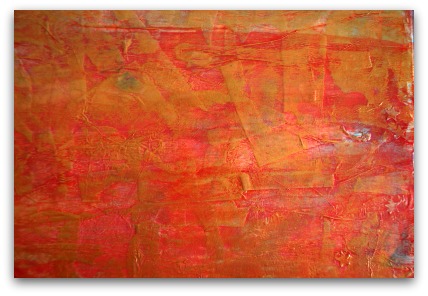 Before the paint had a chance to dry, I quickly wiped it back with a damp cloth.  This revealed more of the paper textures.  Notice that some of the yellow and blue came through?  Creative mixed media is so much fun and is filled with so many surprises!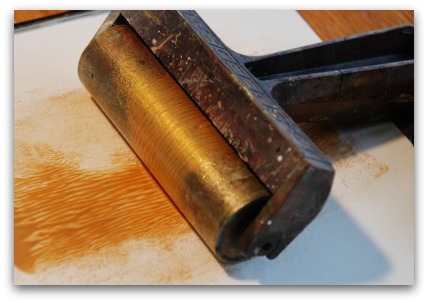 Another great tool; the brayer.  I loaded the middle of the brayer with Emperor's Gold and randomly applied it all over the canvas.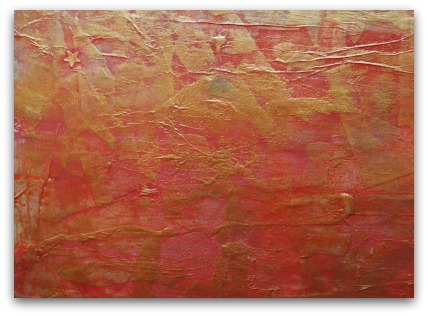 Notice how the paint only grabbed on to the peaks but didn't get into the valleys?  That's what I wanted.  Now I'm building depth and interest!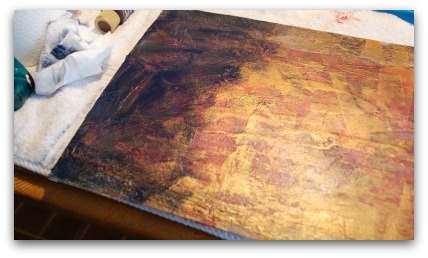 OK, now we're getting somewhere!  I covered the whole canvas with Paynes Grey.  And then I wiped it back leaving more Paynes Grey around the edges of the canvas while removing most from the middle.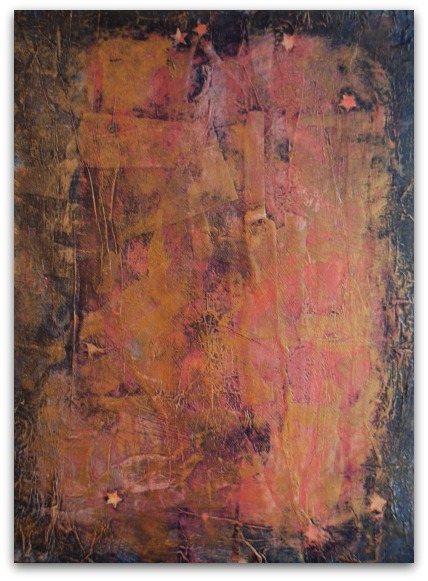 Oh my, I do love my canvas now.  Notice the stars came out?  I used a damp cotton swab to remove the paint from the foil stars.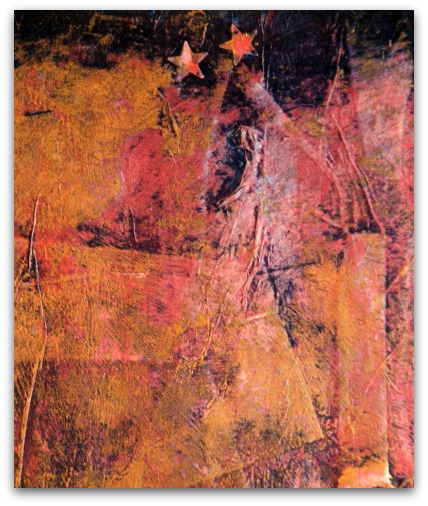 This is a detail section of the canvas.
In the image at the top of the page you saw the finished painting.
I simply basecoated the tree with a mix of Paynes Grey and Black Plum.
Then I dry brushed some highlights with Driftwood.  Finished off with some wide floats of Paynes Grey.
The thing that was bothering me was the metallic shine in the background.  It was so distracting!  To fix the problem I applied a coat of the Soft Gel Medium (Matte).  That unified the whole painting.  I still have a metallic look but it's not so shiny.

There you go.  A day in the kitchen making art.  That's all for this creative mixed media painting,
If you have any questions drop me a line any time!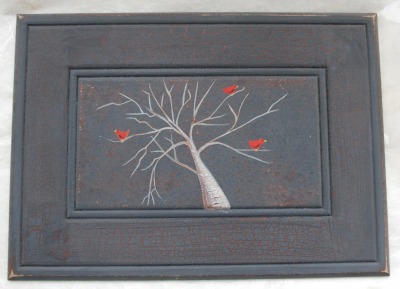 Here's the same tree (smaller scale) painted on an MDF plaque.  I've added little red birds for fun.
The plaque was first basecoated with Burnt Sienna. 
Then I applied a coat of Americana® Decor™ Crackle Medium.
Then I added a coat of Americana® Decor™ Chalky Finish paint in "Relic" and watched with delight as the paint crackled nicely.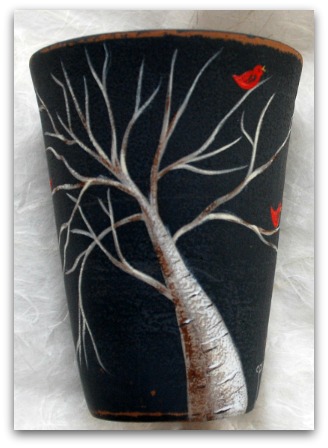 And here it is on a small clay pot prepared with Americana® Decor™ Chalky Paint "Relic" and distressed all over with sandpaper.

Below are links to Amazon for your convenience.  If you buy any of these products I do get a tiny commission.  I'm guessing you may already have most of this stuff.  But in the event you don't...
OK, let's go from this creative mixed media page back to the Home page!

---
You Can Paint These Trees and More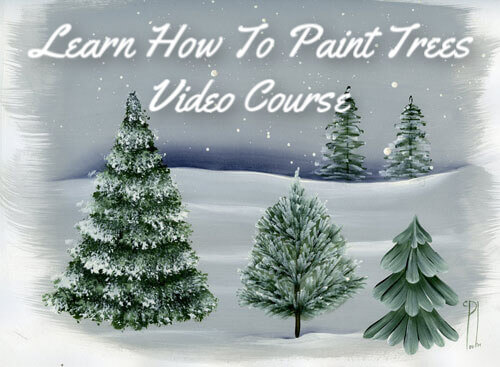 Click to Learn More
---
Introductory Price
Save 55%  plus
a Money Back Guarantee
---
---