GOURD PAINTING
A Great Surface to Paint On!
Decorative painters are discovering the exciting and challenging art of gourd painting. Are you one of them? Are you always on the lookout for a unique surface?
Hey! We've never seen Mother Nature make two gourds exactly alike, have you? And each one is a work of art on its own!!
As a natural surface, there are some necessary preparations before you can actually start painting on a gourd. If you're the impatient type, then the best thing is to find a supplier of ready-to-paint gourds. They're dry and clean and ready for your creativity.
---
---
Gourd Painting Step-by-Step
If you decide to grow your own or have access to fresh gourds, then you'll need to learn about drying gourds. It's not labor intensive but there are time and space factors to keep in mind.

Then there's the task of cleaning gourds after they have dried. This is not difficult, but you will need some supplies and access to hot water in order to remove the outer surface... sort of like derm-abrasion for pumpkins! :o)
After a second but shorter drying period, then, and only then, will you be able to create your very own painted gourd. It's great to know that your gourd surface will accept just about any art medium!
What's really interesting about painting gourds is the demand for specific themes. We found that people love painting gourd birdhouses. We're so happy to be able to share some interesting information on this subject. We love birds and blending gourd art with nature is so rewarding.
And then there's the whimsical demand for Santa gourds. It's true to say that gourds are a little rotund on the bottom end and maybe that's why the jolly ol' boy looks so good on a gourd! Hey, tell you what, have a look at this free gourd painting pattern featuring ol' St. Nick!

There are so many possibilities when it comes to painting and arting up gourds.  Some people use pyrography tools to burn beautiful designs on the gourds.  Sometimes these designs are painted with acrylics, ink and dyes.
The gourds can be cut up into useful bowls or baskets in various sizes.  Or they can be just ornamental.  If you haven't tried making art with gourds, you're in for a treat!
Whatever your reasons for exploring gourd painting, we know this for sure... they're a good carb source, high in fiber and vitamins and a whole lot of fun to paint on!!
Have some great Gourd painting advice to give?
Do you have tips on Gourd Painting? We're sure that others would love to hear all about your Gourd painting experience. And if you have photos, we'd love to have you share them here for all to see.
What Your Fellow Painters Have Contributed
Click below to see contributions from other visitors to this page...

---
Return from Gourd Painting to our Decorative Painting Home Page.
---
You Can Paint These Trees and More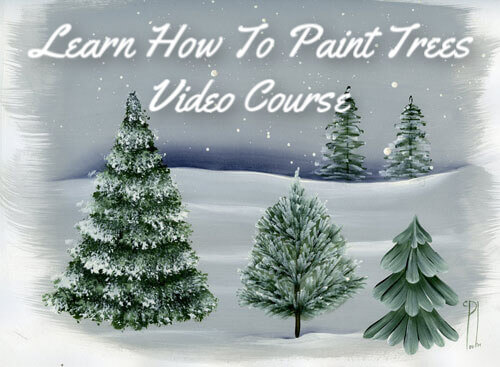 Click to Learn More
---
Introductory Price
Save 55%  plus
a Money Back Guarantee
---
---