Santa Gourds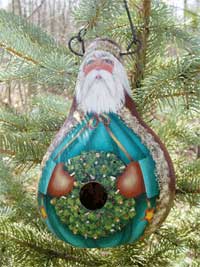 Santa gourds... I mean what could be more adorable!!!!! Painted on dried out gourds, you can have so much fun with these.
Great shapes for doing up Santa Claus include:
Bottle Gourds (Lagenaria siceraria),

Kettle Gourds,

 Powder Horn Gourds (Lagenaria siceraria),

Harvest Bowl Gourds (Lagenaria siceraria ), and

Water Jug Gourds (Lagenaria siceraria)

The image above shows Santa painted on a kettle gourd and it measures about 14-inches long and has an 8-inch diameter. Quite a chunky St. Nick! I eventually donated it for a fundraising event. He helped put a bit of coin in the money jar…maybe it was all the glitzy bling that I added to the wreath!
If you'd like to paint the Santa gourd the way I did, I'll let you in on a little secret. I have all of the step-by-step instructions right here for you. All you have to do is reduce or enlarge the drawing pattern to suit the size and shape of your particular gourd. They fly off the tables at craft shows and fairs, so paint lots!
The charm of hand painted Santa gourds has always been a popular theme for decorative painters and crafters alike. They make great gifts, are highly collectible and they're an easy surface to prepare, especially if you buy pre-cleaned gourds.
---
---
I highly recommend purchasing them already clean. Save all that time and labor. But if you want to grow, dry and clean your own here's a page filled with tons of information just for you! Just follow the individual links for everything you ever wanted to know about gourds!

A gourd can be painted to resemble just about anything…we've seen dragons and trolls, witches and goblins, cats and lizards, snakes too, yikes! Just pick a gourd shape that suggests something to you.

By far, Santa is the most popular design for painting on gourds.
Some very talented artists use polymer clay to sculpt faces for their creations and adhere them to the gourd before painting them up. Some of these are quite exquisite and fetch a respectable dollar. I haven't tried this yet but it's on my list of things to do.

Another fun treatment is to use more than one gourd. Cut pieces form larger or smaller ones, attach them to another gourd and create all sorts of brand new shapes!

Anyway, I hope you enjoy the free pattern and that you'll send me pictures of your creations!! And when I get around to painting a few more and trying that polymer clay sculpting, I'll update the site with more pictures!
Here's the link to that free tutorial for painting Santa on a gourd.
Let's leave Santa Gourds and go to Gourd Painting.
Return to our Decorative Painting Home Page.
---
---
You Can Paint These Trees and More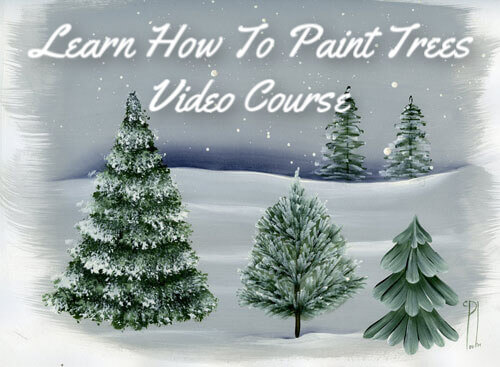 Click to Learn More
---
Introductory Price
Save 55%  plus
a Money Back Guarantee
---
---