FAUX PAINTING IDEAS
I'm often asked for faux painting ideas and how it's done. The first thing you need to know is when the term "faux" is used it simply means fake or imitation. Something is used to simulate a certain appearance. Maybe it's a marble look, a gritty brick wall or flagstones that you want to reproduce. It's all do-able. Just go for it.
Depending on your skill level, you can achieve some very convincing looks with a bit of paint and simple painting tools. You can work large scale, like your walls or turn old counter tops into granite! Obviously you can see how you could save a lot of money doing these imitation techniques. I have plans for my own kitchen counter tops (some day).
Of course, success will come from trial and error. So, if you want to create a marble wall in your master bedroom, you'd better practice on a smaller scale. I like to use inexpensive illustration board for my tests. If I ruin it, I just cover the board with white gesso and start over again. No stress there!

---
---
More Faux Painting Ideas
Another great way to improve your faux painting skills is to take small household items like terra cotta clay pots and experiment on them. You could paint the clay pot in a dark solid colour and then spatter it with lighter and lighter shades of the same color to create a stone effect. Or start with a light background and spatter with darker and darker shades of the same color. It's simple yet very effective and limitless in the colors you use. This could serve as a background for painting something pretty on top or you could just leave it spattered.

Some of the faux painting ideas I've tried have not been successful for my intended project BUT I've created some pretty interesting backgrounds for future paintings. So what may seem like a mistake has actually opened up a new possibility for something entirely unique. It's times like that I really wish I had taken better notes because I know I'll never remember what I did.
POPULAR FAUX FINISHES
Some of the faux finishes which are most in demand include CRACKLING, FAUX LEATHER, sponging, interesting textures, marbling, frottage, faux plaster, suede, to name just a few.
I've done many of these techniques and plan on bringing you more information on each one. As well, I'll keep sharing which products I've used and how I think they perform. I'll even show you my mistakes so you can learn from mine or recognize what you may have done wrong.

ACRYLICS OR OILS?
Some techniques call for oils. I have plenty of books on this subject matter. However, as you may know, I'm strictly an acrylics user so I depend on additives and mediums to make my paints behave like oils… hey, faux oils!!!! If my paint needs to stay wet longer for a technique to work, I'll add a retarder medium. If I need to create textures, I'll add anything from fiber paste to granular mediums. Acrylics are very versatile for doing faux finishes. Also, clean up is a breeze so if you're working large scale that's especially important, at least to me it is!

By following the links on this page you'll be taken to in-depth information about as many faux painting ideas as I've experimented with so far. So visit the site often as I keep adding more and more information about this wonderful art form.
For more faux painting ideas or questions, contact us here.

Return from Faux Painting Ideas to our Decorative Painting Home Page.

---
---
You Can Paint These Trees and More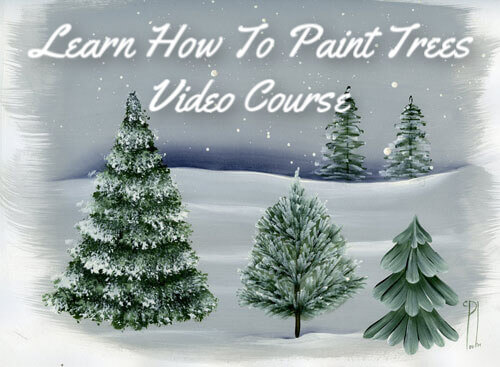 Click to Learn More
---
Introductory Price
Save 55%  plus
a Money Back Guarantee
---
---