BEGINNER DECORATIVE PAINTING
An Introduction to Tole & Decorative Painting
Beginner decorative painting lessons...there's nothing like learning to paint for the very first time! I remember my very first lesson and I've been hooked ever since!
Hundreds of my beginner students who swore they didn't have a creative bone in their bodies have gone on to become wonderful tole painters. And they are passionate about their art! OK, maybe even a little obsessed.
Here's where you can learn more about the schedule and fee for beginner decorative painting. 

---
"I can't even draw a straight line!"
---
Believe me when I say that you can learn to paint by taking these easy to follow painting lessons. Yet I can hear you saying, "But I can't even draw a straight line." Well, that's great!!! We seldom draw straight lines anyway!
As a beginner you'll learn something new with every step along the way. You cannot fail! There is no guesswork for you… no creative blocks… It's just pure fun and relaxation. And you're not going to be alone. There's room for up to 4 students in the class, and not one of them will know more than you know.
Decorative painting is taught in a "you-can't-fail" way. Repetition and practice ensure you have a full understanding of everything you learn. During your classes you build your skills based on the previous steps.
It's a lot of work but it's so very rewarding all the while you're learning.  You'll be amazed at what you can do even in a very short time.  You'll accomplish projects you'll be proud to show off to your friends and family.  Soon they'll all be begging you to paint something special just for them!  Just wait and see.  You'll never be stuck wondering what to buy for gifts!  You can hand paint them yourself.
In the meantime, you'll practice everything you learn in a special art journal. This will be a journal that you will treasure for a lifetime! And once you've practiced, you'll get to paint on an interesting surface... maybe wood, canvas, glass, ceramic tile.  Anything goes!
At the end of the weekend, you will receive an official Certificate of Completion, dated and signed by me.

Here are the beginner decorative painting details for the schedule and fees.  Come on out and learn to paint in my studio!
And if you want a way to stay connected with me, simply subscribe to The Creative Chronicles and stay on top of what's new and happening!  It's free!
Here's how you get back to Earmark Decorative Painting Studio.
If you want to reach me, here's my contact form.

---
You Can Paint These Trees and More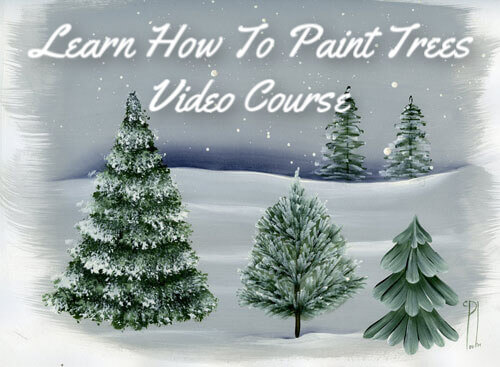 Click to Learn More
---
Introductory Price
Save 55%  plus
a Money Back Guarantee
---
---