Want to Learn How to Paint 

Trees?

Want to Improve Your Painting Results?

You Can Do It NOW! 

Learn How To Paint 7 Unique Trees Using My Special

 

Proven 

Techniques…

 
---
---
It's Easier Than You Think
---
I can help you find what you're looking for.
Just click or tap the button below.
Or continue reading this page.
You are about to learn how to paint trees... if you really want to.
You can access everything you need right here.
You can benefit today from my 25 + years of developing simple, straight-forward techniques to paint trees.

I've been painting and teaching for well over 25 years.  So, I've had the time and the opportunity to figure this out.

Here is what I know...
---
It Comes Down to 2 Things...
---
There are only 2 reasons why you are having difficulty painting trees. 
It's:
Your brushes, and/or
Your technique.
It's definitely not you!
Anyone can learn how to paint trees… yes... even YOU! 
And you can do it right from the start.  No trial and error.  No frustration... just great results.
Don't believe me?  Read on...
But first, let's deal with the issue of brushes. 
Are you using the right brushes?  Let's find out.
---
Do You Have the Right Brushes?
---
Get my free "Brushes for Trees Buying Guide".  This guide will help you select the right brushes and save you time, money and frustration. 
I'll show you how to get your free copy.  But first… I want you to promise me that you'll come back here when you're done. 
Why?  Because we need to talk about the 2nd big reason you may be having difficulty... "technique".
Okay? Click or Tap the Blue Button to get your FREE Brush Guide.
---
How About Your Technique?
---
I'm willing to bet that, when it comes to painting trees, you are almost there.  As you know, sometimes the smallest things can make a big difference.  That's definitely true in painting too. 
Wouldn't it be great if you knew which small changes in your painting technique would make a big difference in the results you get?
And if you're new to painting, wouldn't you want to know which simple techniques give you the best results?
I am happy to share those techniques with you.
I'm very good at seeing problems in a technique and showing my students how to make corrections.  That's why I know slight changes can lead to big results.
That's how I teach... with an eye for detail.  And I like to keep things simple.
Let's face it, it's just as easy to learn the correct techniques as it is poor techniques... sometimes even easier.
---
Are You Ready to Improve Your Tree Painting Skills?
---
Would you like my help in learning how to paint trees?
I will provide you training that makes painting trees fun and enjoyable. 
And you will be amazed by the results.  Just follow along, step-by-step using the simple techniques I teach.
Simply work at your own pace. 
No deadlines.  
No pressure.  
No comparing yourself to someone else.  
Just you and your lessons.  
All while you master basic painting skills.  
And produce great results.  
It's that simple.
You just need the desire to learn.  Then commit to spending a bit of time practicing.  That's it!
You could be painting a variety of trees in no time at all… with confidence.  How exciting is that?   
You'll be able to say, "I did that!"  Won't your friends be shocked and envious!
---
Follow Along Step-by-Step
---
How do I provide you this valuable information? 
I will deliver your lessons online.  I present each tree separately so you can choose which tree you want to paint first... then second... then third.  It's up to you.
The videos are shot directly overhead.  So it's like looking over my shoulder.  You get to see every detail... every stroke... up close.  And you can watch as many times as you want.
In many ways it's even better than a live class.
In addition to the videos, I provide detailed written instructions.  Those include step-by-step instructions and supporting pictures.
Of course I also provide line drawings where they are needed.
All you do is click on your lessons and follow along with me.  The lessons are step-by-step and paced so they're actually do-able.  You absolutely can't fail!
With a bit of practice, you'll be painting beautiful trees with ease, great satisfaction… and maybe even a little pride!  Ahem!
Do you know what I've learned in my years of experience?  I've learned that when people are taught to do something in a way that builds skills one small step at a time, they're more likely to enjoy learning. 
And that leads to better results.  Every.  Single.  Time.
The exercises in this course will do just that for you!  They build experience, a strong set of foundation skills and they ensure success.
So what about you?
---
Can't Draw a Straight Line?
---
Never painted before?  Can't draw?  No problem!
You don't need artistic ability and you don't need to know how to draw to complete this course.  All you need is the interest.
You can get right down to painting right away!  Yeah!!!
---
And... It's More Than Just How to Paint Trees
---
You'll also learn important techniques you can use to paint other subjects.

You'll learn how to hold the brushes correctly

How to load the paint properly
How to prepare your surfaces for painting
and so much more...
---
What Others Have Said
---
"Even though I've been painting for some time, I learned a lot from your videos.  I was always stuck on why I couldn't do a certain stroke properly but now I see what I was doing wrong.  Thanks.  The videos look very professional, by the way."
C. McKinley
"I loved the videos!  I especially loved painting the stippled evergreen.  I'll be making my own Christmas cards this year!  And it was fun to try the bonus scenes." 
C. Varner
---
Some of the things you will learn in this course...
---
As you will learn in the course, there are many ways of painting a tree. Different brushes and techniques help in creating different kinds of trees. And the style in which you paint, will also influence how that tree will look.
Here are a few of the trees we will paint...
---
Evergreen Tree Using A Flat Brush
I will teach you how to create simple evergreen trees using a Flat brush.  
These techniques deliver great results when done properly.  But there are few little tricks along the way. I know you can learn how to do this because I will teach you.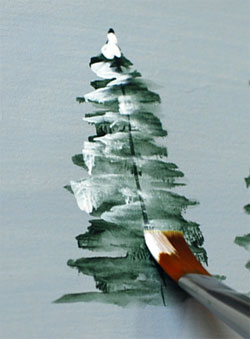 This is a technique that is really worth getting right.  And... I will show you how.
---
For our next tree we will paint...

Simple Evergreen Using an Angle Bristle Brush
In this lesson we learn how to paint trees with an Angle Bristle Brush.  This brush is also known as a Foliage Brush.
The Angle Bristle brush creates wonderful texture when used properly.  
I'll teach you how in this lesson.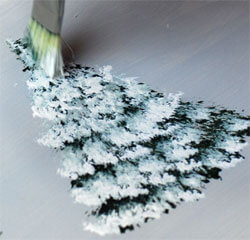 ---
Here is another tree I will teach you.

Folk Art Tree Using A Round Brush
Here's a fun way to learn how to paint trees using the Round Brush. I love painting these and I will teach you how to paint them as well.
You'll need a line drawing for this tree.  I provide one for you in the course materials.
I love painting using this technique.  And I use it for more than painting trees.  
I know you are going to enjoy painting this tree.  I can't wait to show you how.
---
Although I teach you how to paint 7 different trees in the course, this is the last one I will feature here.

Pine Tree Using A Flat Brush
In this lesson, I teach you how to paint trees in a slightly more realistic way. I use a Flat brush using a special technique to create this tree. 
I love painting using this technique.  After I teach you, I know you'll love it too.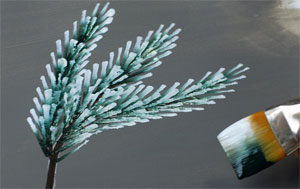 That's 4 of the 7 trees I teach in this course. 
---
What You Get In The Course
---
Here's what you get when you buy this course:
8 Professional quality videos
Instructor with over 25 years teaching experience
Comprehensive supplies list
Written instructions you can save to your computer and print if needed
Line drawings (patterns)
Insider tips and tricks throughout your lessons
Access to your instructor by email
3 BONUS videos!!!
New painting skills you will enjoy for a lifetime
Your tree painting course is packed with everything you need to learn how to paint trees.  All you need to do is apply yourself.
I am convinced that you will succeed with this course.
That's why if you're not 100% satisfied with the course I offer a full 100% Money Back Guarantee!
---
A Great Course at a Great Price!
---
My video courses normally sell for $19.95 each.  I make it a point to provide maximum value for that price. 
This course is no exception.  I firmly believe in overdelivering.
Now you can purchase my "You Can Paint These Trees and More" Video course at 55% off the regular price. 
You're not going to pay $19.95 for this course...
You can buy it right now for the low price of $8.98… that's just over $1 per video! 
Yes, you read it right.  The course is yours for just $8.98.
You may be wondering why I'm discounting the course by 55%. 
The reason is simply this... I am providing this extraordinary price to you because I want you to experience what it's like to paint with me. 
It's my way of introducing myself to you with the hope of building a long-lasting relationship.  I can't be more honest than that.
You can buy the course with confidence by clicking or tapping here. 
How long will this low price last?  I don't know.  I could change it any time.
If you're really ready to learn how to paint trees properly, now is the time to take action.
And in the unlikely event that you are unhappy with the course, I will provide you with a 100% refund of your purchase price.  So, what's the worse that can happen?
It doesn't get better than this... 
It's just $8.98 and comes with a 100% Money Back Guarantee
Want to get started? Click the button below to Learn More.
I'll see you in the studio shortly!
When you decide to purchase, you will buy with confidence using PayPal or Credit Card.
I provide PayPal and Stripe to ensure your payments and information are secure.

You Can Paint These Trees and More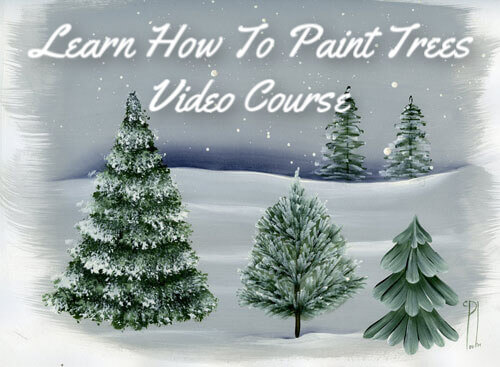 Click to Learn More
---
Introductory Price
Save 55%  plus
a Money Back Guarantee
---
---
Return to Paint Techniques Page.

Return to our Home Page.

---