You Can Learn How to Paint 

7

 

Trees Using My Special Techniques…
Right Here… Right Now…


I Guarantee It!
---
It's Easier Than You Think
You want to learn how to paint trees?  I can show you how.  Right now.  And you'll succeed.  I guarantee it.
It's easier than you think.  All you need to do, is master a few special techniques.  I know them and, I'll be happy to share them with you.
When you follow my instructions, you'll be painting trees in no time… just like my friend Chrys.
I've known Chrys for over 23 years.  She's painted with me 3 or 4 times a year during that time.  Like lots of painters I know, she's a very good painter. 
It was a fresh Autumn morning.  The sun was bright.  The air was crisp.  We were taking a morning walk down a country road.   
Chrys said to me, "You know one of the things that really bugs me?"
"No." I replied, "What's that?"
Even Chrys Had A Problem
"I just can't get trees to come out like I would like them to.  I try and try, but it's like there's something missing.  It's so darn frustrating. I can't seem to put my finger on it." she sighed.

"Well, maybe I can help." I said.  "Why don't we spend some time in my studio and see what's up?"
So, we set a date.  The "Tree" day finally arrived.  It was a chilly day in late autumn… the kind of day you want to be inside.  After 15 minutes of idle chatter over coffee in the kitchen, we moved off to the studio.
Chrys brought four examples of her failed attempts for me to see.  I took a look.  I spotted a few things.  Some were obvious.  Some not so much.  But I knew I could help Chrys in a big way.
"Okay, let's get started." I said.  "Let's start with a few basics." 
The studio came alive with chatter, laughter, teaching, learning, silent exploration, and then… results.
Sometimes the Simplest Thing Solves the Problem
 "Oh my, Cheryl, I can't believe it… just holding the brush that way and not turning it, makes all the difference." Chrys blurted out.  "I've never gotten this kind of result.  Not ever."
And then, sometime later in another lesson, Chrys said: "You mean to tell me that it was all because I was loading the brush all wrong?  I would never have figured that out!  It makes all of the difference.  And it's not difficult now that I see it."
And later Chrys exclaimed, "I didn't know I had to soak the brush for 10 minutes.  I've always used it slightly wet.  Make no wonder I got such poor results."
And even later, "Oh Cheryl, you were right.  It's not so difficult when you know these simple techniques.  Thank you so much.  What a difference!  When I go home I'm going to paint a forest."
It was a fun day.  And just like so many times before, when I teach I become inspired. 
Why Not Help You Too?
I got to thinking, "If I am able to help Chrys improve her ability to paint trees, maybe I can help others as well." 

And then I thought, "Wait a moment!  She said she was going to paint a forest… I didn't even teach her how to do that.  But maybe I can add that as well."  And I did, as you will see.
So, I set out to create a video course on How to Paint Trees.  It's aimed at all levels of painters.  Doesn't matter if you're a beginner or advanced.  That's because even advanced painters can have difficulty painting trees.
If painting trees is a challenge for you, this video course is designed to solve that.  And, it will make you a better painter too.
Your Timing is Perfect
Your timing is perfect.  You want to learn how to paint trees?  Or you want to paint trees better than you already do? 
Here's a course that will show you exactly how.  
I know you can paint these trees.
How certain am I that this course is for you?  Here's how certain…
In the unlikely event that you decide this course does not deliver on my promise to you, I will refund 100% of your money.
This course normally sells for $19.95.  But for this promotion, I am offering you a 55% discount. 
That means your price is only $8.98.  You'll be painting trees in no time.
That's $8.98 and a Money Back Guarantee.
As I said… your timing is perfect. 
---
You have probably heard the saying: "Practice makes perfect." 

That's not true.  Truth is… "PERFECT practice makes perfect."
Many painters have difficulties sometimes… and I mean even experienced painters like Chrys.  The simple reason is they've practiced techniques that are less than perfect.
In my video course on How to Paint Trees, I have taken great care to show you the correct techniques. 
So, if you're a new painter you will learn to paint correctly, right from the start. 
If you have experience but are having difficulty with trees, I can show you how to change what you are doing to get the results you want.
Either way I'm happy to share with you what I shared with my friend Chrys.  I'm happy to share with you what I've learned over the past 30 years of painting.
Come join me.  Let me share complete detailed instructions on how to paint 7 different trees.  I leave nothing out.  By the way, that's 3 more trees than are on this page.
You Are In Good Company
Speaking of this page, did you notice how many times my pictures have been pinned?  Last time I checked, my pictures had been pinned over 871,000 times. 

You are in good company.  You are with hundreds of thousands of others who have visited.  Thank you for that.  I am so grateful that you liked my work enough to pin it and come visit.
You can learn a lot from the information that follows on this page.  And that may be enough for you.  But if you're going to invest time in learning, why not get the best, most complete instruction possible?
Want to learn more?  Go learn more about the most complete instruction possible.  

---
Ready? Let's Learn How To Paint Trees
Evergreen Tree Using A Flat Brush

Let's start with a simple evergreen tree using a Flat brush.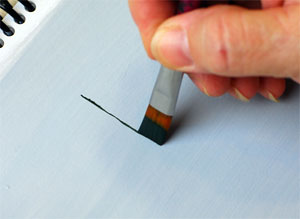 Load a Flat brush with green paint. Blend it on your palette and then use the chisel of the brush to create the trunk. Clean the brush and blot it.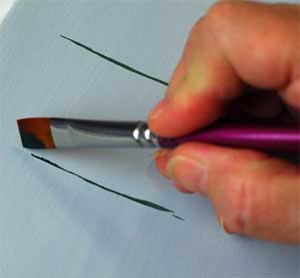 Sideload your brush and blend it on your palette.
Place the corner of the brush down at the tip to create the top of the tree. Now drop the clean side of the brush down and apply the paint horizontally from side to side. Re-load the brush with paint as needed. 
Being able to sideload your brush properly is key to doing this properly. 
Here is the progression of steps as your tree comes to life.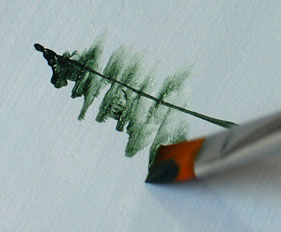 This is a very simple technique that delivers great results.  I know you can learn how to do this.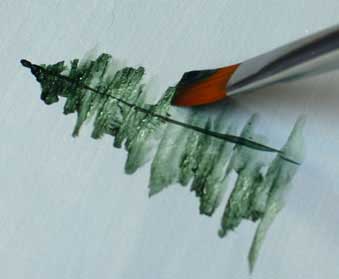 It's time to apply finishing touches to suggest snow.  This time I've side loaded the brush in white.  This is a technique that is really worth getting right.
---
Simple Evergreen Using an Angle Bristle Brush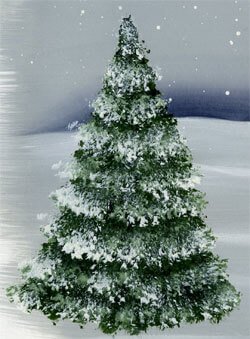 It's time for a change and a new lesson.  Let's learn how to paint trees with the Angle Bristle Brush.  This brush is also known as a Foliage Brush.
The Angle Bristle brush creates wonderful texture when used in an up and down pouncing motion.  We refer to this pouncing motion as "stippling".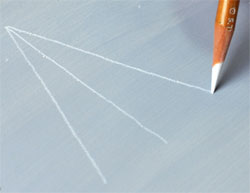 Let's start by drawing a pyramid shape with a straight line down the middle. The line in the middle represents the trunk of the tree.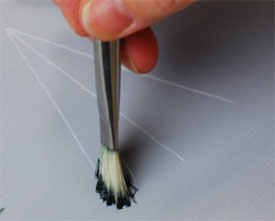 Your first step is to put the brush in water to plump up the bristles of the brush.  A 10 minute soak will do the trick.  Blot it well.  Getting the exact right amount of moisture is important.

Now load the brush with dark green paint, pounce the bristles on your palette until you see there's nice texture.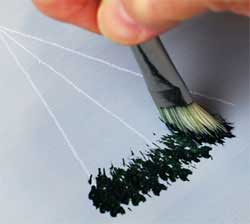 From the base of the tree...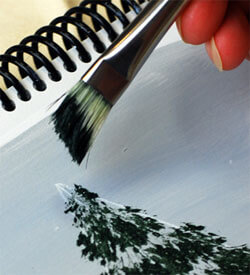 To the very tip... this tree is ready for snow.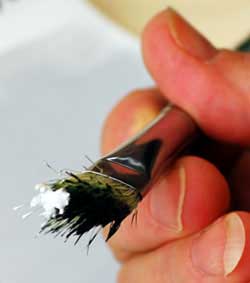 And here are the finishing touches that bring it all together.  I know you can do this.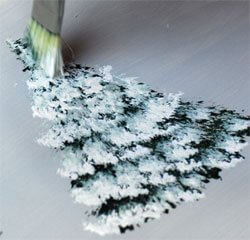 ---
---
Folk Art Tree Using A Round Brush

Here's a fun way to learn how to paint trees using the Round Brush. This folk art tree is made up of comma strokes. 
You'll need a line drawing for this tree.  I have supplied one below so you can trace out the design.  We'll paint this tree starting at the wide base and then work our way up to the treetop.
In order to paint this tree you'll have to turn your surface upside down. To get the best effect with this tree, you have to paint the brush strokes in a specific order.  It's easier to paint this tree if you use the line drawing to show the order in which each stroke is applied.  You can access the Line Drawing here. 
Load a round brush with dark green.  Then remove the paint from the tip using the edge of your palette.

Now, load the very tip of the brush into White. Tap the brush on your palette to re-shape the tip. 
I provide close-up details in my Video Course to really let you see how it's done... Step-by-Step.  You'll be looking right over my shoulder as I paint.  It's a great technique that you'll use time and time again.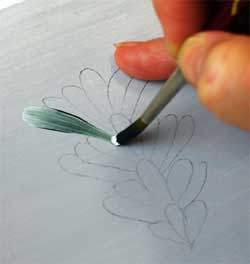 Place the brush tip down, apply pressure and pull the stroke toward the middle of the tree while releasing the pressure. You should see a nice streaky blend of green and white.
Repeat these strokes in the order I provided in the line drawing.  Don't forget to reload the brush for each individual stroke.
I know you are going to enjoy painting this tree. 
Unfortunately, there is only so much I can explain in writing.  I really get into it in the video course.  Learn more here.  

The extra instructions will really help you get great results.  And who doesn't want great results?
---
---
Pine Tree Using A Flat Brush

And now we'll learn how to paint trees in a slightly more realistic way. In this demonstration I used a Flat brush.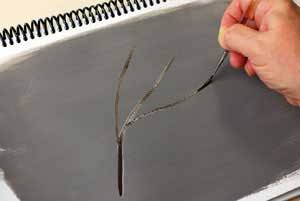 You will find a pattern for this tree in the free line drawing download. 
Trace on the pattern for the bare tree. Use a #1 Liner brush to paint the tree with a dark brown.
Let's make some easy pine needles, shall we?  We'll start by double-loading the flat brush.   Load one side into dark green and the other into White. 
Double-loading is another neat technique that many painters fail to get right.  And getting it right makes all the difference.
Position the chisel of the brush with the green side touching the branch and the white side pointing out. Start at the base of the branch. Press the brush down leaving a chisel imprint. Move up the branch and as you near the tip, pivot the angle of the brush so that the tip tapers. Make your way down the other side.
I know this technique is a little tricky, but the results are amazing. 
Now is the time to put the finishing touches on the tree.  This is where it really comes alive. 
So, that's it.  I hope you enjoyed this review on how to paint trees. 
The video course is bursting with additional details.  In addition, it has detailed instructions for even more trees.  I know you will love what you learn in it.
So, go learn more about it by clicking here. 
This video gives you short peek inside the course.
Do you want the best possible instruction on how to paint these trees and three others? 

The online Video Course is the absolute best way to go.
And since you're here… it's a perfect time to learn more. 
Get a Great Price and a Money Back Guarantee.
Just click the button below.
---
Return to Paint Techniques Page.

Return to our Home Page.

---