Glass Painting Designs

Glass painting designs can be very elaborate or very simple and still pack a lot of wow factor, like these hand painted wine glasses.
Follow the step-by-step instructions and create this set of wine glasses in an afternoon!  Invite your friends and make it a painting party!
The inspiration for these glasses came from a small Dixie© cup.  It's amazing what will spark the imagination.
---
What you'll need.
---
MISCELLANEOUS
Paper towel
Rubbing alcohol
4 small wine glasses
Painter's Tape (optional)
Disposable foam plate or wax palette
Stylus or toothpicks for making small dots
BRUSHES
#10 Filbert
#8 Filbert
1/4" Deerfoot
PAINTS
Americana Gloss Enamels
Black
Citron Green
Coral Blush
Primary Yellow
Vivid Violet
True Red
White
Before you begin, wash your glasses in warm, soapy water and dry them thoroughly.  Be sure to keep your hands free of oils as you work.  This applies for any glass painting designs you may be working on.  So stash the hand lotion for now.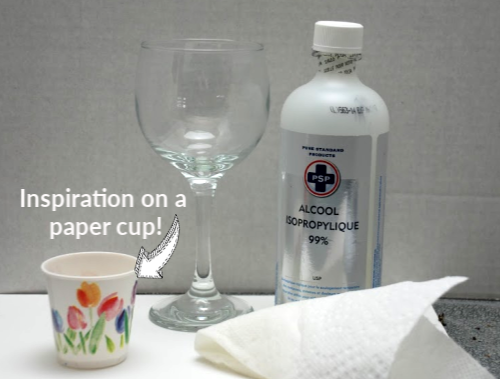 Using paper towel, wipe each glass down with rubbing alcohol, including the stems.
This is an optional step.  Mask off the top 1/2 inch space at the top of the glass.  This will act as a visual reminder not to put the paint up near the lip.  Glass paints, although non-toxic, are not food grade safe therefore they must not come in contact with liquids, food or your mouth.
It's just as easy to eye-ball as you paint but if you want extra insurance, just tape off the glasses.
---
Let's paint!
---
Place a small puddle of Black on your foam plate.  Dip the stylus into the paint and add dots to the outside of the wine glass bowl where it meets the stem.
Here's what it looks like from inside the glass.  That's the pollen!  
Do all four glasses and let them air-dry for a while or do like I do... use a hairdryer to speed things up.
NOTE:  Dots take a while dry.  Be careful not to smear the dots as you handle the glasses.  If you make a boo boo, use the rubbing alcohol on a cotton swab or paper towel to wipe things off.
Place a small puddle of Citron Green on your plate and load the Deerfoot in the paint.  
Stipple the paint over the dried dots.  Dry.  Repeat.
Clean the brush in rubbing alcohol using the paper towel to get all the paint out.
Here's what it looks like from inside.  Pretty cool huh?  Seriously, coming up with glass painting designs is so much fun.  Why not check out my other projects?
---
Paint Petals
---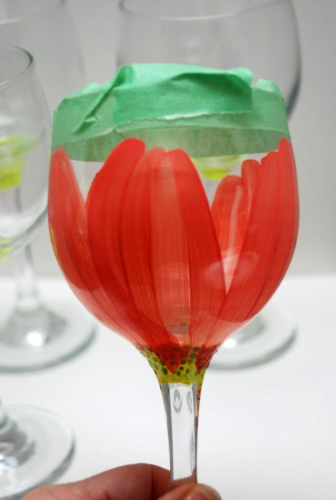 Use the #10 Filbert loaded in Coral Blush to create petals.
Place the loaded brush about a 1/2 inch below the rim of the glass.  While applying pressure, pull the brush down meeting up with the pollen area. 

I created petals in 2-3 strokes as you can see here.  Each glass has 4-6 petals depending on how much pressure I used.  Just leave a space between the petals.
Let this coat dry or use the hair dryer before going over the petal again for a more solid, opaque coverage.
Here's what the second coat looks like.  It's still streaky but less transparent.  With this kind of paint, you will always see streaks.  But that's a good thing!  It makes the petals look more realistic.
Some glass painting designs will show more streaks and ridges than others.  In this case, i like the texture and the look of the streaks.
Here's another peek inside.  You can see how each individual petal is made up of multiple strokes.
Don't worry about ridges in the paint, it all adds to the look.
Make sure everything is good and dry for the next step.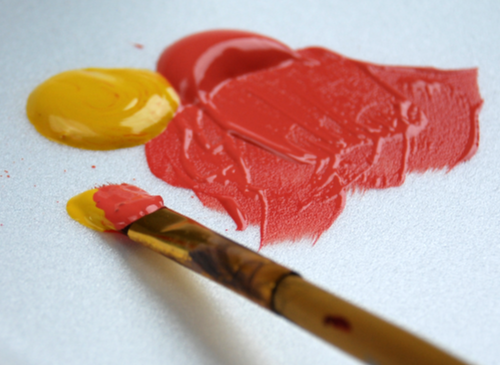 Add a puddle of Primary Yellow to your plate.  Using the same brush, first load it in the Coral Blush then side swipe it into the Primary Yellow.  Blend the colors a little on the plate then go over the petals again to add a lighter value and to create a bit of interest.
Doesn't that look lovely?  I'm falling in love with my new wine glasses!  At the same time it's got my head buzzing with new glass painting designs for the future!  Uh oh!
Another peek inside.  Much less streaky and the color is more vivid.  This is really shaping up!
Time to clean all of the paint out of your Filbert.  Again, using the alcohol and paper towel to get all of the paint out.
---
Paint Stems and Leaves
---
To paint the stem, you'll need a puddle of both greens -  Hauser Medium Green and Citron Green.  Make sure the Filbert is dry before continuing.  If there's alcohol in the brush the paint won't stick to the glass.
Working with the glass upside down, use the same brush to pull strokes of Hauser Medium Green down the length of the stem starting at the base and pulling up to cover the pollen area.  Cover the whole stem. Do 2 coats, drying in between.
To create more interest, load the brush in the Hauser Medium Green and swipe it into the Citron Green to add a lighter value or highlight like we did on the petals.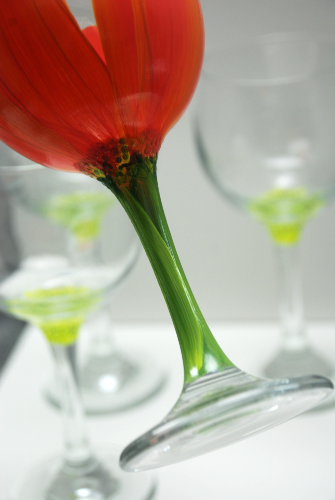 Here you can see the two greens of the stem.  Clean your brush thoroughly.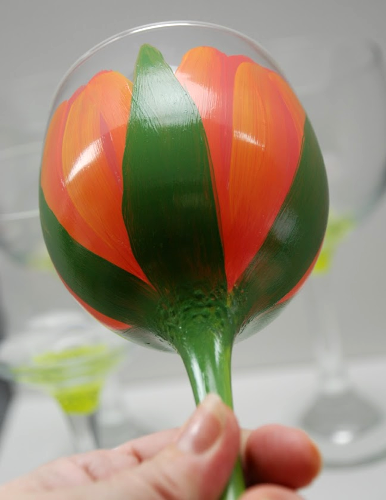 Using the #8 Filbert, pull some leaves of Hauser Medium Green up from the base of the petals. 
Apply pressure at the base, then release the pressure as you pivot on the chisel of the brush to create a fine point.  (You can practice on a clear transparency sheet.)  Place the leaves between the petals.
Do a couple of coats and then swipe the brush into the Citron Green to create a lighter value.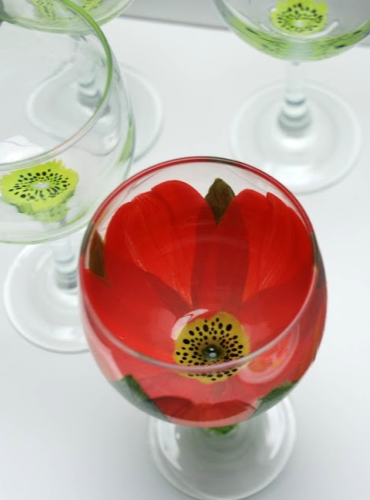 And here's another peek inside.  All done!
Now you have to paint the rest of the glasse!
YELLOW TULIP, the petals are Primary Yellow with the final highlight using White.

RED TULIP, the petals are True Red with the final highlight using White.
VIOLET TULIP, the petals are Vivid Violet with the final highlight using White.
Stems and leaves are the same greens.
---
Finishing
---
It's really important to follow the manufacturer's instructions when you want glass painted items to last for a long time.
These wine glasses will be top rack dishwasher safe if you follow the following instructions to the letter.
THESE INSTRUCTIONS ARE FOR
AMERICANA GLOSS ENAMELS ONLY
If you painted this project using another manufacturer's paints,
please follow their instructions, as results will surely vary.
1.  Allow the glasses to air cure for 4 whole days or longer.
2.  Place the glasses right side up in a cold oven. 
3.  Turn heat on to 325F.  When the temperature has been reached, set timer for 30 minutes.
4.  When time is up, turn heat off and open oven door.
5.  Allow glasses to come to room temperature before removing.
---
A Few More Thoughts... Before You Go... 
---
That was fun, wasn't it?  How did you enjoy it?  You can scroll down to the bottom of this page and let me know. 
I'd love to hear from you.  Pour yourself a nice cup of coffee and drop me a line.
Speaking of coffee... I love mine black.  If you'd like to treat me, you can buy me a coffee by clicking here.  I'd really appreciate it. Thanks.
Want some more glass painting designs?  Drop me a line and let me know what you'd like me to design for you!  Contact me here.
Want to paint a fancier set of wine glasses? My video course will take you step-by-step!  
I had a great time bringing this tutorial to you!  If you need supplies, they're listed below.
---
Supplies you may Need
I have listed below, some of the items I used for this project and for other glass painting designs I've done in the past.  They are links to Amazon placed here for your convenience. 
If you buy any of these products by following the links, I do get a tiny commission.  It doesn't affect your cost at all.  It's here for your convenient shopping.  And, it keeps my cats fed but that's about all!  
Happy painting!
---
You Can Paint These Trees and More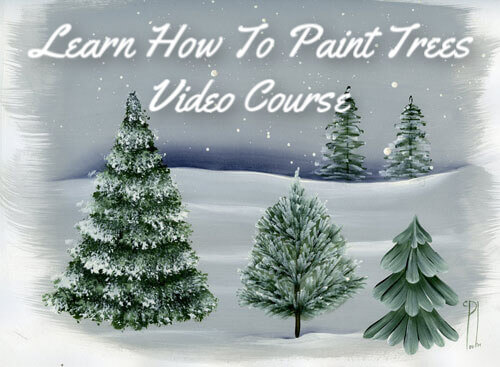 Click to Learn More
---
Introductory Price
Save 55%  plus
a Money Back Guarantee
---
---