TOLE PAINTING
The art of painting on tin is referred to as tole painting. Nowadays this art form has expanded and we now paint on all sorts of surfaces and we use the term decorative painting.

Embellishing simple everyday objects is one of the great things about decorative painting. And we've been doing it for centuries! Metal ware of all kinds, not just tin, was often painted with intricate designs and then lacquered for protection. Very plain items became decorative and functional objects.

I'm not a historian but from everything I've read, tole painting was very much in vogue in the 1800's. The items that survived over the years are highly collectible and many have been collected, protected and exhibited by the Society of Decorative Painters (SDP), previously known as the Society of Tole and Decorative Painters (STDP).

I personally love reproducing some designs on tin and try to make them look as convincingly original as possible with a little antiquing technique. Oh, don't get me wrong; I'm not going to pass them off and sell them as originals! I just like the challenge, that's all.


THE LANGUAGE OF TOLE
The word tole is derived from a French word that means tin. Yet, the Pennsylvania Dutch are most often linked to this art form. And forever I was under the impression that this meant it was Dutch, as in from Holland. But no, it's actually "Deutsch", as in from Germany. The things I am learning!!!
---
---

But tole painting was not limited to just Germany. It was indeed done in Holland too and in Scandinavia and in France, to name a few places. The fine folks from these parts of Europe made their way to North America and brought these beautiful items and their skills with them. And we're glad they did!!!

This type of art is also known as folk art painting. Want to learn more about folk art painting? You can learn more here. Many museums around the world house beautiful collections of folk art, which was painted on everything from tin, to wood surfaces, to glass, and mirror too.

As for decorative painters of today, like you and me, painting on tin or anything else is a wonderful hobby. Mastering strokework, learning new techniques and perfecting our skills keeps us creatively fulfilled.

With each new pattern packet that comes out or exciting projects we see magazines we get so enthralled and can't wait to get started. The surface we choose to paint on doesn't really matter that much for as long as we're painting we're a happy bunch!

I'll never forget my first painting class!!! I was so excited to be in a room of 20 other people, each of us holding a brush for the first time. We practiced and practiced our comma strokes until our hands cramped. And how proud we were when we finally got a good-looking stroke! The praises from the teacher elevated our confidence and we kept pushing on to learn more and more.

I am forever grateful to all of the decorative painting teachers who have been part of my creative journey. They have all touched my life in ways they'll never know. And I am so delighted to be paying it forward through this website and through the studio where I teach tole painting and so much more.


---
Return from Tole Painting to the Decorative Painting page.

Return to our Home Page.

---
---
You Can Paint These Trees and More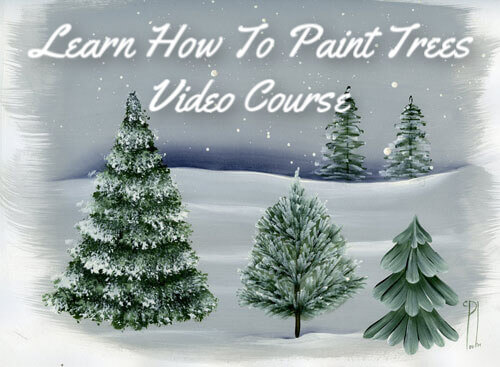 Click to Learn More
---
Introductory Price
Save 55%  plus
a Money Back Guarantee
---
---