Painting MDF
It's Simple and It's Easy
Painting MDF is different than painting on wood. The surface is very smooth and hard and imperfections are very rare.  While wood needs sanding and it's rarely free of blemishes.
Decorative painters like myself, really appreciate this alternate wood surface. However, it too needs to be prepared before you can paint on it.
If the MDF surface has areas that have been routered or cut you will need to sand those areas a little. See that intricate laser cut lacework on the large snowflake wall plaque above? This is where you'd need to do some light sanding. The flat surface itself is very smooth so you wouldn't need to sand that part.
I like to use good quality, very fine sandpaper like 220 or 240 grit. MDF doesn't have directional wood grain so you can sand in any direction. Use light pressure, then use a tack cloth to remove the dust.
---
NOTE: The sanding dust from MDF contains urea formaldehyde. You should do any sanding in a well-ventilated area or consider wearing a mask.
---
Should you prime or seal MDF
before you paint on it?

---
---
I definitely recommend that you use a primer / sealer prior to painting MDF. Because MDF is a wood composite, it's very porous. As a tole and decorative painter, I like to use a brush-on acrylic polymer such as GAC 100 by Golden for priming and sealing.
Another option is to mix your acrylic paint with an all purpose sealer like Americana Multi-Purpose Sealer. I mix 2 parts sealer to 1 part paint. I just do one coat and then I proceed with layers of paint until I get solid coverage.
When you use a brush-on method, first moisten the brush with water and then blot it very thoroughly. You don't want to use water on MDF!
Another option is an acrylic spray-on sealer. I really like Krylon Indoor / Outdoor Stain Blocking Primer / Sealer. It's especially good if you're painting a surface with lots of intricate cuts like the sample shown here.
After sealing the MDF with either method, the cut areas will likely become a little "furry". Another light sanding will take care of that. Remove the dust with a tack cloth.
When Painting MDF
what kind of paint should you use?

---
---
The finished sample (design by Audrey Bettin, CDA) was painted with DecoArt Americana acrylic paints. You could use any good quality acrylic paint for painting MDF.
If you're painting large surfaces in your home like bookshelves or cabinets made of MDF, just roll on a latex primer followed by latex paint.
The last step is to protect your decorative painted item with varnish.
If your project will be used outdoors, make sure you use an exterior varnish. Follow the manufacturer's directions for best result.
If you've drilled holes into the surface for hanging hardware, fill them with clear caulking. Any bit of moisture that gets in to the MDF will make it swell and ruin your hard work. By filling the holes you're guaranteed a tight seal.

So there you go! That was easy... wasn't it? To learn more, go to our MDF wood page if you haven't done so already.
We have a whole section on preparing wood of all descriptions as well. And of course, do contact us with any questions, concerns or cool tips of your own you'd like to share.
Let's leave Painting MDF and go to Wood Finishes.
Return to our Decorative Painting Home Page.
---
---
You Can Paint These Trees and More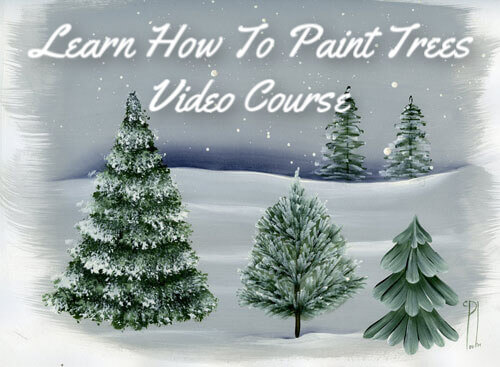 Click to Learn More
---
Introductory Price
Save 55%  plus
a Money Back Guarantee
---
---