PAINT AND VARNISH
Ways of painting over various finishes
Wondering how to deal with old paint and varnish when you're turning trash into decorative painting treasures?
We have some really good solutions… all you have to do is roll up your sleeves and give 'em a try.
We're going to assume that the wood item or furniture piece that's being re-vamped is structurally sound and doesn't need repairs.
Varnished Wood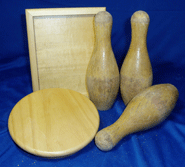 When you're going to paint on varnished wood, all you need to do is sand it well to take off the surface shine.
If it's really old and worn, then the varnish may be flaking. In this case, just sand so that the flaking edges become smooth and no longer threaten to peel any further.
That's what we did to this children's antique bowling set. The varnish was chipping off very easily.
---
---
---
Just a light sanding will do...
And you'll be glad to know that it's not necessary to sand down to the bare wood… that is unless you want to use a wood stain.
See how the toppled bowling pin has lost its sheen?
And then when the sanding is done to your satisfaction, wipe down the surface with a slightly damp, lint-free cloth.
Painted Wood
It's a fact that most previously used wood pieces will have some combination of paint and varnish. Blistering or peeling paint can be removed with a scraping tool and then sanded smooth.

If you like the color of the paint that's already there, then just clean the surface with Tri-Sodium Phosphate (TSP). Rinse it well and let dry.

And of course, you may love the nostalgic appeal of old, chipped paint for really charming backgrounds. Again, it's a simple matter of cleaning and preparing the surface. The fun part is you can start painting right away without a lot of fuss.
---
---
---
Considerations
In dealing with these old finishes, you may experience a problem if the finish is oil-based. Since most decorative painters use acrylics… well let's just say that acrylic paints don't play well with oils, if they're placed on top.
Here's a really good way to test for oil-based paints. Take a cotton swab dipped in rubbing alcohol and rub it on the surface. If some of the old paint comes off on the swab, then it's likely acrylic.
And seriously, when in doubt, just apply a coat of primer. It's good insurance. The fact that the finish is old increases the chances that it's oil-based.
When you are faced with multiple layers of paint and varnish, you may need to strip the piece entirely. How motivated are you to paint on it? It's a judgment call only you can make.
Some of our most treasured project pieces were buried under layers of dust and many coats of paint and varnish. So, don't let it deter you from painting on a fabulous find. Clean it up! You won't regret it.
You may contact me here if you have any questions, or if you'd like to share some tips or ideas. I'd love to hear from you!!
Let's leave Paint and Varnish and go to Wood Finishes.
Return to our Decorative Painting Home Page.
---
---
You Can Paint These Trees and More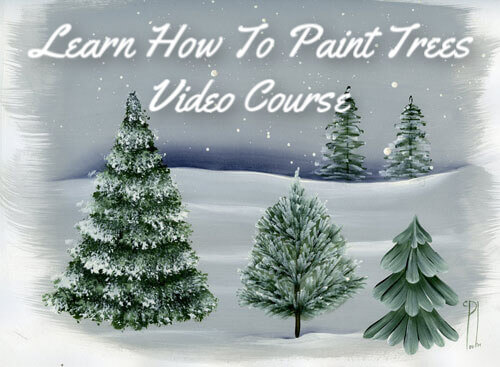 Click to Learn More
---
Introductory Price
Save 55%  plus
a Money Back Guarantee
---
---