UNFINISHED WOOD
Prep work for quality and function
Determining the quality and function of your unfinished wood piece helps you decide how much work is needed. Decorative painting on wood requires basic preparations before deciding on any further treatment.

If you're after a rustic look, nail holes and small dents are going to look real chic! But for a finely finished piece, you'll want to carefully inspect the surface for such imperfections.
Tip
Try this nifty trick for fixing small dents and nicks in your damaged wood. Just add a droplet of water to these areas. The moisture swells the wood fibers and raises the grain, leveling out your surface.
Ta da!! When the wood fully dries, sand it smooth.
---
---
Filler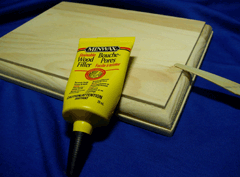 Otherwise, minor imperfections can be filled with wood filler and a putty knife.
Or, in our case, a kitchen knife that's close at hand is just as good. :o)
Also note that wood filler tends to shrink as it dries, so sand it smooth and repeat the process, if you need to.
Sanding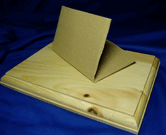 We recommend using 220-grit sandpaper for sanding unfinished wood.
It's best to follow the direction of the grain whenever possible... gives a nice finish.
Just remember... every time you sand, gently wipe the surface with your tack cloth to remove fine dust.
---
---
Sealer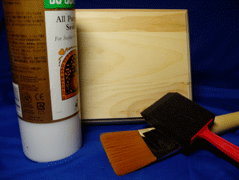 If you're not staining the wood, you'll need to apply a wood sealer before you can actually paint.
Apply the sealer with a wide flat brush or a sponge brush and follow the wood grain.
The sealer conditions and makes the surface less porous and provides better adhesion of your paint.
As the sealer dries, the wood grain rises. That means you get to... sand and tack again! But only lightly this time.

If you want to know whether you've missed some areas during the sanding process... just close your eyes and run your fingertips over the whole surface. You'll zero in on those spots right away!

Now that you've got the preparation know-how, your wood will be ready in no time!
You may contact us here if you have any questions at all or if you have tips of your own you'd like to share. We love getting mail!
But don't leave our website just yet...
Let's leave Unfinished Wood and go to Wood Finishes.
Return to our Decorative Painting Home Page.
---
---
You Can Paint These Trees and More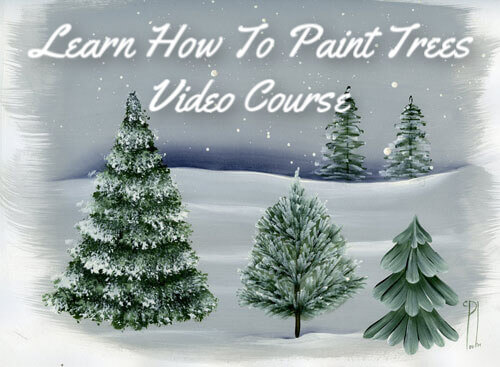 Click to Learn More
---
Introductory Price
Save 55%  plus
a Money Back Guarantee
---
---