Vitrea 160 by Pébéo
Non-toxic, Vitrea 160 is a water-based glass and crystal paint. It's very transparent yet the colors are intense. And, once they are heat-set in your home oven at 325ºF, the colors are even better! They actually look like real colored glass... not painted on, if you know what I mean. Brilliant!
The paint consistency is runny so you can have a lot of fun with drips, pours and spattering! Imagine doing wine glasses for a Halloween party with blood red paint dripping down the sides! Mwah hah hah!!! But seriously folks…
Vitrea 160 glass paints become permanent and dishwasher safe once they've been heat-set. This doesn't mean they are food safe. So, although they're labeled non-toxic, do not allow food or beverages to come into contact with the painted surfaces.
Oh, and don't use scouring pads or abrasive cleaners. This will leave micro scratches in the surface, which will make them more difficult to clean. Plus you don't want to scuff up that gorgeous paint now, do you?
Pebeo Vitrea 160 glass paints come in 20 beautiful glossy colors plus 5 shimmer colors and 10 frosted.
For even more flexibility in your creative glass painting projects, a little further down I tell you about the various mediums that can be added to the paints to make them behave differently. As well, I discuss other compatible products to round out your painting experience.
Oh, before I forget… I will be providing specific project instruction e-books and e-patterns soon. But if you want to just dive right in and get to know more, here's the low down on the rest of the Vitrea 160 water-based paints.
---
Other Vitréa 160 Products by Pébéo

---
With the Pebeo Vitrea 160 Paint Markers you have a lot of control in placing lines where you want them… almost as easily as you would on paper. ALMOST. You'll require practice just like anything else you do for the first time!
The Vitrea 160 glass paint markers perform really well on small projects. So I recommend that you start with small projects if you're using them for the first time. On the down side, you do have to "pump the paint" to the tip fairly frequently. So a consistent flow is not always possible. That means you will have to draw long lines in stages.
But once you get to know the marker and develop a rhythm, you'll have no trouble at all. Patience is required at first but don't give up. It's worth getting acquainted with these glass paint markers! The markers come in 9 glossy colors as well as 9 frosted colors.
---
Then there are the relief Vitrea 160 Outliners pewter 20 ml and other colors. These are used directly from the tip of the tube to create raised areas into which the glass paints can be applied and contained. Vitrea 160 glass paint is quite runny which makes it great for "flooding" areas inside the raised outlined sections. The Vitrea 160 relief outliners come in 10 colors.
---
Frosted Medium can be used alone or it can be added to the gloss paints to make them into frosted versions. Applied on its own, the clear glass surface will take on an etched or frosted appearance.
---
Gloss Medium remains virtually invisible on clear glass. That means if you wanted to include actual gold leaf or real thin papers, tissue papers, fibrous strands or other interesting materials you could use the medium as an adhesive without altering the glass surface. As long as your embellishments can withstand the oven heat, the possibilities are almost endless!
---
Iridescent Medium adds a lustrous, light dancing glimmer, color-shifting dimension to the Vitrea 160 glass paints. When you want a subtle play of light, add this to your favorite color and watch what happens. You'll love it!
---
Thinner is used any time you want to thin the paints or you want to float color in a gradient from light to dark or dark to light. Don't worry; you won't dilute the intensity of the colors with this product.
So in general, what do I think about this line of paint? I like it. It comes in a variety of mediums as well as a variety of packaging.
---
For example, if you want an affordable starter set of paints without the liners and supplies, there is a handy 10-pack of the most popular colors referred to as the Vitrea 160, Set of 10

---
Another great way to sample this glass paint and save money is to buy the Vitrea 160 Workbox Set. It has 10 different colors in 45 ml jars, a brush, small palette, an outliner in Gold, little sponge and a guide for step-by-step instructions. It comes in really nice packaging that looks like a tidy little toolbox.
And another thing I really like is that you're getting professional results, yet you could be painting right along with your youngster. I checked the Pebeo product sheet and I learned that the paints "conform to toy safety standard 71.3". I have to be honest, I have no idea what that means, but I'm sure most parents would! In any case this particular glass paint is non-toxic.
Here are a few additional things you may want to know…
Do I need a special paintbrush for Vitrea 160? Actually, with this product a soft, natural squirrel brush mixed with synthetic hair is ideal.
What temperature do I bake my painted project? The manufacturer is very adamant about the required heat setting from the home oven. They recommend that you check you oven's temperature for accuracy before baking your glass surfaces. If the exact temperature is not met and sustained as instructed, your results will be affected negatively.
IMPORTANT! Before you do anything else… Calibrate your oven temperature!

Place an oven thermometer in your oven. Set your oven to 300ºF and when the oven display on your range reaches that temperature check the actual temperature on the thermometer in the oven. If it's degrees cooler or hotter, adjust the temperature either up or down. Check again.
My own oven is cool by 5ºF, so in order to have an accurate temperature of 300ºF in my oven, I have to set it at 305ºF.
WAIT… Don't do anything until you read the following information!
If your project is ready to bake and you're just now reading this, hold up a moment! You can't put cool glass or crystal in a hot oven. It will shatter!
Always place your glass item in a cool, room temperature oven. Close the door. Set the temperature to 325ºF. When you reach that temperature, set the timer for 40 minutes. When the time is up, turn off the oven, leave the oven door closed and let the oven cool back down to room temperature gradually.
Images of projects that were created in the studio while testing these products will be featured soon. Stay tuned.
---
Return to our Glass Paint Page.

Return from Vitrea 160 to the HOME page.


---
You Can Paint These Trees and More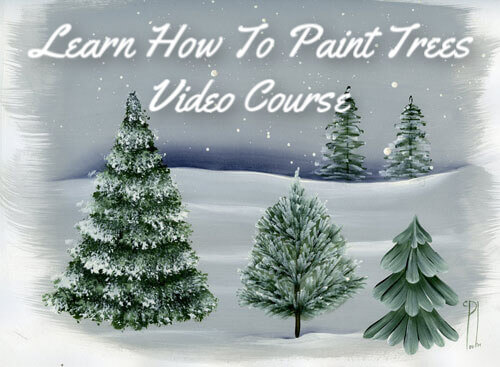 Click to Learn More
---
Introductory Price
Save 55%  plus
a Money Back Guarantee
---
---