Folk Art Glass & Tile Medium by Plaid
I like using Folk Art Glass & Tile Medium when I want to do something uncomplicated. That's right… sometimes I like a quick and easy project that gives great results. And for me, this wonderful product does the trick. Let's face it, some days, we just want simplicity, don't we?
As a decorative painter and artist, my friends and family kind of expect hand made gifts from me from time to time. No doubt you too feel compelled to give away some of your nice projects. And that is especially true when everyone makes such a fuss over everything you do!
A sure-fire way of pleasing everyone on the gift list is to hand paint glass items. With Folk Art Glass & Tile Medium I can quickly frost the glass, give it "tooth" for my regular acrylic paints and I'm done. I love that. No fuss at all!
No baking, no special curing time… just wipe the glass down with rubbing alcohol, brush on the FolkArt Glass and Tile Medium. Let it dry. Apply another coat. Let it dry and then paint your design. That's it! No muss, no fuss, no bother! And best of all… soap and water cleans everything up.
Now granted, this is strictly for decorative purposes. This doesn't provide permanent etching. It's just a simulation… so for that reason when it comes to dusting, use a damp cloth only. If you do give your painted glass as a gift, don't forget to provide a note with instructions on how to care for it.
I've frosted all sorts of glass vases.  And I've done large wine glasses which I use with votive candles outdoors during summer evenings.  So pretty!  
Other things you can frost are windows or glass doors which offer some semi-privacy.  You could use painters tape to create geometric patterns.  And best of all, if you grow tired of  the design, you can wipe it all off.  The etched look is not permanent.
This is a short write up because, as you can so easily see… it doesn't get much easier than this when it comes to painting on glass!
The frosted glass vase below was done with the glass and tile medium plus the addition of transparent glass paint.  It's a very interesting effect.  Where the glass paint was applied rendered the frost clear.  So the vase is frosted but bight light shines through the leaves when you place a candle in it!  Love it.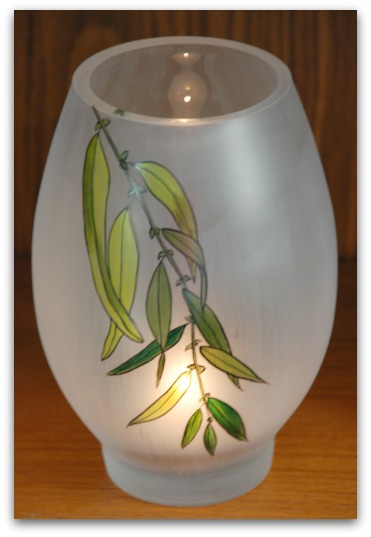 ---
---
---
Return to our Glass Paint Page.

Go from Folk art glass and tile medium to the HOME page.


---
---
You Can Paint These Trees and More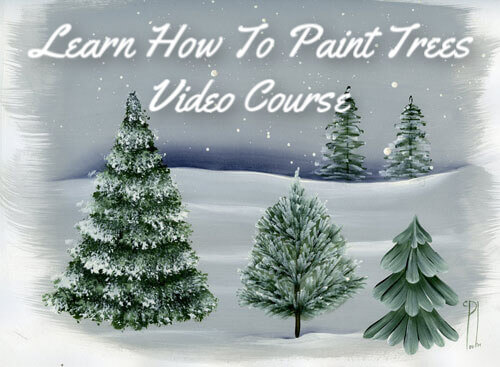 Click to Learn More
---
Introductory Price
Save 55%  plus
a Money Back Guarantee
---
---