VITRAIL PAINT by Pebeo
Painting with Vitrail paint is wonderful. The transparent colors are absolutely gorgeous in rich jewel tones that sparkle like real stained glass. They're intended for painting on glass, acetate, and Plexiglas.
This paint is intended for decorative purposes and not for high usage and daily handling. You can hand wash your painted projects but definitely don't soak them. They are resistant to glass cleaner though.
The 45 ml jars come in 26 colors that can be mixed together to create even more colors. And the larger 250ml bottle comes in 16 intermixable colors.
The colors of the Vitrail paints are what really set them apart from other glass paints. I'm talking intense color that allows light to filter in just beautifully. And they dry to a super high gloss shine. A real feast for the eyes!
---
They have interesting packaging too.  There's the Vitrail Atelier Workbox Set containing 10 of their Glass Paints, a 20ml tube of Gold Outliner, plus a brush, a sponge, a mini palette and usage instructions.  The box, looking a lot like a small toolbox, has durable twin trays to keep everything in its place.  Really good value if you were to price everything out separately.

---
There is also an Opaque Vitrail Paint. Unlike the transparent Vitrail paint, I haven't had a chance to try the opaque ones yet. But I can just imagine doing a project with both transparent and opaque areas. That would be really neat!

---
Once you start painting with Vitrail transparent paints you'll want to incorporate some other compatible products from the Vitrail line. Here are products below which will really get your creative juices flowing! The following products will provide you with hours of great glass painting experiences.

And I should mention that I will be providing specific project instruction e-books and e-patterns soon. But if you want to just dive right in, here's the low down on the rest of the Vitrail solvent-based paints.
---
Other Vitrail Products by Pébéo
---
Vitrail Cerne Relief Outliners are used directly from the tube to outline shapes and motifs before "filling them in" with the transparent paints to imitate stained glass. It takes some practice but well worth the effort. Once you get the hang of it you can do swirls and other graceful designs.

---
Pebeo Self-Adhesive Lead Strip is used to create shapes and patterns in lead to imitate stained glass. I find the lead tape easier to use than the outliners. But I can't get those nice swirls as I can from the Relief Outliners. The package comes with a burnishing tool to help ensure there's good adhesion.

---
The Vitrail Crackling Effects Kit is the coolest thing I've seen yet!!!  Here's a quick tutorial!

You can obtain that antique crackle glass look without paying the antique price tag. You can also achieve contemporary effects too.
In 15 minutes watch the transformation from clear, smooth glass to gorgeous cracks and fissures.
Use this surface treatment to add interest and depth to your faux stained glass work. Or use it to create vintage glass vases and wine glasses. Very chic!
Here's just a little history to round out your knowledge. Did you know crackle glass actually originates back to the 1600's? Back then it was known as "craquelle glass" or "overshot glass" as well as "ice glass". Some of these antique items are worth a fortune!!
The crackling kit consists of a two-part system referred to as Phase 1 and Phase 2. Both Phases come in 45 ml bottles. The information booklet in the kit describes the easy step-by-step method.
Basically you paint your project with the Vitrail transparent paint and let it dry about an hour. Then you apply a coat of Crackling Effects Phase 1. Within 15 minutes the fun begins.  The cracks begin to form! Wait 24 hours during which the crackle effect will be at its optimum for drying and cracking.
After the 24 hours you apply the Crackling Effects Phase 2 to protect the crackled area against wear and cleaning. I swear you'll want to crackle everything in sight!!!
---
Vitrail Matte Medium is just the right product to use if you want a frosted look. You can use it on its own and create a matte frosted look on your glossy surfaces. Or you can mix it with the Vitrail transparent paints to frost them up. The light will still shine through but it will be quite hazy and dreamy. You could create some neat effects if you used the matte medium in some areas and transparent paints in other areas of your artwork!

---
Vitrail No-Drip Medium is handy dandy for times when you want to use your Vitrail paints on a vertical surface like a pane of glass or tall round vase. When you mix it with the paints 50/50 the paint doesn't drip down. It stays where you've applied it. Until this product came out I was always opting for square jars working horizontally.

---
If you love all things that glitter and sparkle, you'll love Vitrail Glitter Medium. Like the paints, it sticks to glass and other non-porous surfaces and it can also be used on metal, canvas and wood. What I like about this glitter medium is that it's not kitschy or crafty-looking. It's a more refined kind of glitter. The medium is transparent so when it's added to the transparent paint not only do you get the gorgeous color of the paint; you get a luminous shimmer effect. Absolutely dazzling!

---
Vitrail Lightener is used for times you want to lighten the color. Since the Vitrail paint is solvent-based, you can't thin it down with water. The Lightening Medium won't change the quality of the paint. I use it when I want to gradually fade a color out.

---
Clean up requires mineral spirits because this paint is solvent-based. Pebeo has an odorless mineral spirit which they say doesn't present any risk of irritation or allergic reactions. I haven't tried it myself but they recommend it for people working in closed rooms. However, I do use the Gamsol Odorless Mineral Spirits and it works just great!

---
As you can tell, testing and playing with the Vitrail paint was a joy and produced great results. I'll soon be featuring images of the work that was done here in the studio, so stay tuned!

---
Return to our Glass Paint page.

Leave Vitrail paint and go to the HOME page. 



---
---
You Can Paint These Trees and More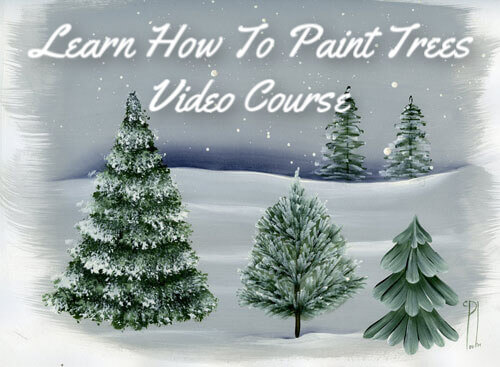 Click to Learn More
---
Introductory Price
Save 55%  plus
a Money Back Guarantee
---
---