GLASS-TIQUES BY DECOART
Glass-Tiques are no longer available.  And that's too bad because they were fun to use for creating rich, transparent texture on glass, plastic and glazed ceramics. Unlike most glass paints these are very thick and when you make marks or swirls into the paint the texture remains visible…it doesn't self-level like the other glass paints.
One of the things I really like is that the paint is not runny so it's not going to drip or slide down if you're doing a vertical project.
There are 10 pretty colors available and they can be intermixed to create more color effects. Or you can swirl them into each other for a clear marbled effect.
Preparation is always important. Wash the object in warm soapy water and wipe it down with rubbing alcohol.
The paint goes on cloudy but it dries transparent. You can apply it with brushes or sponges, a palette knife or texture tools…anything goes!
This paint can either be air-dried or heat-set for added durability. In both cases the paint must cure for 7 days before it can be used or before it can be heat-set.
To heat-set the paint, pre-heat the oven to 200F. Place the pieces in there for an hour and then turn off the oven but do not open the door. Let the pieces cool gradually for a few hours.
Even though heat setting has made them more durable, Glass-Tiques are still considered for decorative purposes only. They won't survive a lot of daily handling. And definitely hand wash only.
Trying out the product was fun and since I'm a big fan of textured artwork it was great to be able to do it on glass too.
I'll be posting images of the projects that were produced here in the studio soon. So do come back. As well, I'll be creating e-books and e-patterns for great project ideas with lots of step-by-step instructions featuring this glass paint.
---
---
Return to our Glass Paint Page.

Go from Glass-tiques to HOME page.



---
You Can Paint These Trees and More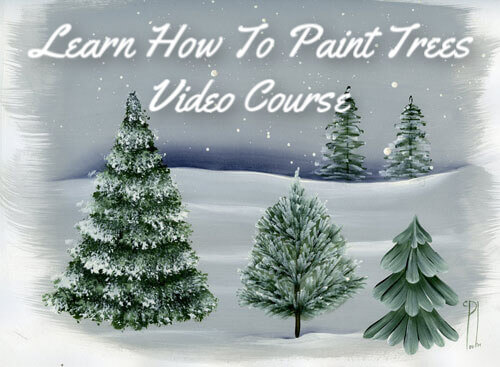 Click to Learn More
---
Introductory Price
Save 55%  plus
a Money Back Guarantee
---
---