Liquitex Glossies Acrylic Enamels
The Liquitex Glossies Acrylic Enamels are being discontinued as of 2016. If you have some on hand or your art supply store still has some in stock, read on....The Glossies are air-dry, acrylic enamel paints usable on glass and other non-porous / slick surfaces such as primed metal, china, glass, glazed ceramics, etc. As the name implies, they dry to a high glossy finish that's lightfast and durable.
Preparing the surface is simply a matter of washing it in warm soapy water. After drying just wipe the surface down with rubbing alcohol.
As with other enamel paints, it's important to stir it well for approximately a minute. Don't shake them, though.
The painted project is fully cured after 24 hours, as long as the applications are not too thick. When more than one layer is required, it's best to wait for each thin coat to dry from 1 to 24 hours before applying the next. Or use a hairdryer to speed things up if you're impatient like me!
If your painted items are decorative and don't require scratch resistance then air-drying is sufficient. They're cured after 24 hours.
For a more durable finish, however, they can be oven-baked. These are very durable indeed! Always start in a cool oven, set the temperature to 325° F (163° C). Set the timer for 45 minutes, make a cup of tea, and relax…. When the timer rings, turn off the oven and open the oven door to let the glass cool completely.
Liquitex Glossies Acrylics can be thinned with distilled water, but by no more than 25%. As such you can achieve a glazing effect. If you thin them too much you risk losing the strong bond between the paint and the surface.
You need to keep your project horizontal as it dries which is another good reason to have the hairdryer handy, especially if you're working on a wine glass or other vertical object.
Why do I have to let the paint air dry for 24 hours? What would happen if I didn't? I get asked that one a lot. If you don't air-dry them for the recommended time you risk having the paint "slip" in the heat of the oven. Not a pretty picture. Gee, I should have taken a picture of my disasters to share with you!
How can I make fine lines with the Glossies? Oh this is fun! Simply pour some of the paint into a plastic syringe and squeeze the trigger. Now, you do need to practice this trick because at first your lines may be a bit shaky and wobbly!
Well, I hope you'll give the Liquitex Glossies a try since they provide very professional results. That's something you want especially if you're selling your painted pieces!
Return to our Glass Paint Page.

Leave Liquitex Glossies and return to the HOME page.

---
You Can Paint These Trees and More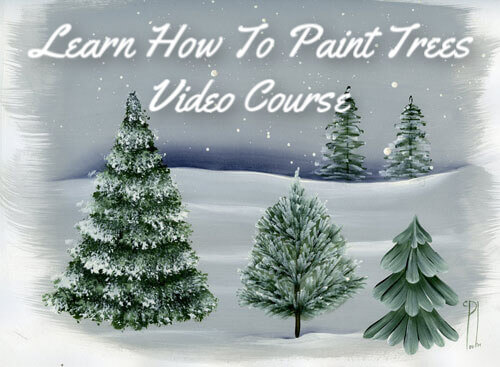 Click to Learn More
---
Introductory Price
Save 55%  plus
a Money Back Guarantee
---
---