Folk Art Enamel Paint and Americana Gloss Enamels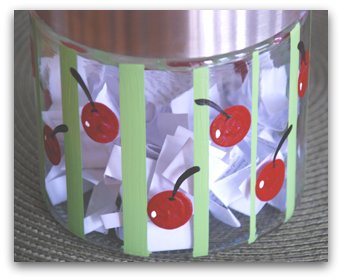 I love painting on glass! Folk Art Enamel Paint by Plaid is a product I trust for great results as much as I trust my other favorite, Americana Gloss Enamels manufactured by DecoArt. In my opinion, both perform really well and are a joy to use.
Both are opaque, meaning you can't see through the painted areas. If you do want a transparent finish where you can see thru the glass, DecoArt has a transparent product called Crystal Gloss Enamels. I have not used it yet but when I do I will be happy to share my experience with you.
---
---
Okay… now back to Folk Art Enamel Paint by Plaid and Americana Gloss Enamels by DecoArt… I like the feel of these paints as I brush them on. They're really creamy and the colors are luscious. I came across this nice 32 color pack called One Stroke 4211 Folk Art Paint Value Pack- Enamels which is a great way to sample all the gorgeous enamel colors.
---
I noticed that with both brands, the colors, as they dry, become a half shade darker than they appear in the bottle. So if you like a particular shade of pink as it looks in the bottle consider adding a touch of white to ensure it dries to the shade you like.

---
Americana Gloss Enamels and Folk Art Enamel Paint come in many colors and can be intermixed to create new shades. Just don't mix the different brands together! I love how glossy and shiny they look after drying. The colors are really gorgeous. You can purchase individual bottles or packages with assorted colors. I purchased the Americana Gloss Enamels 34 Color Value Pack (see image above) and it provided really great value!

The paints can be used on any slick surface such as glass or metal as well as other surfaces like terra cotta and canvas. It's important to remember to first wash smooth surfaces like glass or metal with warm soapy water, rinse thoroughly, dry and then wipe them down with rubbing alcohol.
One of the little things I appreciate is that Folk Art Enamel Paint has a colored sticker on the top of the bottle with the letter E printed in the middle to help you identify the enamels from their other acrylic paints. Americana also puts a colored sticker on top and then I just write the letter E with a permanent marker. Makes storing and sorting a whole lot easier, especially when you have as many bottles as I have.
---
---
Both brands can be air cured for 21 days or heat set in the oven. Both are safe in the top rack of the dishwasher and can be hand washed. Neither product is food safe. Do not have food or beverages come into contact with the enamels. So for example, be sure that if you paint a wine glass, you leave about an inch of unpainted space near the top.
For heat setting, Folk Art Enamel Paint requires 1 day of air drying and then you put the glass item in a cool oven, turn the heat on to 350F and bake for 30 minutes and turn off the heat leaving the item to cool gradually in the oven. Any sudden temperature change will damage the glass.
Americana requires 48 hours of air-drying prior to baking. Place the item in a cool oven, turn the heat on to 325F for 30 minutes and turn off the heat leaving the item to cool gradually in the oven.
So…are you ready?
Here's a simple project for you to experiment with using Folk Art Enamel Paint...
With minimum expense you can buy enough paint and other materials to try glass painting for yourself.
I call this my Meal Prompt Jar. In it I keep recipe names on small pieces of paper along with the book or magazine the recipe comes from. When I'm planning my dinner meals for the week, I just pull out ideas from the jar. It helps me to mix things up and not eat the same old thing all the time. Plus it's fun and a great excuse for painting on yet another glass item.
STRIPES AND CHERRIES MEAL PROMPT JAR
with Folk Art Enamel Paint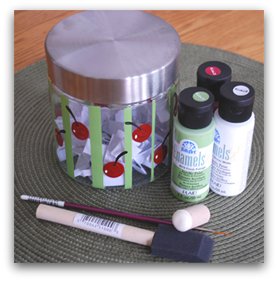 WHAT YOU'LL NEED
Folk Art Enamel Paint
#4019 Fresh Foliage
#4006 Engine Red
#4001 Wicker White
#4032 Licorice Black
Glass Jar
Masking tape or Scotch Brand Magic Tape
Foam Brush
Foam Paint Dauber
#1 Liner Brush
#3 Round
Styrofoam meat tray for your paints
Hair dryer

PAINTING INSTRUCTIONS
Any glass jar will do. I found this one in a discount store. Wash it and dry it thoroughly. Then wipe it down with rubbing alcohol.
Use tape to mask off vertical strips around the whole jar. Don't worry about spacing them evenly apart. It's more interesting when the resulting bands are different widths.
Use the back of a spoon to burnish the tape edges. By burnish I mean, if you see little air gaps between the tape and the jar, rub them down some more with the back of the spoon.
Pour #4019 Fresh Foliage onto a Styrofoam meat tray. Take your foam brush and pick up a generous amount of paint and apply it to the glass. Don't worry if you get some on the tape. It's there to protect the areas you don't want paint on. If you see through the paint it means you need to use more paint in the brush and apply it to the glass. So go over it again right now.
When you've painted all around the jar, remove the tape before the paint has had a chance to dry. If the paint dries and you lift the tape chances are you will lift the paint off the jar along with the tape. How do I know that? Just ask me about yesterday's project! :o)
OK, now you have nice crisp vertical lines. The paint will remain wet for a while. I use the hair drier to speed things along; but even so the paint will be fragile until it's fully cured.
Clean your foam brush in cool soapy water, rinse and let air-dry.
---
---
Add #4006 Engine Red to the tray and load the round foam paint dauber into the paint. Use even pressure to add dots in the unpainted areas of the glass. These will become the cherries. This will likely create a lot of texture and the middle of the cherry will be transparent. So immediately add more paint to that area using a generous amount of paint on a #3 Round brush. Load the dauber for each cherry. Once you're finished, clean the dauber in cool soapy water and rinse. Use the drier to speed-dry the cherries.
Add a little #4032 Licorice Black on the tray and load the Liner. Add small comma strokes to create the stems. Again, clean the brush and dry it thoroughly, once you are done.
Reload the clean, dry liner brush with #4001 Wicker White to add shine dots to the cherries.
Let air dry for a day and heat set in the oven.
I hope you enjoyed the project using Folk Art Enamel Paint. Drop me a note and let me know.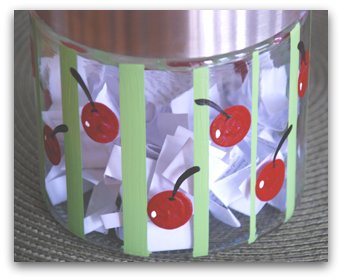 For your shopping convenience here are some more links to Amazon for the items I used in this project.
Return to our Glass Paint Page.

Go from Folk Art Enamel Paint to Home Page.


---
You Can Paint These Trees and More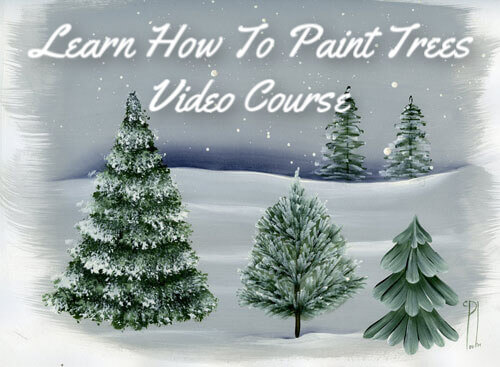 Click to Learn More
---
Introductory Price
Save 55%  plus
a Money Back Guarantee
---
---