PermEnamel by Delta
PermEnamel has been discontinued.  Many visitors to the website are looking for the product which is why I'm leaving the content on the site.  PermEnamels were discontinued in 2011.
This an impressive durable "air-dry", opaque paint manufactured specially for painting on glass, ceramics, glossy tiles and even shiny metal! It's dishwasher, microwave and oven-safe up to 350F! And, since it's air-dried, it's ideal for painting on large items that won't fit in your home oven for heat setting.
The first thing you do, after cleaning the glass with soap and water, is to dry it well. The next step is crucial and you can't skip it.
Here's something you'll notice... almost immediately the conditioner will start to dry and you'll see that a hazy, milky film has appeared on your clean glass surface. Resist all temptations to wipe or buff the surface. The haze is actually the bonding agent reacting to the glass.
Now getting back to the PermEnamel glass paints... Like other glass paints, it's important to stir them well. A great tip is to store the jars upside down. Then about 20 minutes before you get creative, turn them right side up. Give 'em a good shake and you're ready to paint.
For painting over large areas, pat the paint on very lightly using petit fours or other sponges. To paint the actual design and details use clean, dry brushes.
Can I heat-set these paints to make them more durable? Actually these paints are extremely durable. They are strictly air-dried and require 10 full days to cure after the last step. After that, they're safe in the microwave, dishwasher and up to 350F in the oven!
The last step is the application of a protective glaze, available in a clear gloss or satin finish. It's applied over the painted areas with a soft flat brush. Let your project dry for 10 days and enjoy!
This glass paint comes in many, many shades that can be intermixed. As well, PermEnamel is also available in transparent and iridescent formulations. Keep in mind that the opaque colors can't be mixed with the Transparent or Iridescent colors.
---
About PermEnamel Iridescent
and Transparent Glass Paints by Delta
---
The preparations for using the Iridescent and the Transparent glass paints by Delta are just like their opaque cousin listed above.
The biggest difference is that the paint is dispensed through a nozzle tip. So in effect, you're drizzling the paint onto your glass surface. Pretty exciting stuff!
Just remember that your Surface Conditioner is an extremely important first step for all of the PermEnamel glass paints. And you have to wait the full 10 days for the curing to be most effective. And remember, you can't mix the transparent and the iridescent products with the opaque PermEnamel.
Return to our Glass Paint Page.

Leave PermEnamel and go to HOME page.


---
You Can Paint These Trees and More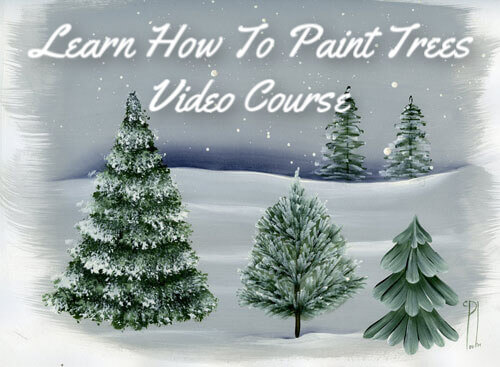 Click to Learn More
---
Introductory Price
Save 55%  plus
a Money Back Guarantee
---
---