Antique Milk Can
 Part 4

Here's antique milk can part 4 of the project.  I was in a doodling state of mind at the time and rather than sketch out a drawing to work from, I just decided to wing it directly on the milk can.  Brazen, I know!!!

Of course at first I had the whole thing sponged on with the dark green as I had done in Part 1 of the project but something compelled me to do a bright and sunny, completely different milk can than the first one.  Call me crazy but I always follow my instincts or as I like to call it, my Creative Spirit.  I don't mean that in a "woo-woo" way.

I didn't have the good sense to take photos early on in the progress because I really was swept away and playing "in the moment".  It was so much fun to just let go and to play.
A few months prior to painting this, I taught a design by Kathye Langdon, CDA.  This definitely influenced the design of this milk can and for that reason there will not be any instructional material for this project. 
Although it's a free hand adaptation from the original design its resemblance is much too blatant to call my own.  I am very respectful of copyright.  And many of the other elements are my very own.  Still, give credit where credit is due!

Check through some of your old decorative painting magazines and look for a project named "It's a Bug's Life".
Anyhow, let's look at antique milk can part 4!
Antique Milk Can Part 4 Continues...
There still remains much to do but I wanted to share the progress so far.  I should be finished in the next few days.
I definitely need to add little garden critters to pull it all together.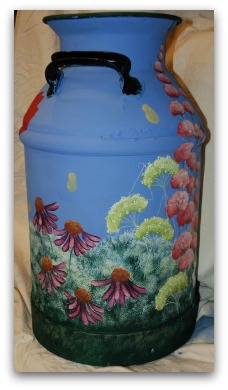 I have to remind myself to erase my chalk pencil marks.  Gosh, how many times have you varnished over chalk or graphite lines?  For me, far too many times!

These are my own free-handed tulips which are obviously not finished.  I'm contemplating adding Black Eyed Susans and maybe some Lilacs.  We'll see!  I do like the cluster of daisies shown below and may tuck in a few more here and there.

So there you have it!  Once I get all the critters and filler flowers in place, I'll be painting the handles.  Then applying 3 coast of exterior varnish with UV protection.  And finally adding paste wax for a durable outdoor finish.  More on that in the last installment coming very soon.
If you haven't seen Part 1 of this project, here it is.  And if you missed Part 2, check it out here.  And of course, here's Part 3.  And here are the FINAL results!!
I hope you enjoyed the antique milk can part 4 part of the project!

Let's go back to the HOME page.

---
You Can Paint These Trees and More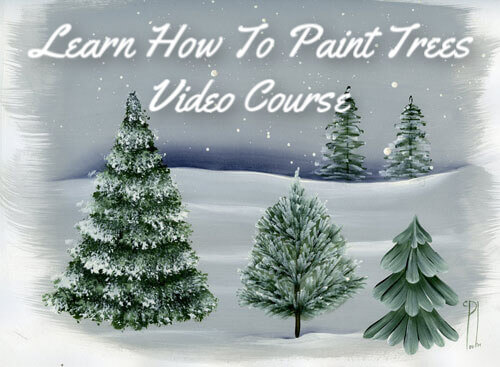 Click to Learn More
---
Introductory Price
Save 55%  plus
a Money Back Guarantee
---
---