Antique Milk Can
 Part 3

Here's the antique milk can part 3 project.  This next flower worked up pretty quickly.  You just have to love strokework to get things done in a hurry.
Because the petals are pretty large I used a #12 Round.  The outer petals were done with the brush loaded in Pansy Lavender tipped in Royal Fuchsia.  I just used pressure strokes to fill in the petals.

The next row of petals was painted with the brush first loaded in Royal Fuchsia tipped in Spiced Pumpkin.  Again, just pressure strokes.
Then I did the next row the same way using Royal Fuchsia tipped in Sand.  The petals are smaller so I used less pressure.
The next row was done with Spiced Pumpkin tipped in Sand.  Again, a little less pressure.
The flower centre was stippled in using a 1/2-inch Deerfoot first loaded into Mustard Seed.  While wet, stippling in some Marigold and finally some Sand.
The outer petals needed a little more color so I dry-brushed them with a little Sand mixed with a touch of Royal Fuchsia.
The leaves were basecoated in Hauser Medium Green.  They were then highlighted by dry-brushing with Yellow Green, followed by Lemon Yellow.
I used a Liner to outline the leaves with a mixture of Yellow Green and Lemon Yellow.
The dragonfly's wings were filled in with a soft wash of Sand.  Details on the wings were done with the Liner and Black,  I finished the wings with a coat of Glamor Dust Paint.  The body is basecoated with Burnt Umber.  Some hit and miss highlights were added by mixing one of the yellows with the Burnt Umber.
The Butterfly is basecoated in Marigold and the details are done with Burnt Umber, Spiced Pumpkin and Sand.  The body, heat and antennae are Black with small White Highlights.

Antique Milk Can Part 3 Continues
After a short coffee break...
This next large sunflower, shown above, was a fun mixture of yellows and unusual tints  There were bumps on the petals caused by rivets in the metal...I decided to make lady bugs out of them.
I really loved the look of this sunflower.  The colors are really stunning.  So I took a break from painting the milk can to paint this on a bar stool I've had kicking around for many years.  You can see it here.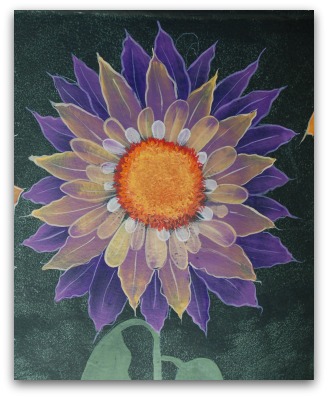 This is the final large sunflower for this antique milk can part 3.  Now I have to add the finishing touches...more dragonflies and butterflies...a frog, some snails?  Let's see how it all unfolds!
If you haven't seen Part 1 of this project, here it is.  And if you missed Part 2, check it out here.  And have a peek at Part 4 right here!  And now for the FINAL results.

I do hope you enjoyed this transformation of the antique milk can part 3!
Or let's just go back to the Home page.

---
---
You Can Paint These Trees and More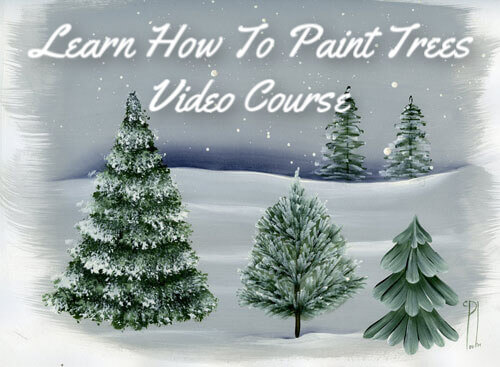 Click to Learn More
---
Introductory Price
Save 55%  plus
a Money Back Guarantee
---
---