ARTIST TRADING CARDS
WHAT IS AN ATC?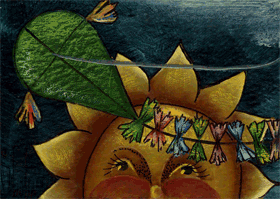 What are Artist Trading Cards? It seems many of you want to know. As an avid creator and trader of ATCs, as they're commonly known, there's lots of room here for creative self-expression and I'm all for that!!!
Very simply put, it's about creating artwork on a small scale.  It's fun.  It's quick.  And it's portable.  If making ATCs has intrigued you at all, then this is the time to give them a try!
An ATC is a miniature piece of original artwork done on a 2-1/2 inch x 3-1/2 inch (64mm x 89mm) card.  The artist can then choose to keep or trade their cards with other artists.  The point?  Well, I'll explain that as we go along.  If you just want to get started right away, here's a quick link to an ARTIST TRADING CARD WORKSHOP

Hold up! Did someone just say original art? You mean no pattern or instructions? A lot of decorative painters hyperventilate at the thought of doing their own thing. If this sounds like you, you could be missing out on some tremendous fun, with very little expense.
Let's start with a (very) brief history of Artist Trading Cards.
There's history going back to the 16th century where miniatures or art cards were painted and sold. They were sort of the equivalent of today's wallet photos or pics you have on your iPhones. But going back that far may be a bit dull, so…
A century later, art cards were favored in Europe for advertising purposes.  Yawnnn…..
OK, OK, moving right along … so now it's the early 1900's. Baseball is in full swing. Kids start collecting the baseball cards that come with their packs of gum. In the 1960's, the cards were standardized to a size of 2-1/2" x 3-1/2" (64mm x 89mm), which is still in effect today.
Although these cards were mass-produced, collectors were and continue to be crazy for them. Kids of all ages trade or buy and sell cards at trade shows, exhibitions and on the Internet. It's amazing what some folks will do and pay to get their hands on a Babe Ruth rookie card! The same goes for hockey cards … actually all sports cards!
Now picture the excitement of this trading frenzy. Then plant the idea in some guy's head that creative people could trade little bits of art among themselves. And that's just what happened in 1997.
The Zurich artist, m. vanci stirnemann began a project with exactly this in mind. I love the way artistic people think!  He created and exhibited 1200 cards (the size of sports cards) and he then encouraged people to trade their own cards for his.
The whole idea of trading art cards has since spread like wildfire. Add the Internet, and the Artist Trading Card concept has now touched the far reaches of the world.
Imagine trading your artwork with someone you'll probably never meet from places you may never see. There's no critiquing, no judgment … just art for its own sake. Yeah, now that's pretty exciting!
So, there you have it, a condensed history of Artist Trading Cards.  Neat, huh?
For a step by step demonstration to get you started, have a look at my mini lesson; kind of a simple, virtual artist trading cards workshop.
---
---
What I love about ATCs is that you don't need art classes or drawing lessons. You can paint them using watercolors, oils or acrylics. You can use photography … or if you like to sew, you can make fabric ATCs! You can collage or decoupage, rubber-stamp and stencil. Use wax crayons, colored pencils or pen and ink.  The only rule is the size, 2-1/2" x 3-1/2" (64mm x 89mm).  No bigger, no smaller.
Whether they're called Pocket Art, Miniature Art or Art in Your Pocket, Artist Trading Cards are fun to have, fun to create, fun to trade and they are here to stay!

How do you trade ATCs?

OK, so you've created these wonderful cards.  How do you go about trading them?  Where do you find people who will trade their cards for yours? 
What's really cool is that you can trade cards in person or by mail.  So if you can't find a local way to trade, then come back here again because I'm just working on creating an awesome trading group just for you!
Return from Artist Trading Cards to our Decorative Painting Home Page.
---
---
How to Paint Trees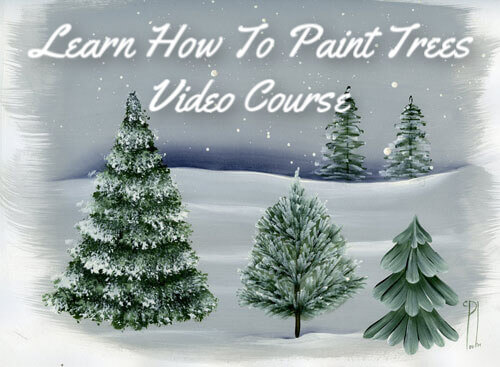 Click to Learn More
Video Course
---
---