A MINI ARTIST TRADING CARD WORKSHOP
Artist Trading Card Sample by Cheryl Poulin
A mini artist trading card workshop to get your creativity flowing! Some people prefer to choose a theme first... or maybe just play with new techniques... Remember, there is no wrong way to do it. This is my preferred method for making artist trading cards.
Take a piece of sturdy cardstock measuring about 4-inches x 5-inches (10cm x 12cm). Cut out a window in the center of this card measuring 2-1/2-inches x 3-1/2-inches. This will be your template/viewfinder. ATCs cannot be smaller or larger than that measurement.
For this artist trading card sample, I used watercolor paper (it's a favorite of mine).  Now paint the paper any way you like. This will be the background or the first layer for your painting.
For this artist trading card workshop, I gave myself a challenge. I wanted a textured background and my main color had to be picked blindly. With my eyes closed I picked out a bottle of paint; DecoArt Canyon Orange.
I decided to use Frescolina (a texturizing stucco medium) for my desired textured background. I also like DecoArt Stucco. So then I mixed my paint in with the stucco and I applied it to the paper with a palette knife. You have to let the background dry…I use a hairdryer because I am impatient. Then I applied a coat of Jo Sonja Clear Glaze Medium. It just makes the Frescolina less absorbent. Let that dry.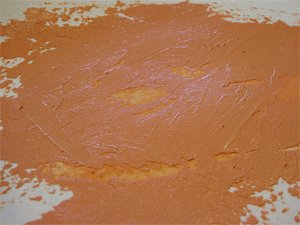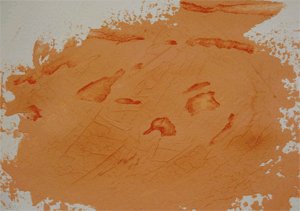 Making Artist Trading Cards means you really have to let go of any sort of preconceived rights and wrongs with the creative process. If your mind sends out a crazy idea or a color combination you think is nuts, try it first. In that spirit, I decided that it would be really neat to float some DecoArt Oxblood in the raised sections of the stucco. Cool!! This is becoming a great little artist trading card workshop... I wonder how many of you are attending?



I then did a bit of dry brushing by skimming a wide flat brush across the surface of my painting. I chose Jo Sonja Burnished Copper because it's to die for! And it added just the right amount of sparkle.


My next step in making this artist trading card sample is to find, through my template/viewfinder a pleasing area on which I will paint my design. I covered a large area with the paint, so I could conceivably end up with many interesting backgrounds.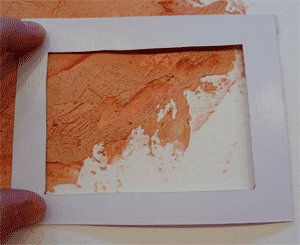 After selecting the areas, I penciled in some registration marks and I cut out the little canvases. I like to use a metal straight edge and a very sharp x-Acto knife or box cutter. I ended up with nine cards.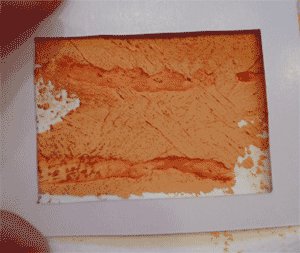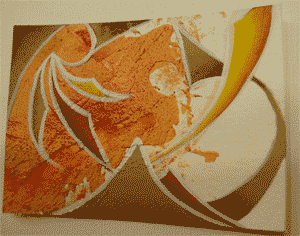 I picked one out and it immediately conjured up a Southwestern theme. I do not have a southern bone in my body so I dug through some of my decorative painting books. There I found Desert Trails, Vol.2, by Sharyn Binam. I adapted a couple of her line drawings and messed with some similar colors… and this is what I have so far. Hhhhmmm, needs something else. Needs a 3-dimensional object.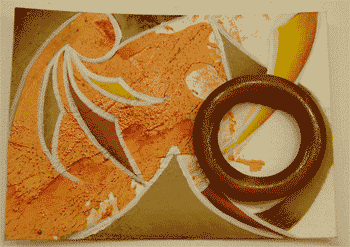 So there, I glued on a wooden hoop and now the card is in balance. I like it. So you see, making artists trading cards is not very complicated.
Now, what to do with the other eight cards! Hey! Let's have another artist trading card workshop... any idea what theme we should work on? :o)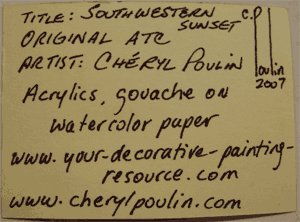 On the back of the card write the title of your card, your name, media used and information on how you can be reached.
I hope you enjoyed this mini artist trading card workshop. I sure had a ball!
Now it's time to trade!


Let's leave Artist Trading Card Workshop and go to Artist Trading Cards.
Return to our Decorative Painting Home Page.
---
---
You Can Paint These Trees and More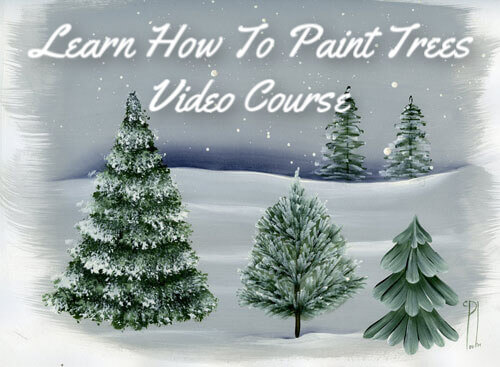 Click to Learn More
---
Introductory Price
Save 55%  plus
a Money Back Guarantee
---
---