Yupo Paper

Alcohol Inks and Masking Fluid
So what is Yupo paper?  It's fun... that's what is what it is!
It's a synthetic paper made from polypropelene pellets. It's bright white and is completely non-porous.  This makes it fun to experiment on.  It's completely waterproof, yet you can paint on it using watercolors!  And it's a blast when you use alcohol inks on it.
For this tutorial I'm using a masking fluid on the paper.  It's a liquid rubber compound that once dry resists or blocks the inks from touching the paper.  After the painting is completed, you simply use your fingers to rub off the masking fluid.
Before starting gather up your supplies:
Pad of Yupo Paper - 11" x 14"
Fineline Masquepen (masking fluid)
Tim Holtz Ranger Alcohol Inks
  - Raspberry
   -Pebble
   -Clover
99% Rubbing alcohol
Liner brush
Small bowl
At the time of this project it was a few days before Valentine's day, so I had fun drawing hearts, circles, squiggly lines and dots.  You could do any shapes that come to mind as shown in the picture above.
Shake the bottle of masking fluid, remove the cap and gently squeeze the bottle as you draw your shapes.  Let dry completely.
Here I've added drops of Raspberry ink to most of the hearts.  I just let the ink drip off the tip of the bottle.
Then I added drips of Clover and then Pebble.
And more Clover, Pebble as well as Raspberry, allowing the inks to blend together, filling up the whole background.
While the ink dried, which doesn't take very long, I added the alcohol to a small bowl.
Using a liner brush I added droplets of rubbing alcohol onto the inks.  Wow!  What a transformation.

Look at that!  This is what you get after you rub off all the resist.  So charming.  I think it's frame worthy or it could be cut up and mounted on card stock for greeting cards.
I hope you'll try your hand at playing with yupo paper and alcohol inks.
For your convenience, shown below are Amazon links for the yupo paper, the inks and the masking fluid.  I do get a teensy commission if you shop through this page, but it's at no cost to you.
---
---
You Can Paint These Trees and More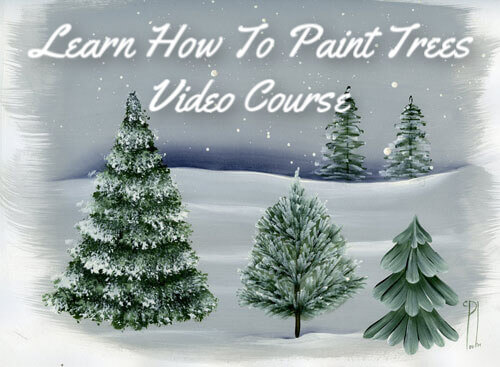 Click to Learn More
---
Introductory Price
Save 55%  plus
a Money Back Guarantee
---
---