DECORATIVE TOLE PAINTING SUPPLIES
For The Beginner Decorative Painter
As a new painters, you've wondered what decorative tole painting supplies you'll need and what to do with them.
While opinions may vary, we're suggesting the items listed below. Not only are these painting supplies for beginners, they're also the ones used on a regular basis. Other supplies can be added as you gain experience and try new techniques.
It isn't necessary to spend a fortune. That being said, we recommend you carefully consider quality. Good quality decorative tole painting supplies help to lessen frustration and save you money in the long run.
Here's that all important list:
Brushes: a #1 liner, a #3 round, a #6 and a#12 flat. (Sponge brushes are optional)
220-grit sandpaper
Tack cloth
Tracing Paper
Palette Paper
Graphite Paper also called transfer paper
Kneaded gum eraser
Margarine container or brush basin
Rose stick or stylus
Pencil
3M Scotch Brand Magic Tape
Paint, Sealers, Varnish
Taken one at a time, here's a very brief explanation of what these decorative tole painting supplies are used for.
Brushes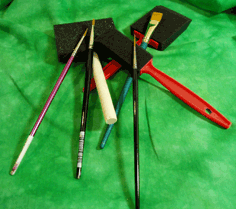 It's pretty obvious that brushes are an essential decorative tole painting supply; however, it's a bit mind-boggling figuring out which ones to start with.
When it comes to liners, a good all-purpose size is the #1. As the name suggests, it is used primarily for linework. It is also useful for small details and strokework.
A #3 round is a great size used for strokework. It's handy for adding small details too.
A #6 flat (or ¼" flat) works well for strokework and also basecoating small areas. In limited cases, it can be used for floating.
In our opinion, a #12 flat (or ½" flat) is a must for floating, basecoating and, if desired, larger strokework.
Foam brushes are an inexpensive option for work on backgrounds, sealing, basecoating and varnishing your surfaces. Eventually, most decorative painters purchase wide, flat brushes for these purposes. We recommend that you have these as part of your decorative tole painting supplies.
For more detailed info,please see our section on artist paint brushes
Sandpaper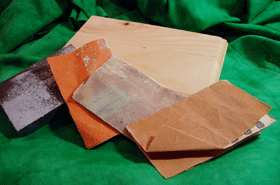 We apologize if these explanations seem as dry as .... well, sandpaper. As hard as we try, there's only so much life we can breathe into a topic like decorative tole painting supplies. :o) Please bear with us.
A 220-grit sheet of sandpaper is a good choice, since it will smooth the surface without causing scratches. Sanding also opens the pores of the wood so sealers and paints can adhere better.
A standard sheet of sandpaper, cut in half, then folded in quarters, makes a comfortable size that's easy to handle.
Tack Cloth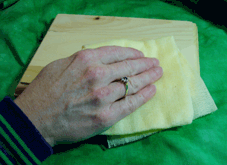 A tack cloth is named appropriately since it feels quite tacky when brand new. It is meant to remove sawdust and other particles from a sanded surface. Gently wipe the tack cloth over your piece after your sanding is done.
Best to store your tack cloth in a zip-lock bag. Otherwise, it may pick up cat hairs, crumbs and other bits of mysterious stuff ... speaking from experience, of course! See how quickly your tole painting supplies collection is growing?
Tracing Paper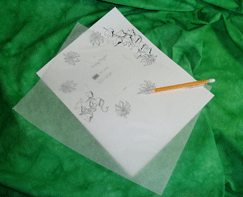 Tracing paper which comes in 50-sheet pads is semi-transparent, making it ideal for tracing patterns. It's also available by the roll. This format makes life easier as you graduate from painting tiny, trinket boxes to larger items like handpainted furniture.


Palette Paper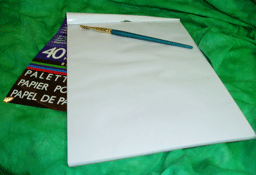 Palette paper, also sold in 50-sheet pads, is used as a surface for blending and mixing paints. This is usually referred to as your "dry palette". The waxy property of the paper allows the brush to glide easily as you load it with paint.
The underside of palette paper is not waxy. So, resist the temptation to use both sides. The underside will pull too much water and paint from your brush and cause you some frustration.


Graphite Paper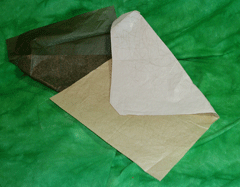 Graphite paper --think of carbon paper -- is used for transferring designs to your surface. As the name tells us, it is coated with graphite -- on one side only. Please don't use carbon paper, as you'll end up with a heck of a mess!
While other colors are available, a sheet each of black and white are good standards to have. White is good for transferring onto medium to dark surfaces. While the black shows up on lighter surfaces.
Graphite can be used for a long time without needing replacement. Even older graphite has its uses, so it's good to hang on to each piece as long as possible. Among our decorative tole painting supplies, we've got graphite that's really, really old!
Kneaded Gum Eraser
These erasers really are the best for removing graphite lines from your surface without smearing and leaving a trail of debris. They are soft and pliable which makes them gentle to use on your painting surfaces. We recommend them highly, since regular erasers will cause problems. Little zippered baggies are good to keep your eraser malleable and clean. We'd be lost if our decorative tole painting supplies did not include these handy gems.
Water Container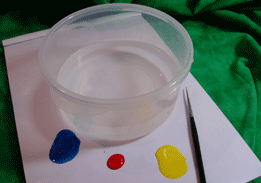 When you paint with acrylics you need water so you can work with the paints and clean your brushes as you go. Margarine containers are a good substitute for commercial water basins when you are starting out. We do suggest that in time you add a water basin to your decorative tole painting supplies. They're designed especially for the tole painter. A word about water temperature -- only cold water please, when working with acrylics.
Rose Stick or Stylus
A rose stick, for lack of a better description, is like a lead-less pencil ... no snickering please. It's a narrow dowel that has been sharpened at one end.
Rose sticks are inexpensive and have many uses. The pointed tip is used for transferring patterns onto the painting surface. As well, it can be used to create small paint dots. Contrasting paint colours, when loaded on the flat end, can be stamped on a surface and swirled with the point to create swirl roses. Hence the name ..... "rose stick"... a simple and handly little tool to have in your tole painting supplies.

A stylus is also a tracing tool but it differs from the rose stick in that it has a metal prong at each end of the dowel. One prong has a larger tip than the other which makes it a good dotting tool as well.
Pencil
A pencil is needed for tracing your pattern onto tracing paper. Try not to use a pen because the ink smears easily and could land on your painting project. And occasionally, of course, you may make an error :o), which you'll want to erase.
Tape
We highly recommend Scotch Brand Magic Tape by 3M. It will tape your tracing to your surface without peeling off the paint or leaving a residue once removed.
Tape is also useful for masking off straight edges.
Paint, Sealers, Varnish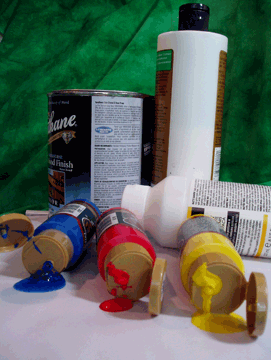 Guess it goes without saying that you need paint. There are several brands available. The most popular bottled brands of decorative paints are Delta, DecoArt and Folk Art.
Most surfaces need to be sealed before painting. Wood sealers are made specifically for well, .... sealing wood! All purpose or multi-purpose sealers will seal wood, metal, and a variety of other surfaces.
Once you've finished all your hard work, you'll need to protect your painting with varnish. Again, there are several on the market, which are water-based, non-yellowing and come in matte, satin and gloss.
That's pretty much it for decorative tole painting supplies when you're just starting out.
If you have any questions about decorative tole painting supplies, drop us a line. We love hearing from you!
Leave Decorative Tole Painting Supplies and return to our Home Page.

---
---
You Can Paint These Trees and More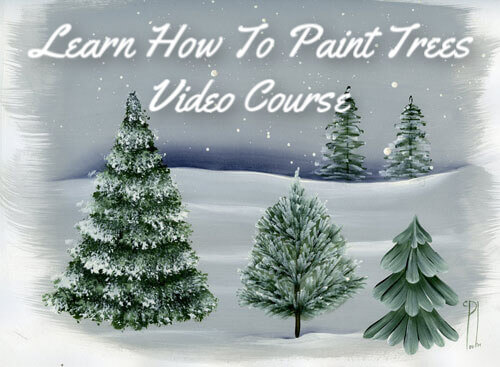 Click to Learn More
---
Introductory Price
Save 55%  plus
a Money Back Guarantee
---
---