Paint Patio Furniture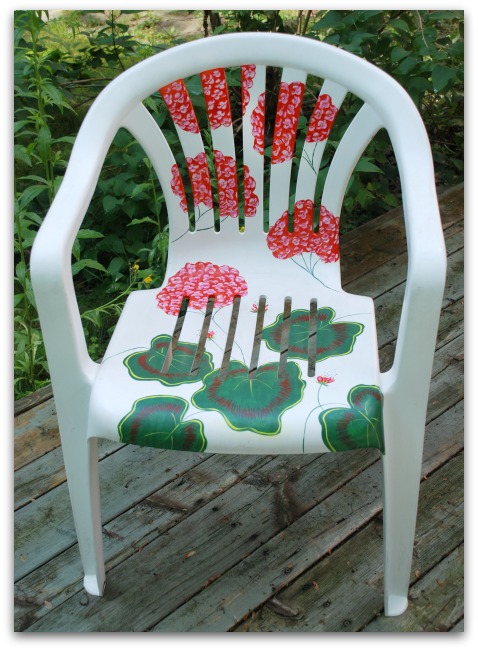 Ever wondered how to paint patio furniture?  Here's a patio furniture project that's quick and fun to do.  And... there's no need for a lot of painting experience.
The idea behind this project was born from a desperation to revive my white resin plastic furniture.  The chairs were moldy, had stubborn grey stains and were impossible to clean.  If I couldn't come up with something I'd have to throw them out.  But I hate throwing stuff out, especially if it's still sturdy and serviceable.

Getting Started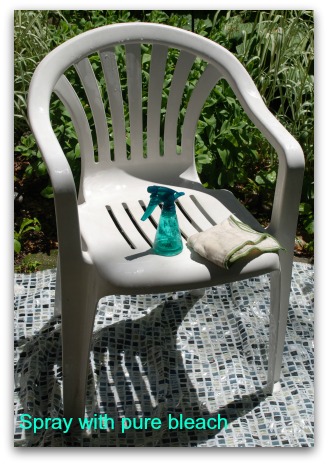 Working outdoors on a very sunny, calm day, I sprayed the entire chair with pure bleach.  Here's what you need to know...
BE CAREFUL not to breathe in the sprayed bleach.  Keep pets and children away.  Also, cover the grass or deck with a plastic drop sheet. 
After spraying, let the sun and bleach do their magic for a few minutes.  Take a hose and rinse off the chair.  Use a damp cloth to remove any stubborn stains. 
Ta da!!! The chair looks like new.  Well almost, anyway.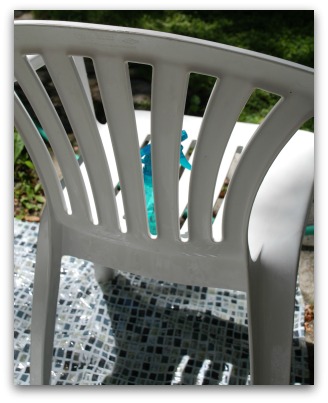 Even the really dark, black mold on the back of the chair just came right off!
Once completely dry I sprayed the chair with RustOleum Painter's Touch® 2X Ultra Cover® Clear Spray, Matte Finish.  I want the white chairs to remain white.  That's why I chose clear.  And I chose a matte finish to add "tooth" for painting my designs with DecoArt Multi Surface Acrylics.
Add The Design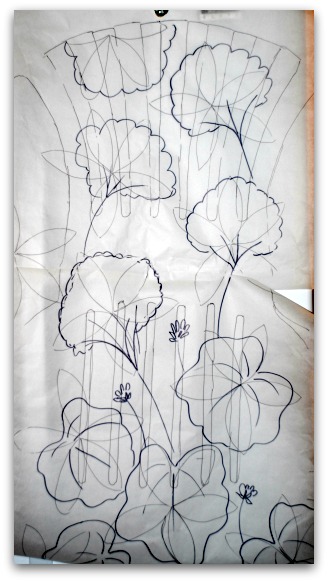 A sketch is born!  I had a couple of ideas and decided on big bold geraniums.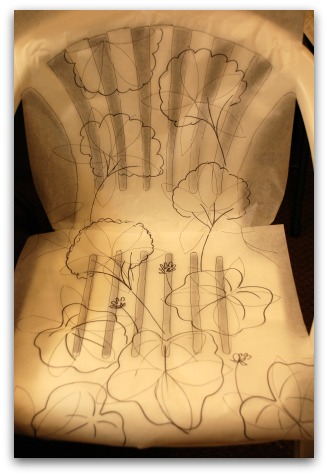 Gather Up Your Supplies

I taped the line drawing to the chair and transferred the design with black graphite paper and a stylus tool.
To complete this project I used the following:
Americana Multi-Surface Satin acrylic paint
Green Beret
Pumpkin Patch
Lipstick
Flamingo
Chartreuse
Cotton Ball

Brushes
3/4" or 1/2" Oval Wash or Filbert
#1 Mid-length Liner
#16 Flat or Shader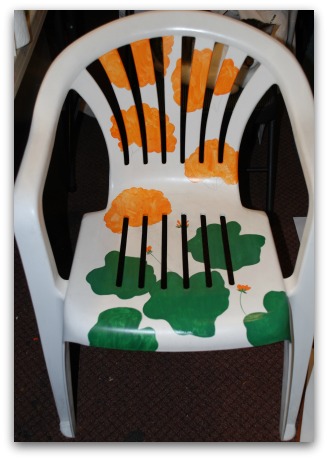 Paint Your Chair - Step By Step

Basecoat the leaves with 3 coats of Green Beret, allowing each coat to dry completely.
Undercoat the geraniums with 1 coat of Pumpkin Patch.  Don't worry about brush marks.

Fill in the little buds with the same colors.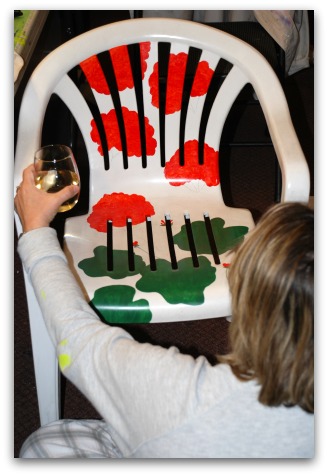 Using the Filbert, basecoat Lipstick over the Pumpkin Patch by dabbing the paint on leaving some texture and heavy brush marks.
Sit back with a beverage of your choice while admiring your handiwork so far.   Let everything dry thoroughly.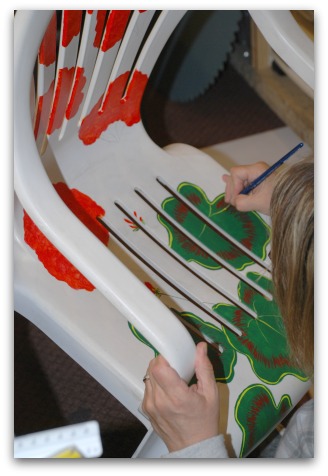 With the Flat brush I added some chisel marks of Lipstick for some detailing on the leaves.  I also used the Liner with Chartreuse to loosely outline the leaves and to add the veins.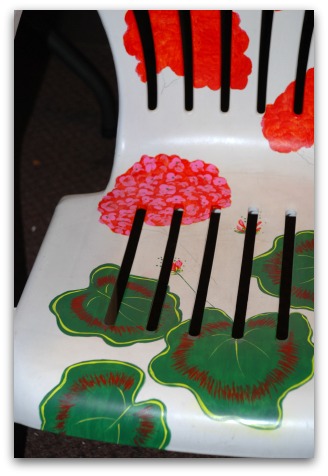 You can see the chisel marks and outlining better in this image.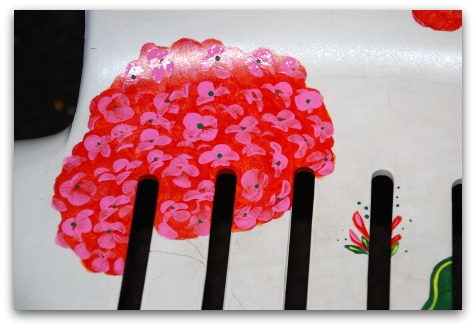 To add petals to the geraniums, I loaded the Filbert with Flamingo.  Then I lightly pressed the brush down to create little crescent brush marks grouping them so that there were 3-4 petals to suggest a flower.  Next I used the stylus to add Green Beret dots for centers.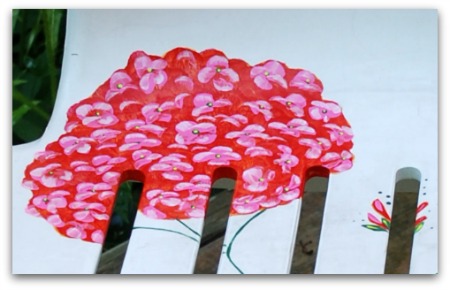 When all of the petals were dry, I went on top of the petals with smaller brush marks of Cotton Ball to create a highlight.  I also added a tiny dot of Chartreuse to the Green Beret flower centers.
Using the Liner and Green Beret I added the stems.  That's it.
How long did it take me to complete the project?  About 5 hours including the cleaning, sketching and painting.

The Big Finish

Whoa... NOT DONE YET!!!!  Let the paint cure for 7 days.  And then protect your beautiful work with RustOleum Inspire Clear Spray Gloss following the manufacturer's instructions.

From this....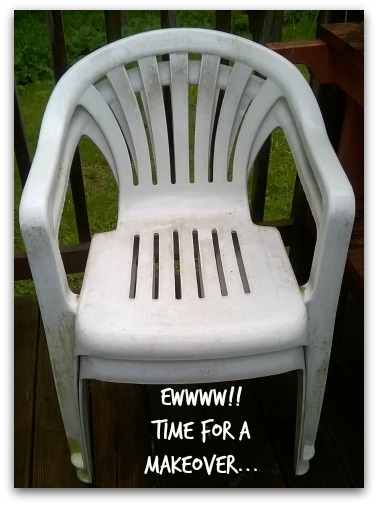 To this...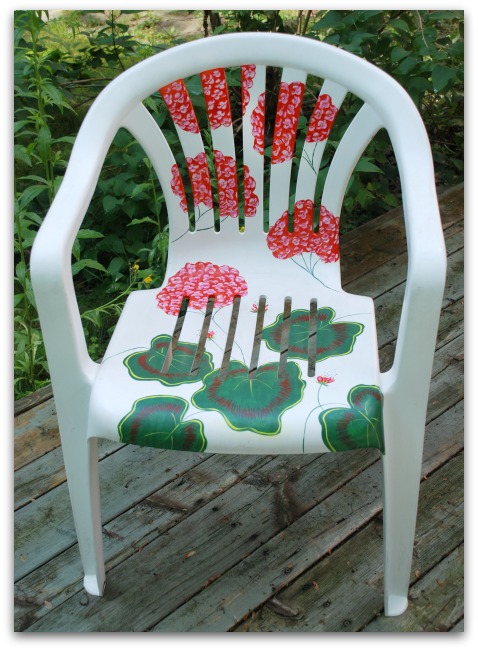 Whadaya think?
In the meantime there's another chair to be painted... let's see what I come up with.
Take me from paint patio furniture back to the Home Page.
---
Here are some of the products I used.  This is for your shopping convenience only.  And yes, I do earn a small commission when you use these links.  It helps me feed my cats but it does not affect your prices at all. 
Ideally, please support your local shops when possible.
---
---
You Can Paint These Trees and More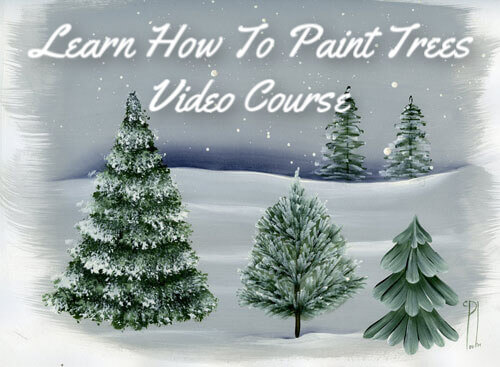 Click to Learn More
---
Introductory Price
Save 55%  plus
a Money Back Guarantee
---
---