How To Gold Leaf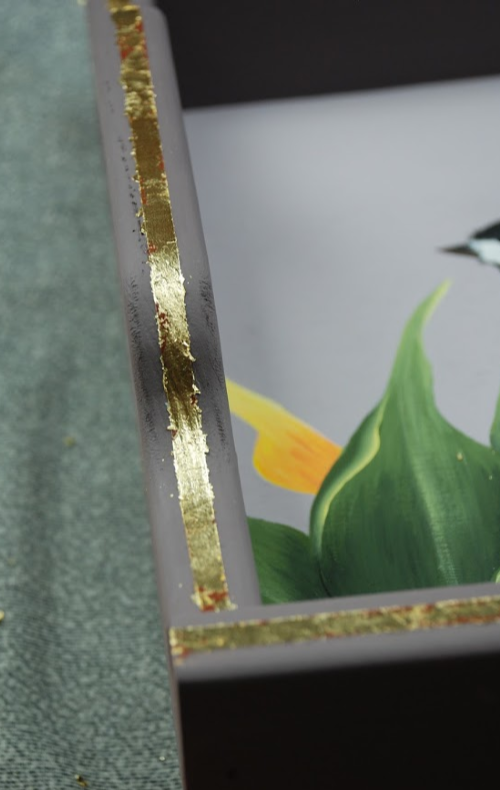 Before I tell you how to gold leaf, I thought I should tell you what gold leaf is! 
Gold leaf is gold which has been meticulously pounded into a super fine thin sheet.  Pounded so thin that it becomes as light as air!
Imitation gold leaf, sometimes referred to as Dutch Gold or Dutch metal is a composite of copper and zinc which is also treated in the same way. 
Obviously, it's going to be much less expensive to buy imitation.  Yet the imitation is almost as convincing as the real thing!  I vote for imitation for my budget!
For our purposes as tole and decorative painters, the imitation gold leaf works fine as long as it is sealed after it's been applied.  Otherwise it will tarnish and take on a dull look over time.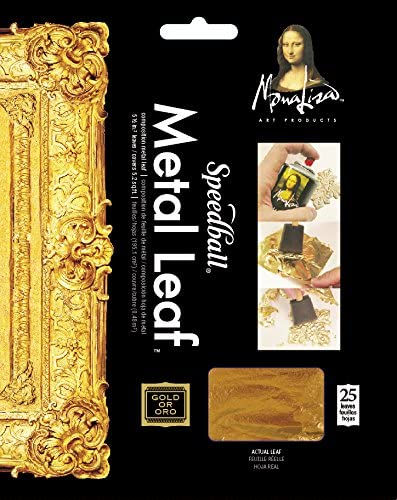 I like using Speedball Mona Lisa Gold Leaf.  It comes in a variety of leaf colors… from gold, silver, copper, and interesting variegated combinations.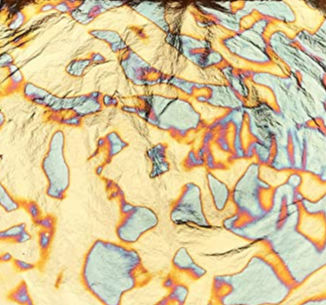 BLUE Variegated Gold Leaf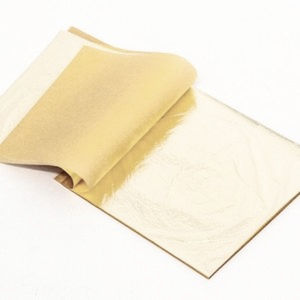 The gold leaves come in small pads and each one is separated by a very thin slip sheet.
Applying gold leaf to artwork is referred to as gilding.  Gilding is usually done after you've finished painting.  Typically, it's used as an accent to embellish your artwork.
---
UNDERCOATING THE AREA TO BE GILDED
---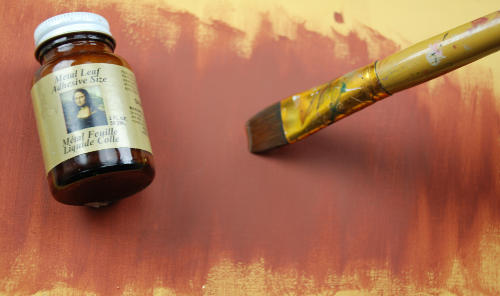 Gold leaf will glow beautifully with an undercoat of red paint.  I like to use a warm red, like Burnt Sienna to undercoat the gold leaf.  That's probably one of the best tips for knowing how to gold leaf anything.

---
APPLYING GOLD LEAF
---
You need to use an adhesive to put the leaf down.  I like to use Speedball Mona Lisa Metal Leafing Adhesive.  I have made many attempts at using other adhesives but for best results I recommend this brand.
NOTE:  I usually buy the kit.  It contains the gold leaf, adhesive and sealer.  I have provided a link to Amazon below.
To apply the adhesive, use a flat brush.  Apply an even, light coat over the area you want to decorate with the gold.  Make sure there are no ridges, drips or brush marks.  The adhesive goes on a little milky but will clear up.  You have about 30 minutes to work with the adhesive so don't rush.
After you have applied the adhesive, immediately wash the brush in cool, soapy water and rinse well.
After about 5 minutes, which is when the adhesive loses its milky appearance, is when I get to work.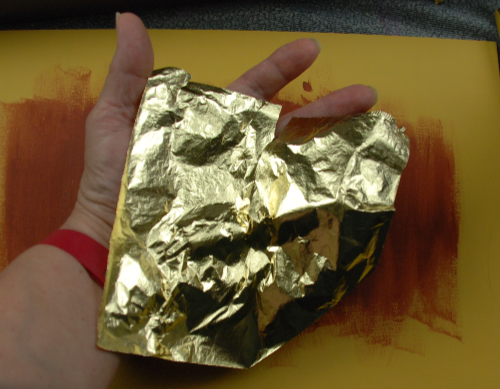 With clean hands, carefully pull a sheet of gold leaf from the pad and lay it down over the prepared surface.  Whatever you do, do not sneeze while you're handling the gold leaf!
As you can see, it's pretty flimsy.
NOTE:  Some people prefer to pull out a slip sheet and the gold leaf together for more stability.  Whatever method you choose is fine.
---
BURNISHING
---
After you've put down the leaf you need to make sure there's good contact.

Take a slip sheet and place it on top of the gold leaf.  Use your fingers with firm pressure to rub and burnish the leaf onto the adhesive.  Once that's done, you need to remove the excess leaf.
---
REMOVE EXCESS
---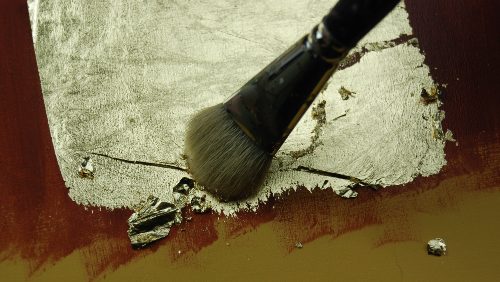 To do that, use a large soft mop brush to sweep away the surplus.  The resulting flakes and odd size pieces of gold leaf can be saved for use in other artwork.
---
KEEP THE BITS AND PIECES
---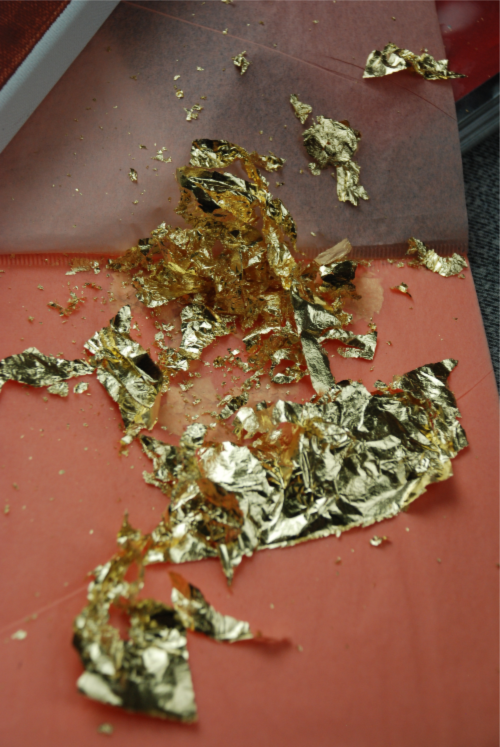 Always keep the leftover bits and pieces to use later.  I keep mine between two slip sheets or between sheets of wax paper.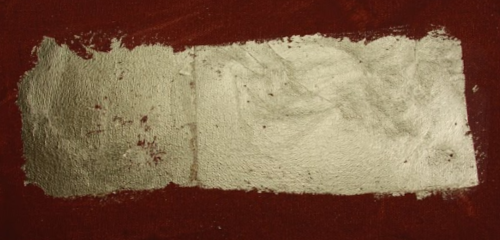 Gold Leaf On Canvas
After a few hours, wipe down the surface with a damp soft cloth to remove any tiny particles.  Dry with a soft cloth.
To protect the gold leaf, apply sealer with the flat brush.  Without the sealer, the gold leaf will tarnish over time, become dull and dark.
So there!  You now know how to gold leaf.
---
Free Video Instruction
---
Interested in watching me apply gold leaf in detail?  I have created a video to do just that.  You can watch it for FREE by Clicking or Tapping here.

---
To Learn How To Gold Leaf Requires Supplies!
---
I have provided below, links to Amazon featuring a gold leaf kit like the one I use.  I have also included links to some flat brushes and a mop brush. 
They are placed here for your shopping convenience.  And yes, I do earn a teensy weensy commission that does not increase your cost.  But it does keep my kitties in kibble.
---
---
---
---
And now let's go from the How to Gold Leaf page back to the HOME page.
---
You Can Paint These Trees and More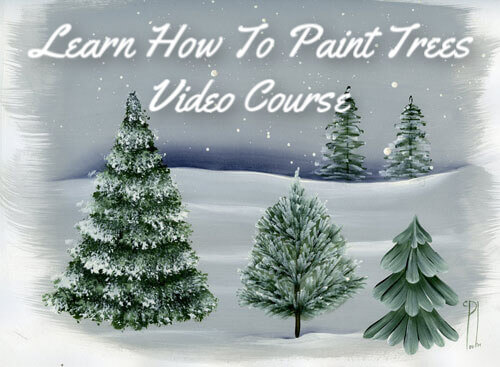 Click to Learn More
---
Introductory Price
Save 55%  plus
a Money Back Guarantee
---
---