GESSO
Gesso
What exactly is gesso? You may think the word sounds Italian and you're right! It is. It means chalk. So, obviously it was likely invented in Italy way, way back. And rumor has it, it was.
Gesso is pronounced with a soft "g" - jess-oh, NOT guess-oh.
It used to be made from a mixture of animal glue and white chalk or plaster which were mixed together to make it. It was a clever concoction that paint could grab on to...  it had tooth or a slightly rough surface when it dried. It was also great as a sealer on other porous surfaces like wood and canvas.
In the mid 1950's, a more modern water-based acrylic version was developed. It's still used the same way and for the same purposes. And it smells better too!
---
Gesso is a Great Primer
---
Basically, gesso is an artist's paint primer.

I use it to add extra strength to the pages of my altered books and in my art journals.  It's great because it keeps the paint from soaking through the paper.
It can also be used just like paint.  You can add it to your paints to add more texture to fluid paints for instance.  
The most popular color remains white, although black and burnt umber and a buff shade are used more and more.
It's actually a lot of fun to tint your own. Try adding unsweetened Kool-Aid to it, or add drops of food coloring or tube watercolors. It works really well with your acrylic paints too!
I prefer using an artist grade quality gesso.  It's semi-opaque, but it covers really well in a couple of coats.  It's flexible which is important when I work on paper or canvas.  It's archival so it won't yellow.  It's stable so it will be around long after I'm gone. 
I figure, why paint on a surface that's not prepared properly?  I always buy the best that I can afford.  Otherwise it's wasted money.
People are always asking me what brands I prefer.  My preferences are manufactured by Golden, Liquitex and DecoArt (Media Gesso).  
Cleanup is simply soap and water. Happy painting!

Below are links to the products I use.  These can be found on Amazon.  When you buy by using these links I do get a tiny commission (which doesn't affect your cost).  It's a way to keep this website going and to keep my 3 cats in kibble!  :o)
---
---
If you have any questions, please contact me here.
Another way to stay connected is to subscribe to my bi-weekly newsletter.
Sign up for The Creative Chronicles today!
Here's how to get back to the HOME page.
---
You Can Paint These Trees and More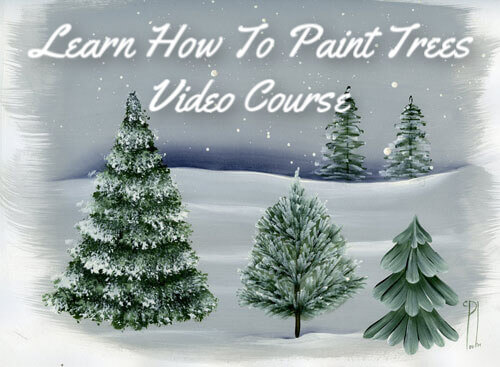 Click to Learn More
---
Introductory Price
Save 55%  plus
a Money Back Guarantee
---
---