CLEANING METAL
What you need to know
for cleaning metal.
Knowing about cleaning metal is very necessary for any decorative painter who wants to work on this wonderful surface... be it a new serving tray or an old milk can.
When it comes to cleaning metal, here are the important things to keep in mind:
You'll want to determine the amount of dirt and rust on each piece so you can choose the right cleaning method.
Make sure it dries as thoroughly and quickly as possible.
Sand well.

If you've got relatively new metalware and it's just a bit dirty ... place it in the dishwasher or hand wash it with dish detergent in hot water.
While "lemony fresh" is usually a good thing for your food dishes, it may promote rust on metal.
Rinsing with a vinegar solution (1/2 warm water, 1/2 white vinegar) is a better way to remove any remaining oil.
---
---
The easiest way to remove an old paint finish from metal is to soak it in hot, soapy water, particularly if it is already flaking off. This should cause the paint to peel and loosen completely. Anything stubborn can be sanded.
For cleaning metal that's really dirty, we suggest you get a little more aggressive.
Here is a great method for preparing the dirtiest tin: In a well-ventilated area, like the great outdoors, spray the piece with heavy-duty oven cleaner. Follow the manufacturer's instructions. Don't forget to wear protective gloves and perhaps a mask and goggles… (wonder what the neighbors will think?!)
Next, place the piece inside a heavy-duty garbage bag. Then, all you need to do is tie up the bag and let it sit for approximately 4 hours. At the end of this time, rinse away the grunge. Be aware that brass, chrome and aluminum can pit from the oven cleaner after just 15 minutes! So you'll need to remove and rinse those objects much sooner.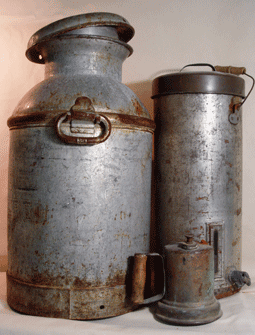 Rusty tin: If your metalware is really rusty, it may not be worth the effort. Cleaning metal of all rust is virtually impossible since it is infectious. Scrubbing with Naval Jelly works well to remove as much as possible.
The items pictured on the right are considered slightly rusty.
The milk can featured here will be our "before and after" demo. By going to our page for painting metal you can follow all the steps and watch the transformation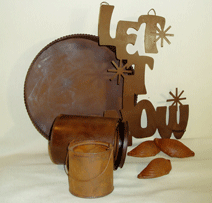 Then there's new rusty tin ... that's the stuff you buy, that's rusted on purpose! Best part is, there's really no cleaning involved!! A quick wipe down to remove the loose dust and you're ready to paint.
If you like, you can apply a coat of All Purpose Sealer or Krylon Matte Spray to seal in the rusty residue, so it doesn't interfere with your painting.



Of course, there are labor-free methods of cleaning metal. You can take your metalware to an auto body shop where they can clean it and prime it for you. A professional finish is amazing. But it's more expensive than doing it on your own. It's best to get an estimate before the work begins.
---
---
For the DYI'er, sandblasting with an air compressor is another great option. We're sure there are a few spouses out there who'd love to give this a shot! :o)
Remember, once you've cleaned your metalware it needs to be dried quickly to prevent rust. Start by hand drying, and then immediately follow up with a hair dryer set on "high" to get into all the nooks and crannies.

After cleaning metal and making sure it's dry, it needs to be "roughed up". Actually, a light sanding with medium grade sandpaper, or fine steel wool will do just fine. This will give your piece the "tooth", or fine grooves which are needed for the primer and paint to "stick" to the surface. And of course, sanding means wiping down or brushing off all the fine particles.
So now you're ready for painting on metal.

Have questions, ideas or tips you'd like to share? We'd love to hear from you! Contact us here.
Let's leave Cleaning Metal and go to Metalware.
Return to our Decorative Painting Home Page.
---
---
You Can Paint These Trees and More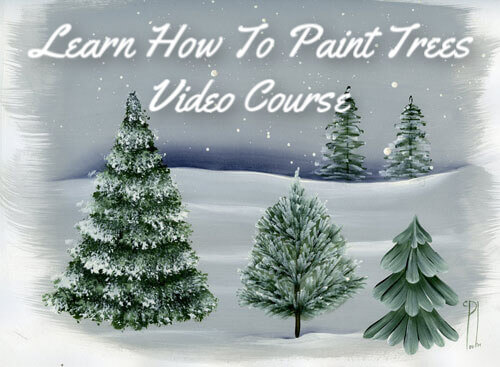 Click to Learn More
---
Introductory Price
Save 55%  plus
a Money Back Guarantee
---
---