Keeping memory's alive
by Tammy Spalsbury
(Michigan)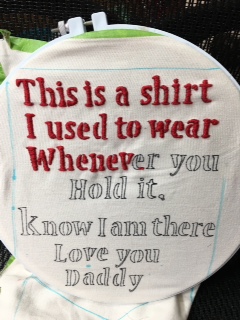 Hi I made this memory pillow for my Daughter- In-law because she lost her Dad to cancer.

The shirt it was made from was his when he was alive. This makes it extra special.

I hand embroidered the whole saying by hand. Then I sprayed it with scotch guard so it wouldn't get dirty.

I cut the shirt to the size I wanted, and sewed it on my sewing machine. I didn't use one of those pillow inserts... I used a nice throw pillow. That made it nice and full. She can cherish the pillow for years.