Halloween Fun
by Tammy Spalsbury
(Michigan)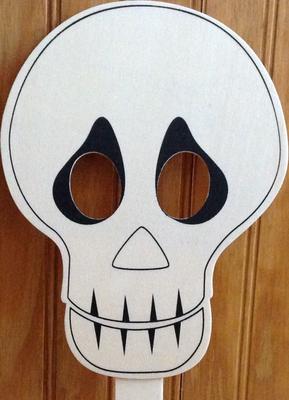 Hi,
me and my sister in-law were at the craft store, and she told me she needed a Halloween mask. So we were looking around and she found one she liked. So she bought it, and put me to work.

The first picture is of how it looked when she bought it.

The second picture is of where we got our idea of how she wanted the face to look, its a picture of a very small skull candle holder.

I painted it in white acrylic paint. Then I drew the skull face on it... all freehand.

Then the third and fourth pictures are of the end product, after it was all finished. I sealed it in craft sealer to protect the paint, and keep it permanent.

She just loved it when it was done.