A little purple magic birdhouse
by Ashley "shesboho"
(Arkansas)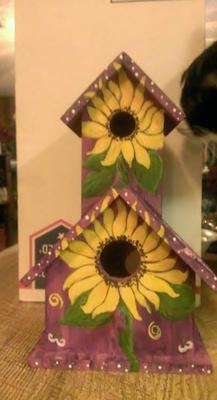 Sunflowers for a bright day
I do all my designs with acrylic paint and unfinished birdhouses from Michaels, Hobby Lobby, or WalMart.

Everything I do is free handed and I never use stencils. Not that there is anything wrong with that...I just like things to happen organically.

This is a house I did for a friend of mine who said she loved purple, sunflowers, butterflies, and the Goddess.

She loved it. I hope you guys do too.