Looking for
FREE

Glass Painting Patterns?
You've found them.
In a Hurry?

Looking for FREE Glass Painting Patterns?  Here they are. You're just a click away from receiving your wonderful free painting pattern packet. That's right… you don't have to spend a single penny to download and enjoy this FREE Painting Pattern. It's here for you as our way of saying thanks for becoming a member of our Decorative Painting Club, which is also free!
Why am I giving away a FREE Painting Pattern? It's quite simple really. I love to share my passion and to help painters, both new and experienced, develop their talent and love for this art form.

So not only do I provide this FREE Glass Painting Pattern and other great offers but I have dedicated this whole website to the advancement of decorative arts. It's my wish that you will become more than a one-time visitor to our site. I would love to make you a painting partner and friend who visits often and enjoys all that there is to learn and share on our site. This is after all… your decorative painting resource.


And I would like you to become a member of our virtual club. It's a club where we can exchange ideas, show our latest creations, get access to what's new and happening in the world of tole and decorative painting and learn about old techniques as well as the latest products.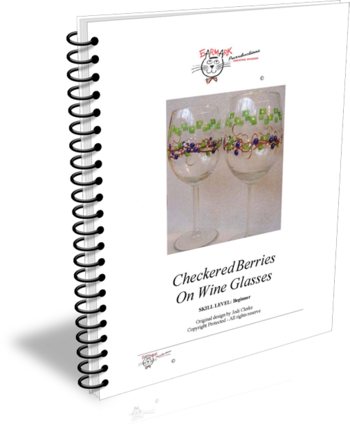 One of the ways I like to stay in touch with my painting partners is to send out a short newsletter every week. It's named the Creative Chronicles and I send it out once a week in time for the weekend. In addition, we send out short, informative emails about what's new and interesting in decorative painting. It's just a few of the benefits of being a member of our club.


The Creative Chronicles contains painting tips and all manner of painting related information. Our newsletter also provides access to deals on products and yes… on occasion… even free pattern packets. Every issue is worth opening and giving a quick read since you never know what you'll find.

Yes on occasion we'll send you a newsletter and it will contain an opportunity for you to receive a free pattern packet. 
Looking for FREE Glass Painting Patterns? You've found them. All you have to do is join the club by entering your name and email address in the handy form below. That's all.
Join now while I'm still in the mood to give away this free pattern packet. As you know, nothing lasts forever.



Join the Club and Receive a FREE Pattern Packet

Don't miss this...

Have you seen our latest Glass Painting Pattern?
Why not create beautiful hand painted gifts this year?

---
Let's leave Free Glass Painting Patterns and go to Glass Painting.
Return to our Decorative Painting Home Page.
---