I don't know about you, but to me the older I get the faster time flies. I know my mother used to tell me that. And what would I do? I would laugh at her of course... but not any more.
So another week has shot by and it's that time again... time for another installment of the Creative Chronicles. And what a week it has been!
As you may recall, last week I promised to provide useful information on lighting. I'm not talking about home decorating here. This is all about lighting your work area when you are painting a decorative design.
You Gotta Get Your Light Just Right
Without good lighting it's really hard to enjoy any hobby. Whether you're an amateur chef in the kitchen, a painter or a knitter, light is crucial. Without proper lighting you develop eye strain and you make mistakes. Poor lighting will cause your colors to look "off" and you will become frustrated in no time at all. That sure isn't much fun.
For me, great lighting is energizing. It gears me up and allows me to enjoy what I'm doing. And if you're over 40 and wearing bifocals, good lighting is even more essential! I'm over 50 now and I can't see with or without my glasses!!! So good lighting for me is critical.
I'm fortunate. I have a home studio with full spectrum LED lighting as well as professional lighting gear. Not everyone is so fortunate. So I'm going to talk about what you can do at your kitchen table to help you get the most out of your light sources.
First you want general lighting that will cover most of the room. That means the light is distributed evenly around the room without bright spots or shadows. Why? Because a properly lit room will help eliminate shadows in your workspace.
Next you need a task lamp that's either floor standing or tabletop. It needs to have an opaque shade so you don't get any light in your eyes and should be positioned a comfortable distance below your eye level. You want it placed so that it illuminates your painting area without casting shadows.
I had to try different watt bulbs to see what worked best for me. No doubt you may want to do that as well. Or you can shortcut the process and follow my recommendation. Why reinvent the wheel?
I use a "daylight" fluorescent tube. It imitates lighting just as if I was working in the great outdoors. It re-creates a northern facing light. And believe it or not, the light you get when facing north is the best light to paint by. Most artists love to create in this type of lighting.
A "daylight" fluorescent tube provides a good temperature light and doesn't produce glare either. Plus the tube shape spreads the light nicely. They also use less electricity and last a long time. And they're affordable.
The lamp I like to use is the Universal Task Lamp by OTT. It can stand on the table or it can easily be clamped to the edge of the table. It's also adjustable so you can direct the light exactly where you want it.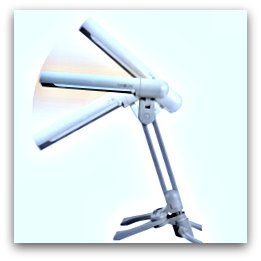 Here's what it looks like and if you want help finding one, I can help there as well. You can find them here.
I'm not a lighting or bulb expert but I know what works for me. I think it will work for you too. Now of course, if you have some tips of your own that other readers may find useful, drop me a note right now by hitting "reply" and I'll feature your thoughts and ideas in the next issue of the newsletter!
And finally, if you want to learn way more about lighting, here's a good additional source of information.
Update on the Milk Cans!!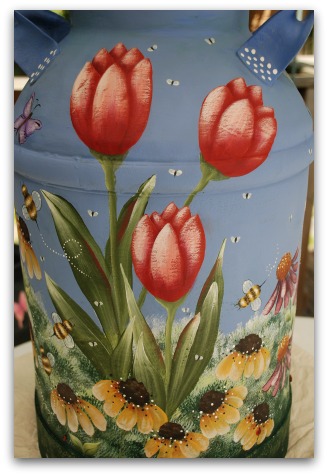 Finally, I have completed painting both antique milk cans and they are ready to varnish. I have to say that I really enjoyed creating these and I am very proud of the result.

Let me know what you think by visiting the website.

The New E-Packets Are Here!

As you may be aware by now, my newest e-packets have been bundled up and released at a discounted price for my loyal subscribers like you. The discounted bundle is available only until midnight Sunday June 7, 2015 and only to subscribers of The Creative Chronicles. I've created a secret page, so if you haven't seen it yet, here's where you can view the packets.

On Monday, the e-packets go up on my Pattern Packets page at full price. So if you want just one of them that's no problem. They'll be available individually on Monday or shortly after.

Here's a big Thank You to those of you who have already purchased the packets. Wow! I can't wait to get your feedback and see your results. You can share what you have created with others and me on my Visitors' Gallery.

EMAIL Changes

We are near the end of our conversion to our new email service. In fact this is the last Creative Chronicles that will be sent using our old service.

I really hope that you want to continue to receive the Creative Chronicles.

As you know I love to stay in touch with you and share what I know about decorative painting. The Creative Chronicles is one of the ways I do that.

So the question is... do you want to continue to receive the Creative Chronicles?

If your answer is YES you want to continue receiving The Creative Chronicles, you must take action now. You must add your Name and Email Address to the new list. You can do that here.

If you don't take action you will stop receiving The Creative Chronicles. This will be the last one. Then you will miss all of the fun.

I would really hate to say "Goodbye" so add yourself to the new list now. Life will be so lonely without you.

That's A Wrap!

That's it until next week.

Talk soon,

Cheryl (Where did that week go?) Poulin

Owner/Developer

Your Decorative Painting Resource

Earmark Purrductions Creative Studios

PS Whenever you are on our site, don't forget to SHARE and LIKE with your friends using Facebook and Pinterest.

You can also leave me feedback on each page of my website. I love to receive feedback, so feel free to make a comment or two at the bottom of every page on my website.

PPS Remember when you click one of my links to buy something you want or need, I sometimes get a few pennies. It doesn't cost you any extra, but it does help me pay the rent.