Hello everyone!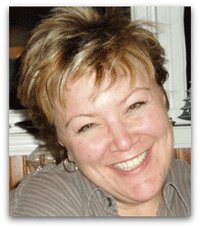 Hello to all my painting friends!
I'm late yet again! But I have a great excuse though. I've been working on new designs and they've been accepted by 2 major publications! Woot! Woot! Stay tuned for more about that further down.
It's officially springtime and it's great to have the screened windows open to let in the fresh air. Love this time of year. It fills me up with new ideas.
Here's what you'll find in this issue…
Artist Trading Cards - Open up to your creativity
Free Pattern Packet - One of the four free packets we give to you.
You Asked… I Answered
Quote of the Month
Chéryl
2 NEW DESIGNS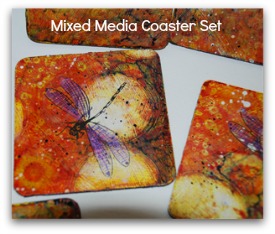 I'm so excited to let you know that PaintWorks magazine will be featuring a mixed media project that's done on a lovely set of coasters! It's a new design I created featuring dragonflies and it uses gorgeous colors, textures and layers. A great way to play with paints! Look for the August 2013 issue, which goes on sale June 18th, 2013. The design was inspired by a much larger painting entitled "On Gossamer Wings" which you can see here at Fine Art America.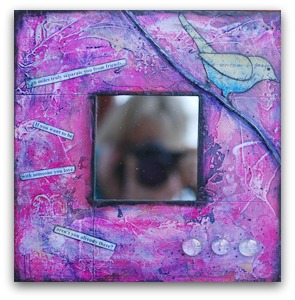 The second design has been accepted by a relatively new magazine called Paint It…today. This publication features many quick and easy projects with tons of tips and techniques for beginners. In the next issue I'll be doing some really funky collage art mirrors. I use paints, torn papers, texture and found objects and much more. You'll love it. Get some friends together for a fun afternoon of playtime for grown ups and teens! The June / July issue goes on sale May 21, 2013.
ARTIST TRADING CARDS
OPEN UP TO YOUR CREATIVITY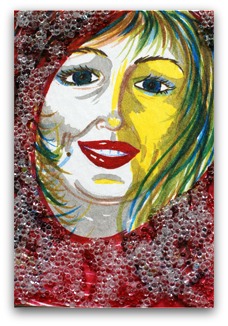 OK, I admit it. I'm a little off the wall. But hey, it's me and it moves me along my life journey incredibly well! Every day I have the desire and the need to do something creative. I don't always have the time for a big project so making little artist trading cards suits my needs perfectly.

Artist Trading Cards, (also known as ATCs, Pocket Art, Art In Your Pocket) are created using everything you've got in your imagination! The only rule is that they cannot be bigger or smaller than 2-1/2 inches x 3-1/2 inches.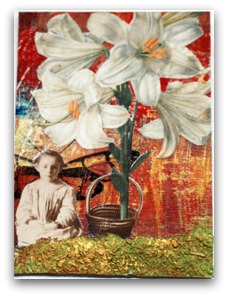 The artist uses his or her favorite medium to create the cards and then they choose to keep or trade their cards with those of others. Read more here…

And if you'd like to, you're more than welcome to trade one of your cards for mine. Use my contact form here to let me know you're interested and I'll give my mailing address to the first 25 people who contact me! Once I get your card I'll trade you one of mine!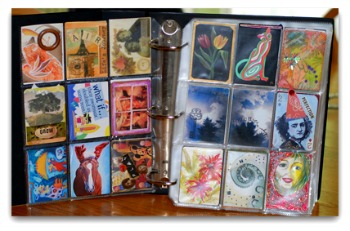 Here is one of the binders in which I store my ATCs. I just love looking at all this artwork!!!! Some of these cards come from very distant places and that is so exciting to me. I LOVE getting ATCs in the mail!!!
FREE PATTERN PACKET

Here is your free pattern packet. Here's a great design with a splash of summer colors. This is one of the free packets that I promised to our club members. You will receive more designs in future issues of the Creative Chronicles. So stay with us since you never know what I may have in store for you. Add the packet to your cart. Then use Coupon Code SUNBURST and update the cart and check out to get your free packet.
YOU ASKED
PAINTING ON GLASS
A lot of people contact me about painting on glass. One of the most frequently asked questions is: "Can I use regular acrylic paints on glass? I plan on baking the wine glasses so the paint can become permanent."
My answer:
No you can't use regular acrylic paints on glass and hope to have it be permanent. You will waste your time because the paint will come off in the first wash or it will simply scratch off.
You need to use specially formulated paints that will adhere to the slick surface of glass. You can read all about these paints here. https://www.your-decorative-painting-resource.com/glass-paint.html
I'd love to answer more of your questions so why not drop me a line here and I'll feature your question in the next issue of The Creative Chronicles.
QUOTE OF THE MONTH
In art, the hand can never execute
anything higher than the heart can imagine.
– Ralph Waldo Emerson
Summary of Links

Here is a summary of links in this Newsletter.

---
Happy painting!
Cheryl and the gang!
Your Decorative Painting Resource
With you step by step on your creative journey

Published by Cheryl Poulin
3152 Stonecrest Road RR2
Dunrobin, Ontario
K0A 1T0
CANADA

---
Feedback?
Comments? Burning questions? Ideas? Feedback?
Come on let me have it! I'd love to hear from you.
Just reply to this e-zine and tell me what you think…maybe you'd even like to share a tip and be mentioned in an upcoming issue!
---
Help Us Grow
Do you want to help us spread the word about Your Decorative Painting Resource? Why not pass this issue along to your creative friends and invite them to join the club! You'd be helping them and you would be helping me too.
---