Hello everyone!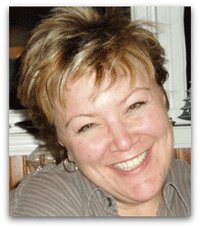 March 6, 2015
It's Cheryl here from Your Decorative Painting Resource. Wow! Here we are again at the end of another week! Where does the time go?
Great Question and Super Tips
This Week!
As you probably know, I get a constant flow of questions, tips and suggestions from many of you. And of course I love that, since we are all students and there is always something new to learn.
This week has been no exception with questions and tips and as a result I have more to share with you, my painting friends.
Cheryl Dean wrote in asking about how you go about re-sizing line drawings. I thought others might like this information as well, so here it is.
Let's say you have a line drawing or an image you need to resize. You want to make that line drawing fit onto a certain surface. But the line drawing is either too small or too large.
I'm no math genius but I came across this very useful measuring tip somewhere along the way. And it works! Ohhh... I almost forgot... you do need a photocopier or a scanner to do this.
EXAMPLE FOR REDUCING: Your pattern is 15-inches long and you need to make it 12-inches long. Simply take 12, divide by 15 which equals 0.8, then multiply that by 100 for a total of 80. Now you can set the copier or scanner to reduce at 80%.
EXAMPLE FOR ENLARGING: Your pattern is 12-inches long and you want to enlarge it to 15-inches. Take 15, divide it by 12 which equals 1.25, then multiply that by 100 for a total of 125. So now you can set the scanner or copier to enlarge by 125%.
I love the response I got back from Cheryl... "Wow ... thanks soooo much. Now I won't kill so many trees guessing. THANKS!!!" That's too funny!!!
I also received this fabulous idea in an e-mail from Susan Molthop. Here's what she had to share.
"Here's a hint for your other followers: When mixing colors, I usually end up with too much paint and I hate to waste anything. My old garden tools have lost the finish on their handles, resulting in cracking and splinters.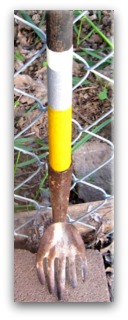 I clean up one tool at a time and keep it in my studio, where I use my leftover paint to decorate the handle. When I'm finished, I put on a coat of sealer and bring in the next tool. No waste and eventually all of my garden tools will be protected and easier to see in the yard." I told her I loved her for sharing this. Isn't that cool?
Studio Housekeeping
We've been doing some cleaning up of our e-mail lists. We realized we had a number of duplicates which meant some of you were getting two issues of The Creative Chronicles. We really appreciate that you invite us to send you email every week and we certainly don't want to clog your in box with duplicate email. So, as a part of our clean up, we removed those duplicate addresses from one list and kept them on another. No more duplicates.
But... In our eagerness to get cleaned up, we forgot to tell you what we were doing, so some of you thought you'd been unsubscribed in error. Not to be concerned. You're still on the list. We do apologize for the confusion we caused.
Reverse Glass Painting
Remember that glass lazy Susan I bought at the dollar store a few weeks ago? I've just created a reverse glass painting design that I think you'll enjoy. The new e-pattern packet and short video will be released very soon. I'll announce it when it's ready. I'm so excited!!!
Our New Visitor Gallery is a Big Hit!
Many of you told me that having a Visitor Gallery on my site would be a good idea. It seems that some of you would like to share your work with all of us. Well, as it turns out you were right.
I'm happy to report that the visitor gallery is filling up with art work of all kinds! There are lots of comments and great feedback too. If you haven't checked it out, now is the time to visit the gallery.
That's A Wrap!
Just a heads up that we're going to be doing more with our e-mail platform which may result in you getting a few more e-mails from me. Keep your eyes peeled.
But rest assured, I will not unsubscribe you... unless of course, you want to. But I can't imagine why you would want to miss out on the fun and opportunities you will find here.
Talk soon,
Cheryl Poulin
Owner/Developer
Your Decorative Painting Resource
Earmark Purrductions Creative Studios
PS Whenever you are on our site, don't forget to SHARE and LIKE with your friends using Facebook and Pinterest.
You can also leave me feedback on each page of my website. I love to receive feedback, so feel free to make a comment or two at the bottom of every page on my website.
Feedback?
Comments? Burning questions? Ideas? Feedback?
Come on let me have it! I'd love to hear from you.
Just reply to this e-zine and tell me what you think… maybe you'd even like to share a tip and be mentioned in an upcoming issue!
---
Help Us Grow
Do you want to help us spread the word about Your Decorative Painting Resource? Why not pass this issue along to your creative friends and invite them to join the club! You'd be helping them and you would be helping me too.
---