Hello everyone!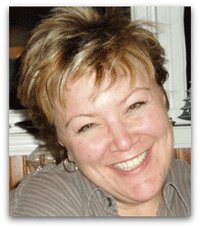 February 28, 2015
It's Cheryl here from Your Decorative Painting Resource.
New Online Art Gallery
Do you remember last week I mentioned I thought it would be a neat idea to add a gallery on the website so that creative visitors could post their photos online for the world to see? Well, in my spare time (as if!) I did manage to do just that.
So if you have a clear, in-focus photo of your artwork why not upload it to the site and tell us a little bit about it? It's fun and visitors get to make comments. It's all very interactive. Go have a peek at some of the artwork submitted to the Visitor Gallery so far.
Once you are there, just click on the little thumbnails at the end of the Visitor Gallery page to open each photo and to read the comments. And of course I would encourage you to add your pictures right away to get in on the excitement. Then share with your friends and family!
Up-cycled and Re-Purposed
Here are some of the other images I've received from readers of last week's newsletter.

Carol Schaffer says she loves to paint on wine bottles. This is so adorable. She told me that the project started with one of those transparent Christmas window decorations that she adhered to the bottle before adding the snow. And then she added mini lights to make it come to life. This is such a great idea!!!!
Kathy Greger of Quakertown PA. says she sells her hand painted wine glasses at local crafts and art shows. I'm going to bet they fly off the shelves.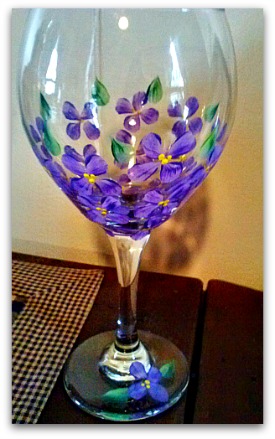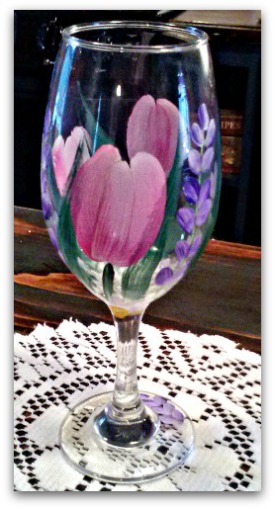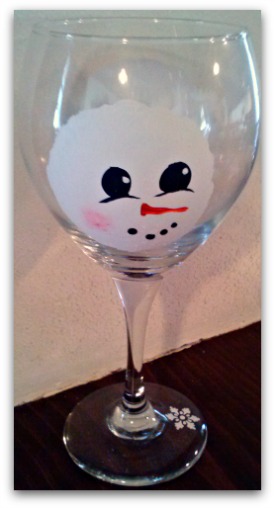 OK, that's all I've got room for in this newsletter.
Tear Down to Set Up In The Studio
Last week I said I would share some photos of the studio and the filming gear. Well we had everything set up but we didn't like the quality coming from our older video cameras. So they had to come down. And we had to purchase a new camera.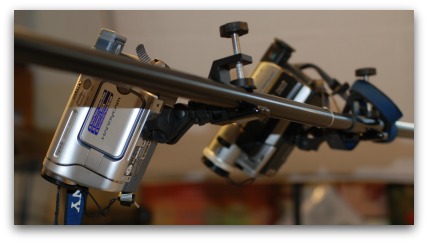 These are the old cameras. They were top of the line in the decade we purchased them. But technology changes so quickly!!!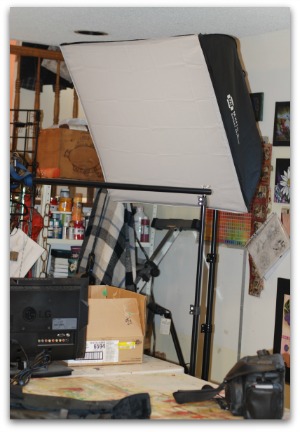 These lights emit super bright lighting and help to reduce unwanted shadows. At first they're almost blinding! As you can probably make out in the background, things are getting a little cramped and messy in here.
Anyway, the new camera was just delivered the other day. OMG! It's so tiny! And it will be so much easier to mount. Can't wait to finally get rolling and developing courses just for you.
Speaking of courses, if you're interested in learning how to paint in oils or you want to improve your overall painting skills check this out! I came across this intensive painting course some time ago and I think it's really, really impressive.
It's on sale until Sunday midnight with $85 off the regular price plus free shipping. In Canada it's $85 off with 1/2 off the International shipping. I really like the quality of the course and I think you will too. And it has a money back guarantee. Go see for yourself. Learn & Master Painting is a full-featured oil painting course that starts at the beginning and builds to a master level of artistic skill.
That's A Wrap!
OK, that's all folks. Short and sweet. See you next week!
Talk soon,
Cheryl Poulin
Owner/Developer
Your Decorative Painting Resource
Earmark Purrductions Creative Studios
PS Whenever you are on our site, don't forget to SHARE and LIKE with your friends using Facebook and Pinterest.
You can also leave me feedback on each page of my website. I love to receive feedback, so feel free to make a comment or two at the bottom of every page on my website.
PPS When you purchase from a link on our newsletter we may earn commissions. It does not cost you any extra money but it does help support us and we are grateful to you for that.
Feedback?
Comments? Burning questions? Ideas? Feedback?
Come on let me have it! I'd love to hear from you.
Just reply to this e-zine and tell me what you think… maybe you'd even like to share a tip and be mentioned in an upcoming issue!
---
Help Us Grow
Do you want to help us spread the word about Your Decorative Painting Resource? Why not pass this issue along to your creative friends and invite them to join the club! You'd be helping them and you would be helping me too.
---